Stand up for the facts!
Our only agenda is to publish the truth so you can be an informed participant in democracy.
We need your help.
I would like to contribute
Says Julie Parrish is "one of Sarah Palin's mama grizzlies."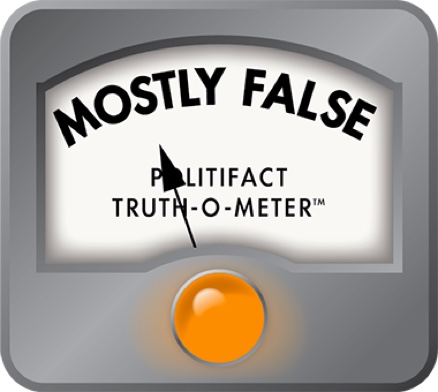 Oregon House Democrats try to tie Julie Parrish to Sarah Palin
Oregon seems to have missed most of the tea party fever sweeping the country these days. There aren't any serious political contenders in Oregon who fit the bill, anyway.

But that hasn't stopped the Oregon House Democrats from trying to tie one local candidate to Sarah Palin and her "rogue" ways.

In a recent Democratic mailer, Future PAC proudly proclaims that "Oregon isn't grizzly country."
On the reverse it says that Julie Parrish, the Republican candidate for House District 37, is "one of Sarah Palin's mama grizzlies."

"Recently," it goes on, "Julie Parrish received national attention after she was singled out by Fox News as one of Sarah Palin's 'Mama Grizzlies.'

"We don't really want one of Sarah Palin's Mama Grizzlies making decisions for us, do we?

"Don't think so. Support a Grizzly-Free West Linn and Tualatin."

Well, PolitiFact Oregon decided we ought to vet all of the above charges, and set to work.

First up: Is Oregon "grizzly country"?

That all depends. If House Democrats are talking about the actual bear (we imagine they might be, as there is a fancy, cut-out image of a bear on the mailer), then they're right. No grizzlies have been spotted in Oregon since the early 1900s.

If, however, they're talking about "Grizzly Bear," the popular indie band, they're way off. The band played in Portland last October, and we have faith the group will return to serenade us yet again. (We recommend a quick listen to "The Knife," our favorite song of theirs.)

Seriously, we might have to leave the whole "grizzly country" designation alone and move on to the more substantive side of the mailer.

Is Parrish really one of Palin's mama grizzlies?

To get to the bottom of this pressing political issue, we went to a video of Parrish on Fox News and gave it a quick look.

The anchor frames the TV spot as follows: "Well, Sarah Palin says they're like mama grizzlies, a trend of fed-up, conservative moms getting involved in politics. Many for the very first time."

There's then some Sarah Palin voiceover and inspiring images. At one point, Palin says "It's kind of a mom awakening in the last year and a half."

Then we're back to the anchor, who says, "And joining us are three first-time candidates and mama grizzlies."

We got in touch with Parrish, who said she was a bit surprised about the way the TV spot unfolded. "The focus was supposed to be moms and politics," she said. "I was surprised, quite frankly, in how they intro-ed that."

Still, you can find the video on her website, and she didn't object on the air.

But is this video really enough to link her to Sarah Palin? We still, for all of our sleuthing, weren't sure. So we did a little more research and found that Parrish has not received any monetary help from Palin or the out-of-state tea party groups with which the ex-vice presidential candidate is sometimes linked. Neither has Palin come to town to stump for Parrish. Heck, she hasn't even endorsed her, as far we can tell.

So where does that leave us? The claim suggests that there is a formal connection to Palin or at the minimum some show of support. There's no evidence of that. So we are left with simply one Fox newscaster calling Parrish a "mama grizzly" in that she's a conservative mother in politics for the first time. But her connections to Sarah Palin appear to be non-existent. We rate this claim Bearly -- oops! -- Barely True.
Editor's note: This statement was rated Barely True when it was published. On July 27, 2011, we changed the name for the rating to Mostly False.
Fox News, "Mama Grizzlies are Fed Up," July 25, 2010

Julie Parrish's website, Oct. 19, 2010

Department of Fish and Wildlife, "Living with black bears," Oct. 19, 2010

"Grizzly Bear" band website, Oct. 19, 2010
Browse the Truth-O-Meter
More by Ian K. Kullgren
Support independent fact-checking.
Become a member!
In a world of wild talk and fake news, help us stand up for the facts.