Stand up for the facts!
Our only agenda is to publish the truth so you can be an informed participant in democracy.
We need your help.
I would like to contribute
Dan Seals has been running for office "since before there were, like, iPods."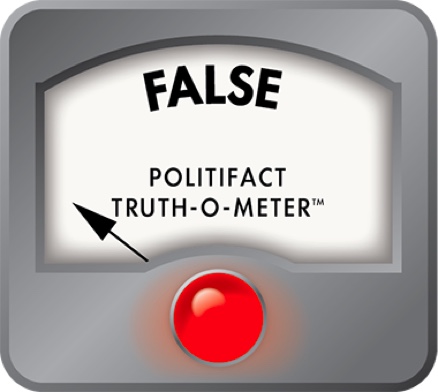 Robert Dold targets Dan Seals in Illinois race using a talking sea lion
It's not every day that a campaign ad lands in our inbox and makes us laugh out loud -- especially in the midst of a campaign cycle with commercials featuring Viagra-fueled sex offenders, puppy mass-murderers and roving psychopaths. But the ad aired by Republican Robert Dold targeting Democrat Dan Seals had us at "broheim."

It features a charming if foul-mouthed sea lion hired to film an "endorsement" for Dan Seals. Seals (not the sea lion) is running for the Chicago-area seat being vacated by Rep. Mark Kirk, the Republican nominee for Senate. With a slight Democratic edge and a moderate, suburban vibe, the 10th District is one of the rare GOP-held seats that's actually in play for the Democrats this year. In fact, political handicapper Charlie Cook rates it Lean Democratic, meaning that Dold, even though he's a Republican running in a Republican year, is airing the ad as a slight underdog.

Perhaps that's why the Dold campaign went for an ad with potential for buzz. In any case, the script is so priceless that we'll reprint it in its entirety here:

Narrator: "And now, a very special political endorsement."

Sea lion: "Dan Seals is a proud resident of the 10th District."

Director (voice off-screen): "Actually, he's not."

Sea lion: "What, he's not?"

Director: "Cut!"

Sea lion: "Dan Seals is a tax fighter."

Director: "No, he's all about raising your taxes and increasing government spending."

Sea lion: "Aaargh! For real, broheim?"

Sea lion: "Dan Seals is a fresh new candidate."

Director: "Nah, he's run like two times already and lost. I think he was running since before there were, like, iPods."

Sea lion: "What the -- ?" (Bleep)

Sea lion: "Look, if you want common-sense leadership in Congress, lower taxes and more jobs, just vote for Robert Dold."

Sea lion (to director): "All righty, arf-arf. Where's my fish treat?"

Closing jingle: "It's Dold with a 'd,' not an 'e.'"

We like the ad so much that we feel a bit guilty subjecting it to the Truth-O-Meter. But subject it we must.

We could have looked at the question of whether Seals lives in the district or not. (A local media outlet in the district reported that Seals lives "a block and a half outside the district boundary." Meanwhile, the same article notes questions about Dold's own history of residing in the district. The Constitution only requires that a candidate live in the state where the election is being held.)

But we didn't. Instead, we're looking at the burning question of whether the spokesmammal was correct when he said that Dan Seals was running for office "before there were, like, iPods."

We first looked at Seals' biography. He has indeed run (and lost) for Congress twice before -- in 2006 and 2008. Prior to that, he worked in a variety of corporate and policy jobs, including a position in the U.S. Commerce Department and as an economics fellow in the U.S. Senate. Seals was clearly a policy-wonk in training, but none of these positions involved electoral politics, so we won't count them as positions in which he was "running." Even assuming that Seals started campaigning actively a year or more before the 2006 election, that would only peg the beginning of his career as a candidate to 2005.

What about the iPod? Well, we located a Newsweek cover featuring Apple co-founder Steve Jobs holding the music player that's dated July 26, 2004. (Doesn't it look bulky?) So the iPod clearly existed well before Seals began to run for office. We found the original news release for Apple's initial unveiling of the iPod on Oct. 23, 2001. And units were on sale beginning on Nov. 10, 2001, according to the Consumer Electronics Association. So, versions of the iPod were on sale for three to four years before Seals began running for office.

When we ran our findings by the Dold campaign, spokesman John McGovern replied, "This ad is intended to be light-hearted and a tongue-in-cheek response to the relentlessly negative tone of the Seals campaign. All cultural references are intended to be humorous and casual."

Having waded through so much muck while reviewing this year's campaign commercials, we're all for light-hearted and tongue-in-cheek. And as you have probably picked up, we love this ad. But sometimes the Truth-O-Meter has to exercise tough love. So, as much as we love the pinniped, the ad got it wrong about the iPod, so we rate it, like,  False.
Robert Dold for Congress, "Seals for Dold" (ad), Oct. 26, 2010

Dan Seals for Congress, campaign website biography page, accessed Oct. 27, 2010
Apple, "Apple Presents iPod" (news release), Oct. 23, 2001
LowEndMac.com, "A History of the iPod: 2000 to 2004," accessed Oct. 27, 2010

Newsweek, cover image, July 26, 2004

PioneerLocal.com (Glenview, Ill.), "10th Congress race: The things we carry," Oct. 14, 2010

Cook Political Report, 2010 Competitive House Race Chart, Oct. 26, 2010

urbandictionary.com, definition of "broheim," accessed Oct. 27, 2010
sfgate.com, "What is the Difference Between Seals and Sea Lions?" accessed Oct. 27, 2010

Interview with Steve Kidera, spokesman for the Consumer Electronics Association, Oct. 27, 2010

E-mail interview with John McGovern, spokesman for the Dold for Congress campaign, Oct. 27, 2010
Browse the Truth-O-Meter
More by Louis Jacobson
Support independent fact-checking.
Become a member!
In a world of wild talk and fake news, help us stand up for the facts.