Stand up for the facts!
Our only agenda is to publish the truth so you can be an informed participant in democracy.
We need your help.
I would like to contribute
Says JoAnne Kloppenburg's side had a "3-to-1 money advantage" in the Wisconsin Supreme Court campaign.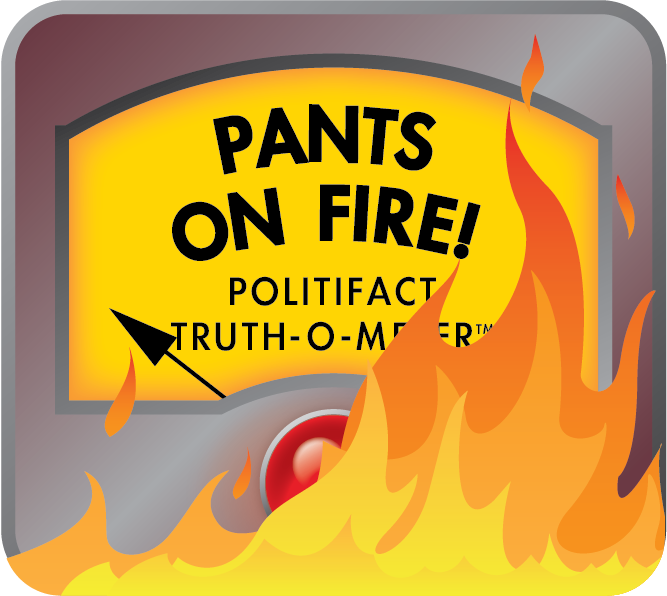 Charlie Sykes says JoAnne Kloppenburg had a 3-to-1 advantage in spending over Justice David Prosser for a seat on the Wisconsin Supreme Court
Conservative talk radio host Charlie Sykes was in a pretty good mood the day after his preferred candidate for state Supreme Court battled to a virtual dead heat against the more liberal JoAnne Kloppenburg.

Justice David Prosser avoided defeat, Sykes told his WTMJ (620-AM) listeners on April 6, 2011, despite the efforts of labor and the left to use public anger over Gov. Scott Walker's anti-union legislation against Prosser, a former Republican legislator.

It was especially remarkable, Sykes said, because liberals had such a huge fundraising edge.

"They put in as much money as they will ever be able to," Sykes said. "They will never again, in Wisconsin, be able to mobilize a 3-to-1 money advantage."

He repeated the "3-to-1" claim at least twice more, at one point attributing it to an unidentified "political observer" who wrote up some pro-Prosser thoughts late on election night.

The claim surprised us.

The two candidates both agreed to public financing, so they were limited to public grants. And spending by outside groups was heavy on both sides.

Sykes wasn't the only one to sound this theme.

A National Review story two days before the election said outside groups on the conservative side were being "heavily outspent" by liberal counterparts.

And Bob Dohnal, publisher of the Wisconsin-based Conservative Digest, circulated an email on April 7 saying conservatives were outspent 10 to 1. He told us the figure was based on information "bandied around the Internet and the talk shows for weeks."

What's more, it's much broader than Sykes' claim. Dohnal said his number included all efforts by the unions and liberal groups dating back more than a month to the protests over Gov. Scott Walker's budget bill -- not just the Supreme Court race.

We asked Sykes for backup for his statement, but he did not respond.

So, we turned to the numbers, which fall into three categories.

-- Candidate fundraising. As noted, both candidates opted for public financing, limiting their intake almost exclusively to $400,000 in public financing each ($100,000 for the primary, $300,00 for the general). So that's a draw.

-- Independent expenditures by political action committees. This is a small category, but Kloppenburg had a decided edge, according to state Government Accountability Board reports of spending through April 6, 2011. Groups supporting her or attacking Prosser spent $135,152. On the Prosser's side, the tally was $12,386.

-- Media spending by special interest "issues advocacy" groups trying to influence voters. This is the big outside money that came in record amounts for a state judicial race. By law, these ads can't explicitly endorse the defeat or election of a candidate, but they are essentially indistinguishable from ads that do.

The two tallies we found both showed a big advantage for Prosser's side -- not Kloppenburg's.

The first was a report -- released on election day -- by the Brennan Center for Justice at the New York University Law School that looked at broadcast TV spending by outside groups. It is the only organization we could find that attempts to put a hard number on such spending by outside groups.

The left-leaning think tank/advocacy group relies on TV satellite data collected by TNS Media Intelligence/CMAG, an ad-tracking firm. It says its numbers are estimates that may underestimate the precise amount of actual expenditures.

The Brennan study was reported widely by Wisconsin and national media, including the Wall Street Journal, Associated Press, and the Journal Sentinel.

It found there had been  $2.2 million spent by four conservative groups through election day vs. $1.36 million by one liberal group, the Greater Wisconsin Committee.

(The conservative groups are the Wisconsin Manufacturers & Commerce's issues mobilization council, Citizens for a Strong America, Wisconsin Club for Growth and the State Tea Party Express).

That's an $840,000 advantage for the conservative side.

The Brennan study also was picked up on WisPolitics.com, a widely cited online digest. The website added some of its own reporting and wrote on election day that pro-Prosser groups outspent the Kloppenburg side, $2.5 million to $1.9 million. That's a somewhat smaller $600,000 advantage.

WisPolitics had broader information -- including cable TV and radio -- though it cited the Kloppenburg campaign as its source for the additional information. Kloppenburg, the WisPolitics story said, had tracked ad spending by both sides, and provided some numbers to WisPolitics.

Prosser's campaign manager Brian Nemoir said he had not tracked the spending totals by outside groups and couldn't comment on which side spent more.

We also asked the biggest spending groups on both sides to release spending figures -- or to confirm or dispute the Brennan Center tally.

The liberal GWC group said they do not release their spending figures -- nor are they required to do so. Officials with Wisconsin Manufacturers & Commerce, Citizens for a Strong America and Wisconsin Club for Growth could not be reached. Kloppenburg's side did not respond to a question about spending.

To be sure, the information that is available is not perfect.

State and federal laws allow undisclosed spending by a variety of groups, on a variety of election and issues-related advocacy. Robo-calls and mailings by outside groups are not tracked. There are limitations to the TV data, though it likely covers a very large chunk of the TV spending by outside groups, said Ken Goldstein, a political scientist at the University of Wisconsin-Madison who tracks ad spending.

Still, it is the best and most complete information. And it all was available when Sykes made his comments the day after the election.

Indeed, the Brennan numbers and WisPolitics story both came out the day before.

So what were the grand totals, when paired with the other categories?
For the Prosser side: $2,628,000.
For the Kloppenburg side: $1,900,000.
That's a $728,000 spending advantage on Prosser side, or a 38 percent edge.

The gap is smaller, but still substantial, if you use the figures reported by WisPolitics.

Let's wrap this one up.

Sykes repeatedly claimed that the pro-Prosser forces were outgunned financially by a 3 to 1 ratio by the Kloppenburg side. He did not specify a source of his own, cite any information from the Prosser side or debunk the widespread media reports of the spending advantage on the Prosser side. His assertion may have become an article of faith in some circles on the right, but we could find no basis for any spending advantage by Kloppenburg, much less a 3 to 1 edge.

His statement warrants a Pants on Fire.
(Editor's note, April 11, 2011: Sykes did not respond to our April 7, 2011 request for information that would support the claim he made about spending in the Supreme Court race. He went on the air April 11, 2011-- the day after the item was posted – and led off his segment by saying: "I don't have a problem admitting if I made a mistake."

Amid criticism of PolitiFact Wisconsin, Sykes said it was his "good faith" impression from about two weeks prior to the election that the Kloppenburg side was outspending the Prosser side. He acknowledged the balance might have tipped by election day and said no one can know the true amount that was spent because, by law, it is not officially reported.

He did not provide any information to support his claim that the Prosser side was outspent 3-to-1.)
Charlie Sykes show, part one, April 6, 2011

Charlie Sykes show, part two, April 6, 2011

Email interview with Brian Nemoir, campaign manager for David Prosser, April 7, 2011

Interview with Michelle McGrorty, executive director, Greater Wisconsin Committee, April 8, 2011

Interview with Erik Opsal, spokesperson, Brennan Center for Justice, April 7, 2011

Email interview with Ken Goldstein, UW-Madison political scientist, April 7, 2011

Interviews with Reid Magney, spokesperson for state Government Accountability Board, April 7 and 8, 2011

Email interview with Bob Dohnal, Conservative Digest publisher, April 7, 2011

WisPolitics.com, story on judicial financing, April 5, 2011

Milwaukee Journal Sentinel, "State Supreme Court race headed for likely recount," April 6, 2011

Governmental Accountability Board, summary of independent expenditures, accessed April 6, 2011
Brennan Center for Justice, Judicial Financing in Wisconsin, April 5, 2011
Browse the Truth-O-Meter
More by Dave Umhoefer
Support independent fact-checking.
Become a member!
In a world of wild talk and fake news, help us stand up for the facts.