Stand up for the facts!
Our only agenda is to publish the truth so you can be an informed participant in democracy.
We need your help.
I would like to contribute
Says unions "take away" hard-earned money of teachers, firefighters and police officers to play politics.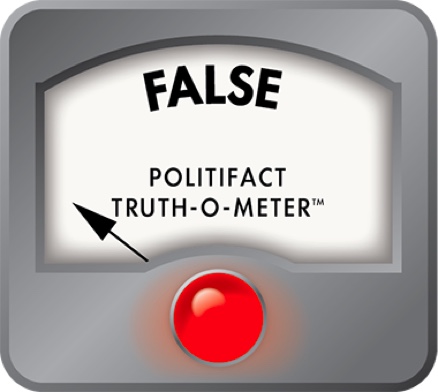 Chamber takes up 'paycheck protection' proposal in campaign-style ad
The Florida Chamber of Commerce says it is coming to the defense of teachers, police officers and firefighters with a new ad supporting legislation that would prohibit government unions from collecting dues through automated payroll deductions.

The problem is, no teachers, police officers or firefighters are publicly saying thanks.

Quite the opposite, actually.

At a press conference outside the Florida House of Representatives on April 5, 2011, firefighters, cops and teachers accused the business group of misleading people by suggesting these groups supported the proposal, HB 1021. The measure passed the House 73-40 on March 25 and its companion, SB 830, is currently being considered in the Senate.

"I find it unconscionable that the people who are attacking the law enforcement officers in this state are now using us to try and further their political agenda," said Mark Hussey, an Orange County deputy sheriff.

You can watch the ad that has Hussey and others angry by clicking here, or by pushing play on the video on the right side of this screen. Here's the text:

"These public servants dedicate their lives to helping others. Firefighters, police officers, teachers are facing uncertain times. So the last thing they deserve is for unions to take away their hard-earned money to play politics, sometimes without asking for approval.

"That's why the U.S. Supreme Court voted to allow workers paycheck protection. After all they do to help us, isn't it time we helped them? Paycheck protection. It's only fair."

The ad includes stock images of firefighters, cops and teachers (including video of a teacher also used in an ad in Wisconsin) and suggests that they are struggling to make ends meet. In one scene, a man is hunched over a kitchen table with his head in his hands as a woman and a baby look on.

That got us thinking about this phrase that unions "take away" public servants' money to play politics. In a separate item, we checked a response to this ad from the Florida Education Association.

First, just a little more about the legislative proposal, since the ad does little to actually explain what it's talking about.

Supporters call the idea "paycheck protection," and say House and Senate proposals give individual union members more power over how their dues money is spent. The change in law would do two basic things. First, public unions would be prohibited from utilizing payroll deductions, and second, unions would be required to get annual authorizations from members to use their dues for political reasons. Essentially, workers would be able to be members of the union but opt out of the political arm of the organization. Opponents argue that the House and Senate bills are akin to union busting because they make it more difficult for unions to collect dues. They say the bills also single out unions when more than 360 organizations currently are authorized to deduct money from workers' paychecks by the state.

The House sponsor, Chris Dorworth, R-Lake Mary, said that while he's not aware of any unions supporting his bill, individual union members have contacted him and thanked him. (The St. Petersburg Times found no union members supporting the bill through a public records request made to Dorworth's office).

The chamber ad, along with glossing over the substance of the proposal, misses a key point that differentiates Florida from other states with government-union political battles brewing -- states like Wisconsin, Indiana, Pennsylvania. In those states, workers in certain jobs are required to join the union. In Florida, workers are under no such obligation.

That means that no one can be compelled to join a union in Florida, and as such, no one is required to pay union dues. The protections are written into the state Constitution.

SECTION 6. Right to work.—The right of persons to work shall not be denied or abridged on account of membership or non-membership in any labor union or labor organization. The right of employees, by and through a labor organization, to bargain collectively shall not be denied or abridged. Public employees shall not have the right to strike.

Why is that so important?

Watch the ad again, or read the script with our description. Through its choice of words and images, the chamber is painting a clear picture. Cops, firefighters and teachers -- struggling to make ends meet -- are having their hard-earned money taken away by unions to play politics.

But those cops, firefighters and teachers, at the least, are voluntarily deciding to have that money given to the unions. They are under no requirement to participate in the union, or contribute.

Using the chamber's logic, they pay the union dues despite being in potentially bad financial straits.

Now the only question is the last bit of the chamber ad specifying how that money is spent.

Charles Caulkins, an employer labor lawyer with Fisher and Phillips and a member of the board of directors with the Florida Chamber of Commerce, concedes that union members are not required to join the union, and thus they are not bound to contribute money. But practically speaking, workers often feel either pressure from their colleagues to join the union, or feel like they would get substandard legal representation from the union if needed.

And some unions will take a vote of local membership of how to support candidates come election time, he says. But others just take their marching orders from the national unions.

"How do they feel about dues being used for a certain political party when they might be in another one?" Caulkins asked rhetorically. "There must be some Republicans and independents who don't like all the money going to Democrats."

This comes with caveats, too. Unions don't spend all union dues on political campaigns, said Doug Martin, legislative director of the American Federation of State, Municipal and County Employees in Florida. Unions have separate voluntary political action committees, where members can contribute in addition to their normal union dues.

Edie Ousley, a spokeswoman for the chamber, said the ad is factually accurate based on its wording. When PolitiFact Florida began to ask about the combination of the wording and the images, she wrote back: "From a pure PolitiFact perspective, the ad is true."

We don't agree. When judging visual advertisements, we consider both the words and the images. In this case, the chamber ad says -- "firefighters, police officers, teachers are facing uncertain times. So the last thing they deserve is for unions to take away their hard-earned money to play politics, sometimes without asking for approval." As those words are said, the chamber shows an image of a man with his head in his hands looking over paperwork as a woman and child stand nearby.

The message the ad is sending is clear: Hard-working police officers, firefighters and teachers -- facing uncertain financial times -- are having money taken from them by unions to be used for politics. The fact is union members are voluntarily contributing to unions. If they didn't want to contribute, they wouldn't have to.
The chamber has a point that some union dues do go to political activities -- whether that's lobbying legislators in Tallahassee or campaign mailings or working with a campaign -- and individual union members can't always control how their dues money is spend. But that's no different than how most organizations operate. Whether it be the Public Broadcasting System, the United Way, or even the chamber, people donate or contribute money to be pooled with other donations so that the organizations or candidates can spread a message. If the contributor doesn't like that message, they stop giving.
Union membership -- and as a result, the contributions that members make -- is voluntary. No group takes money away from union members. We rate this claim False.
Florida Chamber of Commerce advertisement, March 29, 2011
HB 1021, accessed April 12, 2011
SB 830, accessed April 12, 2011
Interview with chamber spokeswoman Edie Ousley, April 12, 2011
Interview with Charles Caulkins, chamber board of directors, April 11, 2011
Interview with Doug Martin, AFSMCE, April 11, 2011
Florida Constitution, right-to-work state, accessed April 12, 2011
St. Petersburg Times, "Looking for union members who support 'paycheck protection' bill," March 28, 2011
Browse the Truth-O-Meter
More by Aaron Sharockman
Support independent fact-checking.
Become a member!
In a world of wild talk and fake news, help us stand up for the facts.