Stand up for the facts!
Our only agenda is to publish the truth so you can be an informed participant in democracy.
We need your help.
I would like to contribute
"[T]his breed (of pit bulls) is most often associated with aggressive behavior."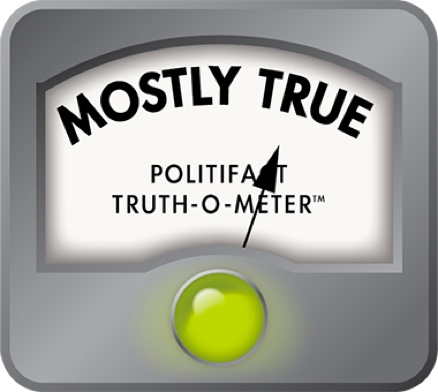 Are pit bulls more aggressive than other dogs?
DeKalb County commissioners are considering a reversal of an ordinance that has tongues wagging in Georgia's third highest-populated county.

County leaders are thinking about removing pit bulls from its list of banned household pets.

Commissioner Elaine Boyer, whose district includes a politically conservative area in north DeKalb, raised some concerns about changing the ordinance.

"[T]his breed (of pit bulls) is most often associated with aggressive behavior," Boyer said in an Atlanta Journal-Constitution published July 20.

There is no date immediately scheduled to discuss the idea.

You don't have to look far to find some tragic story of a child being horrifically mauled by a pit bull, which is known for its vise-like jaws. There are the frequent media accounts of pit bull dogfighting, which most famously involved former Atlanta Falcons quarterback Michael Vick, who pleaded guilty and served prison time for and his role in conspiring in a dogfighting ring.

But some counter that this breed of dog is not as vicious as its public portrayal. Many pit bull owners say the dogs are loving animals, which are sometimes trained by owners to be violent. Pit bulls are not the problem, they argue, people are.

We wanted to see if Boyer is right. The commissioner, who said she has no position on the proposed ordinance change, explained her initial comments to us via e-mail.

"I am an animal lover," she wrote. "Our family owns small breed dogs, and we have personally never had an encounter with a pit bull. But friends and constituents have told me they have had bad experiences with pit bulls... I imagine even the sweetest puppy of any breed could snap at you if taunted or not trained properly."

In 2008, a team of University of Pennsylvania researchers completed a study of aggressiveness of 30 breeds of dogs. The researchers collected about 15,000 questionnaires for the year-long study. The researchers asked owners a series of questions concerning how their dogs reacted in various situations to other canines and humans they know as well as strangers. The questions included how does the dog react when a stranger arrives.

The results found Chihuahuas and Dachshunds were the most aggressive toward both humans and other dogs. Those breeds, however, are smaller and usually inflict less-severe injuries. The findings were a mixed bag for Pit Bull Terriers. The dogs were among the most aggressive toward other dogs, particularly those they didn't know. Pit bulls, the researchers found, were not significantly more aggressive than other breeds toward strangers and their owners.

"(Pit bulls) tended to be on the high side, but there were lots of breeds that were higher," said James Serpell, one of the researchers.

Serpell told us they felt confident with their findings. He acknowledged that some owners may have over reported or under reported how aggressive their dog acted in some scenarios. The results were widely reported by many newspapers.

One study of aggression done by a specialist in Australia found the pit bull terrier attacked humans at a higher level than any breed. German Shepherds and crosses were a close second.

For nearly 35 years, a Missouri-based group has conducted its own research on canine aggressiveness. The American Temperament Test Society conducts a 10-step exam and has checked out nearly 31,000 dogs, according to its website. The test includes seeing how the dog reacts to strangers,reacts to someone the animal doesn't know but tries to pet it, how it reacts to loud noises and its response to a stranger who approaches in a menacing fashion.

The two types of pit bulls (the American Pit Bull Terrier and American Staffordshire Terrier) they've studied have aggression scores that are not as bad as boxers, bulldogs, collies, Great Danes, Greyhounds and Shetland sheepdogs. They are in the same range as the German Shepherd and golden retriever. Labrador retrievers scored better than pit bulls.

"On an even playing field, a pit bull is no more dangerous than a collie," said Salliann Comstock, the society's chief tester and director of operations.

Comstock contends pit bulls are trained to be aggressive and argues many people, including some animal shelter workers, mistake other animals for pit bulls.

"A small boxer is called a pit bull," she said.

There is some skepticism about the society's exam. One blogger said the test is geared toward bold dogs who are better equipped to face danger. Some discount dog aggressiveness studies altogether, saying the breeds are often misidentified even by owners.

The Atlanta-based Centers for Disease Control & Prevention once conducted a study of 20 years worth of fatal dog bite data. The study found 66 people died through bite-related incidents involving various types of pit bulls, which was more than any other type of dog. Rottweilers were a distant second, with 39. Rottweilers, though, were involved in 30 fatal dog bites for the last six years of the study while pit bulls were involved in 15 fatal dog bites. The study, however, was from 1979 through 1998. The CDC has not updated that study.

CDC spokeswoman Gail Hayes stressed via email that their study does not conclude which dogs are most likely to bite or kill. She also noted that the estimated 4.7 million Americans bitten by dog bites annually result in about 16 fatalities, a ratio of well less than 1 percent.

The past studies and research we've reviewed shows pit bulls are among the most aggressive dogs. Some breeds, however, have been shown to be more aggressive in each report.

However, the widely held perception is that they are dangerous, which was Boyer's over-arching point. An Associated Press poll done in October found of the dog owners who would support breed bans, 85 percent would outlaw pit bulls.

Her statement has merit, but could have used additional context about the breed, which would have put it in a slightly different light.

We rate her claim Mostly True.
Atlanta Journal-Constitution, "DeKalb considers lifting pit bull ban," July 20, 2011.

American Temperament Test Society, Breed Statistics.

Associated Press, "Petside Poll: Training, not nature, makes bully," Feb. 3, 2011.

Association of Animal Behavior Professionals, "Aggressive Behavior in Dogs."

Discovery News, "Dog Breeds Rated for Fiestiness," June 26, 2008.

DogsBite.org, "Dog Attack Deaths & Maimings, U.S. & Canada, Sept. 25, 1982 to June 25, 2010."

E-mail from CDC spokeswoman Gail Hayes, July 22, 2011.

National Canine Research Council, "The problems with dog bite studies."

Telephone interview with University of Pennsylvania Prof. James Serpell, July 21, 2011.

Telephone interview with American Temperament Test Society chief tester Salliann Comstock, July 21, 2011.

The TRUTH About Pit Bulls blog, "The Pit Bull Hoax: ATTS," Jan. 1, 2011.

U.S. Centers for Disease Control and Prevention, "Dog Bites: Fact Sheet."
Browse the Truth-O-Meter
More by Eric Stirgus
Support independent fact-checking.
Become a member!
In a world of wild talk and fake news, help us stand up for the facts.