Get PolitiFact in your inbox.
There are cities and counties in Georgia that don't have websites, and where elected officials don't have email addresses.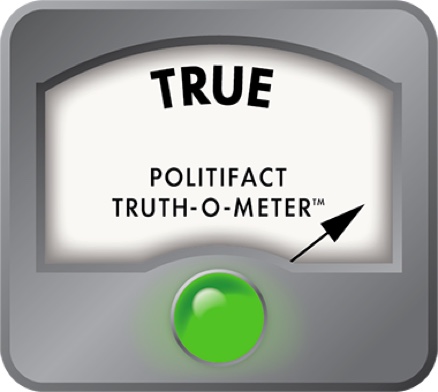 Olens: Some Georgia counties, cities lack websites, email
A recent statement by state Attorney General Sam Olens had PolitiFact Georgia musing on the quirks of our digital age.

Thanks to the Internet, you can track your ex's new girlfriend on Facebook. You can watch a YouTube video of recording artist Nicki Minaj's wardrobe malfunction, over and over again. You can even buy a 1963 Studebaker on eBay while reclining in your Barcalounger.

But email your county commissioner? That's not so simple, Olens told attendees at an Atlanta Press Club breakfast Aug. 4.  

The subject came up as Olens talked about the state's open records and meetings laws, which journalists use to ferret out government corruption. It's a bad idea to require all governments to use the Internet to inform residents about meetings, Olens told breakfast-goers.     

"[K]eep in mind, we still have cities and counties where the elected officials don't have email addresses, where there are no websites," Olens said.

No emails or websites? Surely, Olens jests. Nowadays, even pet cats have their own websites. Really.

It so happens that the Association County Commissioners of Georgia, a group that represents county governments, conducted a survey in July  to see which counties lacked websites. They found 30.

The state Attorney General's Office sent us a list of those counties, as well as information from the Georgia Municipal Association, which represents cities and towns statewide. The GMA lists 217 municipalities that don't have their own websites.

Some of these governments have a Web presence on a local chamber of commerce or regional development website but do not control or operate them, said Beth Brown, a spokeswoman for the ACCG.  

They often don't have enough staff or money to run a website, spokeswomen for both groups told us. Others are so remote they can't get high-speed Internet access.

Consider Taliaferro County. In 2009, an estimated 1,812 residents lived in all of its 195.4 square miles, according to census and state data. Their commissioners work part time, so officials don't see a need to spend the resources to give them their own accounts, the county clerk told us.  

Bacon County gives email addresses to elected officials who ask for them, but not all of them in this county of about 10,600 do. Their one-man IT department hopes to get the county's official website up soon. It just takes a lot of manpower to get it done, he said.

The city of Walthourville, population 4,000, just started its website this year and is in the process of assigning email addresses, the city clerk said.   

So Olens is right. Not only are there counties and municipalities in Georgia that don't have websites or whose elected officials don't have government email. State organizations place their numbers at more than 200.

Or, to put it differently, the cats of certain pet-obsessed owners have pounced across the digital divide well ahead of scores of Georgia governments.  

Olens earns a True.
Atlanta Press Club breakfast, "Open Records and the Atlanta Public School Cheating Scandal," Aug. 4, 2011

Emails and telephone interview, Lauren Kane, spokeswoman, Georgia Attorney General Sam Olens, Aug. 5 and 8, 2011

Emails and telephone interview, Beth Brown, director of communications, Association County Commissioners of Georgia, Aug. 8, 2011

Email interviews, Amy Henderson, public information manager, Georgia Municipal Association, Aug. 8 and 9, 2011

The Atlanta Journal-Constitution, "Milton County vote likely," Feb. 16, 2010

Telephone interview, Ruby Randolph, county clerk, Taliaferro County, Aug. 9, 2011

Telephone interview, Juanita Johnson, Walthourville city clerk, Aug. 9, 2011

Telephone interview, Brad Williamson, network administrator, Bacon County, Aug. 9, 2011

U.S. Census Bureau, Population Finder, accessed Aug. 10, 2011

Website, I Am Maru, accessed Aug. 9, 2011
Browse the Truth-O-Meter
More by Willoughby Mariano
Support independent fact-checking.
Become a member!
In a world of wild talk and fake news, help us stand up for the facts.