Stand up for the facts!
Our only agenda is to publish the truth so you can be an informed participant in democracy.
We need your help.
I would like to contribute
Says he never said he would keep education funding the same.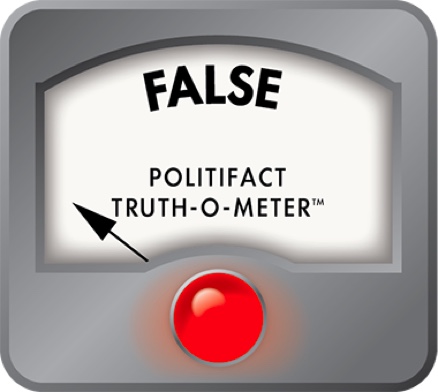 Education cuts show up in Rick Scott's budget
Gov. Rick Scott unveiled his highly anticipated state budget on Feb. 7, 2011, which, as promised, calls for major reductions to government spending along with tax cuts for property owners and businesses.

Scott's two-year spending plan would shrink the overall state budget from $70.3 billion to $65.9 billion in 2011-2012 and to $63.3 billion in 2012-2013. Cuts were expected almost everywhere -- except in the area of education, where Scott has said that funding would remain the same.

At least, that's what people thought.

Scott's proposed budget for next year includes billions of dollars in education cuts. (The actual cut depends on what education budget figure you consult, but the cut would be between $3.3 billion and $4.8 billion, with per-student funding to decrease by 10 percent.) Some of that loss is offset by having teachers contribute 5 percent to their retirement and by the inclusion of temporary federal education dollars. Still, per-student funding would shrink if Scott's budget is ultimately approved.

"I've heard nothing but that education funding wasn't going to be touched," said Florida Education Association spokesman Mark Pudlow. "We all were wondering what kind of alchemy we were going to see. Of course, what we saw was tons of cuts to education."

When Scott met with reporters after announcing his budget, he was asked if he had flipped on his campaign rhetoric.

"No, it's not going back on anything I promised," Scott said. "What I said throughout the campaign and what I'm saying today -- any money that came out of state general revenue, we're not cutting that. Any money that they relied on federal bailouts, that is different."

But that's not what Scott said just four days prior in Tampa.

During an announcement where Scott said he would cut local school property taxes, called the required local effort, he was asked specifically about the effect on education funding. Here's the question and answer from Feb. 3, which we just happened to record:

Question: You referred to cuts in the RLE (required local effort) property tax. Do you have a plan to make up that revenue or will the schools take that as a loss?

Scott: "No, my commitment is to make sure the money that they've received they'll get again. Where I'm getting the savings is, I'm reducing the state government. What I'm trying to do is keep the school budgets the same."
School budgets are funded through multiple sources. Local districts contribute property taxes through the required local effort, which is set by the state, and additional optional property taxes, which are set by county school boards. The state contributes general fund revenues through the state sales tax, as well as money from education trust funds. And the federal government contributes as well. The combination produces total school funding.
If one part of the funding -- required local effort -- is reduced while the other parts simply stay the same, the result is less school money overall.
Speaking in Tampa, Scott made no effort to distinguish or differentiate the funding formula -- all he said is he would keep school budgets the same.
We also found references during the campaign when Scott was on the record saying education funding would not be cut as part of his budget.
During the primary, Scott said he could offset a reduction in the school property tax through a combination of a larger share of sales taxes and other general revenue, according to the Palm Beach Post. When Scott's primary opponent, Attorney General Bill McCollum, called that plan "unrealistic," Scott said the money for schools could be found by cuts in non-education spending, the Post reported.

And then during the general election, Scott again was asked to respond to questions over his education spending plan. According to the Associated Press, a spokeswoman for Alex Sink, Scott's Democratic opponent, called the Scott plan a rip-off of education. Here's how Scott responded in a Sept. 28 story: "We're not slashing the budget, our focus is to spend the dollars well," he said. "We're gonna drive down property tax rates, but we're gonna do that as we figure out how to save money. We're gonna make sure the money is there for education."

Again, Scott offered no suggestion he was talking only about general revenue funding.

One more thing: In comments after releasing his budget, Scott said he only promised no cuts to general revenue -- but he's actually making a slight cut there as well. Scott's budget includes about a $155 million cut in general revenue funding in 2011-2012. Yes, it's a small cut from a proposed budget of $12.3 billion, but it's a cut nevertheless.

At the very least, Scott deliberately and purposely suggested that education funding would be held harmless in his first state budget. He made comments to that effect just days before his budget was released. Yet, when he announced his budget, cuts were included. We rate Scott's claim False.
Rick Scott, proposed 2011-2012 and 2012-2013 budget, released Feb. 7, 2011
Rick Scott, interview with press in Tallahassee, Feb. 7, 2011
Rick Scott, interview with press in Tampa, Feb. 3, 2011
Florida 2010-2011 budget, accessed Feb. 7, 2011
Palm Beach Post, "Scott hits road with plan to lower taxes, cut spending," July 22, 2010, accessed via Nexis
Interview with FEA spokesman Mark Pudlow, Feb. 7, 2011
The Associated Press, "Scott: More funding alone won't improve schools," Sept. 28, 2010, accessed via Nexis
Browse the Truth-O-Meter
More by Aaron Sharockman
Support independent fact-checking.
Become a member!
In a world of wild talk and fake news, help us stand up for the facts.