Stand up for the facts!
Our only agenda is to publish the truth so you can be an informed participant in democracy.
We need your help.
I would like to contribute
When it comes to protesters in Madison, "almost all" are now from outside of Wisconsin.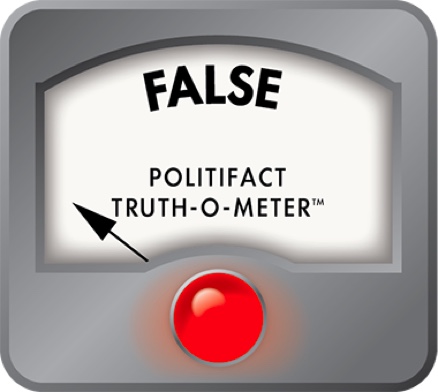 Wisconsin Gov. Scott Walker says out-of-staters account for "almost all" in Madison protests
Wisconsin Gov. Scott Walker got right to the point when he was chatting Feb. 22, 2011, with a prank caller  pretending to be a major Republican power-broker: The protests in Madison are dying down.

And changing to mostly out-of-state residents.

In the secretly-recorded call, Walker assured a New York blogger posing as industrialist David Koch -- a contributor to Walker's campaign and many GOP causes -- that things were under control at the Capitol.

"Well, we're actually hanging pretty tough," Walker said in the call, which was taped and made public Feb. 23, 2011. "I mean, you know, amazingly there's a much smaller group of protesters almost all of whom are in from other states today."

We know Wisconsin is awful popular these days. And the battle over the budget-repair bill is national news. But are "almost all" of the protesters in from other states?

We asked Walker spokesman Cullen Werwie about the not-intended-for-the-world-to-hear statement from his boss.

He sent us two links to news stories from over the weekend -- one from the Weekly Standard, a conservative magazine, and another from the Decatur, Ill., newspaper.

Here's what the Feb. 21, 2011, blog post in the Weekly Standard said: "Labor groups and Democratic Party organizations from outside the state have been sending people to Madison for the demonstrations."

It went on to note an e-mail from the Chicago Teachers Union, which said it was sending a bus Feb. 21, 2011, to Madison. The union's twitter feed posted a message the evening of Feb. 19, 2011, saying: "CTU Supports Wisconsin Workers. Get on the bus Monday."

Meanwhile, the Decatur paper reported Feb. 22, 2011 -- the day Walker made his comment during the non-Koch call --  that Illinois union leaders were sending protesters to Wisconsin.

"A number of Illinoisans have headed to Madison in recent days to join the battle over Wisconsin Gov. Scott Walker's effort to end collective bargaining for public employee unions," the paper reported.
                        
"The Illinois Education Association, the state's largest teacher union, reports it has sent 14 staff members to Wisconsin to help organize members in their fight," the story said.  It went on to say another  union -- Council  31 of the American  Federation of State, County and Municipal   Employees -- "has a number of staff members on the ground" and was sending a two bus loads on  Feb. 22, 2011 and one on Feb. 23, 2011.
                
OK, fair enough. That's a few bus loads accounted for -- albeit not all on the day of Walker's phone conversation. And, of course, there surely were other out-of-state protesters that day.

But "almost all"?

The crowds in Madison did drop on the day of the call. After several days of school district closings around the state due to teachers calling in sick to attend protests, the vast majority of teachers were back in the classroom. Milwaukee and Madison school districts reopened.

We did a little more investigating to learn: Who are these protesters?

Of course there's no one checking ID cards, and no way to come up with a definitive percentage, but there are ways to gauge the makeup of such crowds.

The Journal Sentinel has had reporters and photographers on the scene day and night since the protest began. We looked at dozens of pictures from protests Monday night and Tuesday, taken by Journal Sentinel photographers (You can see some of these pictures here.)

We saw many signs and clothing that suggest Wisconsin protesters -- Badgers and Packers attire, a sign mentioning Janesville, signs mentioning the Madison teachers union and so forth. One man wore a T-shirt from the Shoe Box, a Madison-area store.

However, that man, Thomas Brown, is from New Mexico. He came back to visit family near Madison. We won't count him as an out-of-state agitator.

We did see signs such as "Michigan Supports WI workers," and one that read "Coast to Coast Solidarity" that mentioned California and New York. On Feb. 23, 2011, when Teamsters President Jim Hoffa spoke, signs for Chicago Sheet Metal Workers were evident and there were Teamsters from other states present, according to news reports and Madison police.

We sent a Patrick Tricker, a reporter for the UW-Madison The Daily Cardinal, through the crowd the afternoon of Feb. 23, 2011. It was day two of the state Assembly's marathon vote on Walker's measure, which involved hundreds of Democratic amendments.

In an informal survey, Tricker spoke directly to 26 protesters in the Capitol rotunda. About a fourth of the 26 were from out of state, half from Madison and the remainder were from other parts of Wisconsin. He found one from California and one from Alaska.

That's nowhere near "almost all."

Finally, we asked law enforcement for their take.

"The vast majority of people protesting are from here -- Wisconsin and even more from Dane County," said Joel DeSpain, public information officer for the Madison Police Department.

How would DeSpain know?

"I grew up here," said DeSpain, who attended the University of Wisconsin-Madison and worked 25 years as a television journalist in that city before taking the job with the cops. "I know Madison, this is my town,"

DeSpain said he has seen friends, family members, people he has known for more than 30 years attending protests. The crowds on Feb. 22, 2011  -- the day of the Walker phone call -- included hundreds of state corrections officers and Madison police officers, he said.

Said DeSpain: "Unless somebody's giving them all sorts of t-shirts from Wisconsin" these are local protesters.

Let's bring this item home.

In his not-so-private phone call, Walker claimed protests were getting smaller and almost all of the protesters at the state Capitol were there from out of state. Certainly there are folks there from far and wide. But there's no evidence the out-of-towners have taken over. All evidence points to this being -- and remaining -- a home grown effort.

We rate Walker's statement False.
Patrick Tricker of The Daily Cardinal contributed to this report.
JSOnline.com, Caller posing as major GOP contributor dupes Walker, Feb. 23, 2011

Wauwatosa NOW, Wauwatosa Teachers Protest But not During Class time, Feb. 23, 2011

JSonline photo galleries of Madison protest

The Weekly Standard, Chicago Teachers Union Organizes for Wisconsin Protest, Feb. 21, 2011

Herald-Review.com, Illinoisans Head North for Wisconsin Labor Protests, Feb. 21, 2011

Interview and e-mail, Joel DeSpain, public information officer, Madison Police Department, Feb. 23, 2011
Browse the Truth-O-Meter
More by James B. Nelson
Support independent fact-checking.
Become a member!
In a world of wild talk and fake news, help us stand up for the facts.