Stand up for the facts!
Our only agenda is to publish the truth so you can be an informed participant in democracy.
We need your help.
I would like to contribute
Says signs posted at projects funded by the federal stimulus act has cost "20 or 40 million" dollars.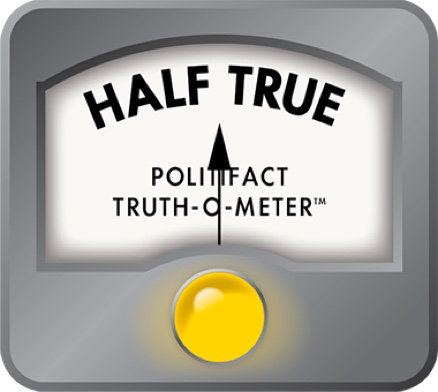 Rep. Jim Renacci says signs for stimulus projects cost $20 million to $40 million
Signs of economic recovery can be elusive. The Federal Highway Administration tried to help, in its own way, by encouraging road signs at stimulus-funded highway projects that state: "Putting America to Work. Project Funded by the American Recovery and Reinvestment Act."

As far back as July 2009, Republican legislators and some Democrats criticized the signs as wasteful. Sarah Palin, speaking at a Tea Party convention a year ago, claimed that one state alone -- Ohio -- spent $1 million on stimulus signs. PolitiFact rated that claim as Half True, finding that the figure was a suspect and almost certainly exaggerated estimate.

But the issue did not go away. When Rep. Jim Renacci was asked during a recent radio interview where the federal budget could be cut, he said: "I'll give you a small item that I see on the highway every day. It's the signs that say 'This is the recovery act.' I think it was $20 or $40 million in signage."

PolitiFact Ohio couldn't help being interested in an estimate with a range of 100 percent. We asked where the 16th District Republican got his figures, and did some looking of our own.

The congressman's press secretary, Karin Davenport, cited a figure from Rep. Aaron Schock, an Illinois Republican. He introduced a bill last July requiring agencies to report what they already had spent on signs and prohibiting funding for more.

"Reports have stated these signs can cost taxpayers up to $10,000," Schock said, "and my home state of Illinois has spent over $650,000 on these signs. That's roughly $20 million spent nationwide, without creating one single job."

Where did Schock get the number?

His communications director, Steve Dutton, told us, "The number comes from several sources of information, including information reported by individual states, independent reporters (some amounts included up to $200 million) and several ranges from the White House.

"The White House initially said the cost was around $5 million and then they came back with $10 million, but the accounting for the actual cost is somewhat difficult as the way the stimulus bill was written it didn't require states to have to account for the costs of the signs. Several states did account for the cost, but not all of them did. There was a CNN story on the costs of the signs in Ohio."

That put us back where we started. The CNN story, from a year ago, used the $1 million Ohio figure that PolitiFact found suspect and likely exaggerated. The story also said that CNN "found most states are spending stimulus money on signs and that could cost taxpayers nationwide about $3.8 million."

House Republican Whip Eric Cantor, supporting Schock's bill, said "no information exists as to how much all of these signs cost taxpayers, but reports indicate that potentially tens of millions of dollars have been spent."

Schock sits on the House Subcommittee on Oversight. The full committee's ranking Republican and chairman, Rep. Darrell Issa, last year called the stimulus signs "propaganda" and made them a particular target.  Last June, he asked the Recovery Accountability and Transparency Board to investigate the total cost of recovery act signs in six agencies: the Department of Commerce, Department of Defense, Department of Housing and Urban Development, Department of Transportation, Environmental Protection Agency and General Services Administration.

The six agencies reported spending about $9 million total on signs, though they relied on only a sampling of projects for their estimates. The Department of Transportation spent the most, $8,154,000. The reported per-sign cost ranged from "negligible" (adding a recovery act logo to a sign that would have been posted anyway) to $1,950.

"I can't remember this issue coming up since then," the communications director for the Recovery Accountability and Transparency Board, Edward Pound, told us. "I think that's the extent of it."

But Issa complained that the reporting was inadequate.  He and Republicans on the oversight committee asked the public to "track down" and photograph "propaganda signs" (which they said cost as much as $20 million), posting them online under the banner "Signs of a failed stimulus."

The website says the signs cost "potentially" and "up to" $192 million. No basis is provided for that figure. Calling it a "potential" cost makes it a theoretical high end, not an estimate.

Sam Rosen-Amy, a budget and fiscal transparency policy analyst with OMB Watch, said making any estimate would be difficult because signs are not mandated on projects, some signs are used on multiple projects and the per-sign cost varies widely. The recovery board doesn't track the cost of signage.

So we end where we started: Whether the signs are useful or wasteful is something for legislators and the public to decide. The $1 million figure for signs in Ohio was suspect a year ago, and it remains a big part of the foundation for later estimates.

There's an element of accuracy in Renacci's statement. The cost of the signs nationally has run into the millions.

But although some huge numbers have been cited, no one was able to document an exact figure. And when agencies putting the signs up were asked to investigate the costs, their estimates tallied up to less than half of Renacci's figures.

That's an important detail the listener needs to put things in proper context, and on the Truth-O-Meter that means we rate the congressman's claim as Half True.
PolitiFact, "Palin claims a state paid $1 million to advertise that they were spending stimulus," Feb. 8, 2010

WCPN 90.3 FM, "The Sound of Ideas," Jan. 17, 2011

E-mail from Renacci Press Secretary Karin Davenport, Feb. 3, 2011

Rep. Aaron Schock, "American People Select Schock YouCut Proposal," July 13, 2010

The Hill, "Schock bill would prevent spending on signs promoting stimulus bill," Jan. 21, 2011

E-mail interview with Schock Communications Director Steve Dutton, Feb. 7, 2011

CNN, "Signs of waste? $1 million used to tout stimulus funds at work in Ohio," January 26, 2010

House Committee on Oversight and Government Reform, "Signs of a Failed Stimulus"

House Committee on Oversight and Government Reform, 111th Congress, Republican Staff Report, "Analysis of the First Year of the Obama Administration: Public Relations and Propaganda Initiatives," Aug. 16, 2010

U.S. Dept. of Transportation, Office of Inspector General, "Letter To Ranking Member Issa Regarding DOT's Use of ARRA Signage," Aug. 17 2010

Recovery Accountability and Transparency Board, Letter to Darrell Issa, Sept. 9, 2010

CNS News, "Taxpayers Paid At Least $9 Million for Signs Promoting Obama's Economic Stimulus," Sept. 17, 2010

Interview, Edward T. Pound, director of communications, Recovery Accountability and Transparency Board, Feb. 1, 2011

The Hill, "House GOP launches crowd-sourced map of stimulus signs," Sept. 15, 2010

Interview, OMB Watch analyst Sam Rosen-Amy, Feb. 2, 2011

GAO, Oversight of the Recovery Act
Browse the Truth-O-Meter
More by Tom Feran
Support independent fact-checking.
Become a member!
In a world of wild talk and fake news, help us stand up for the facts.