Stand up for the facts!
Our only agenda is to publish the truth so you can be an informed participant in democracy.
We need your help.
I would like to contribute
"Whether you like to admit it or not, half our general revenue goes to education."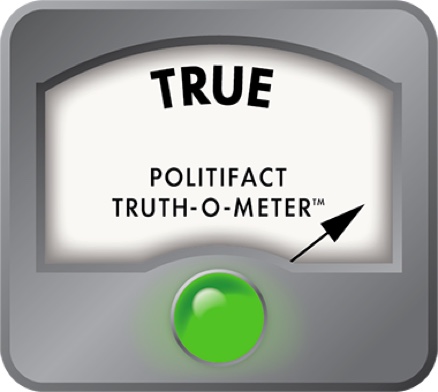 Florida Senate president warns of education funding cuts
A budget storm is brewing in Tallahassee, and Senate President Mike Haridopolos is making clear that no agency, program or area may be spared from impending cuts.

Haridopolos, R-Merritt Island, met with reporters on Jan. 12, 2011, to offer his outlook regarding Florida's $3.62 billion budget shortfall for the coming fiscal year. Haridopolos predicted that it would be difficult to pursue any significant tax cuts -- like those being championed by Gov. Rick Scott -- and that everyone should expect spending cuts.

That includes education funding, he warned.

More than $3 billion in federal stimulus funds have helped the state fill education budget holes for the past two years, but those funds sunset this spring. And while some additional federal funds are coming available, about $555 million, Florida's budget picture remains bleak, Haridopolos said.

"Whether you like to admit it or not, half our general revenue goes to education," Haridopolos was quoted as saying in the Orlando Sentinel. "It's a very difficult spot to be in, and the reason we wanted to make the adjustments to the class-size amendment" defeated by voters in November. Haridopolos was referring to an amendment proposed by the Legislature to ease class-size requirements at Florida schools so the state could save money. That measure failed to receive the needed 60 percent voter approval to pass.

For this fact check, we decided to zero in on Haridopolos' claim that half of state general revenue goes to fund education.

Understanding the state budget and education funding

In his claim, Haridopolos is talking about a subset of the state budget, which is a subset of state's share of education funding in Florida, which is a subset of overall education funding in Florida. Oh, and he's not just talking about K-12 spending, but also state spending on the state university system, pre-Kindergarten and student aid programs.

We'll walk you through it.

Let's start with the state budget, which you can imagine by picturing a three-legged stool.

Leg one: General revenue (what Haridopolos is talking about). General revenue makes up about 34 percent of the current state budget. The money mostly comes from sales taxes -- though some comes from telephone and cable taxes, corporate income taxes (which Scott has vowed to phase out), and taxes on property transactions. The state has broad discretion on how general revenue is spent.

Leg two: State trust funds. State trust funds make up about 27 percent of the current state budget. That is money collected by the state to be used for a specific purpose. The state gas tax is funneled into a transportation trust fund, for example, to pay for road building projects. Florida Lottery proceeds roll into the Educational Enhancement Trust Fund. (The Legislature, at times, has raided trust funds to help balance the budget.)

Leg three: Federal dollars. Federal dollars this year comprise about 39 percent of the state budget. Federal dollars primarily fund the state's Medicaid program, but also help fund education, road projects and the criminal justice system.

So while each leg helps fund education programs from pre-K through college, Haridopolos is focusing on the general revenue fund. In the current budget, 56 percent of all state education spending came out of general revenue, and it's the portion of state spending the Legislature can most easily control.

Now, here's a second important primer.

The state doesn't fund education all by itself. Hardly. Local school districts contribute billions of dollars on their own through local property taxes. Most of those property taxes, believe it or not, are set at rates mandated by the Legislature through something called the Required Local Effort. In short, school districts are forced to collect the amount of property taxes the Legislature decides, or the districts won't get to share in state funding.

In addition, there are other property taxes individual school districts have discretion over. None of those funds are technically state revenues for the purpose of this analysis.

If this isn't confusing enough already, the context of Haridopolos' statement also is important. He's talking about potential cuts in education funding because of less federal dollars and lower sales tax receipts that are affecting the state's bottom line. One way to offset those cuts would be to raise the Required Local Effort, but the Republican-led Legislature that sets the tax has been opposed to that idea.
Drilling down on general revenue

Now, sticking to Haridopolos' statement and examining only general revenue, the Senate president is correct.

Of the $23.8 billion of general revenue budgeted to be spent between July 1, 2010, and June 30, 2011, $12.5 billion was directed to education -- pre-K through college.

Divide one into the other and you see that education spending currently equals more than 52 percent of general revenue. You can see the full breakdown of general revenue spending on Page 5 of this report.

Haridopolos spokesman David Bishop said the state expects to receive $22.6 billion in general revenue for the 2011-2012 fiscal year.

If you look at the overall state budget, education funding made up about 32 percent ($22.4 billion) of the entire $70 billion state budget in 2010-2011.
Ruling

As Haridopolos talked in Tallahassee about the grim state budget prospects for this coming year, he said state education funding might see cuts. Part of the problem is just how much of the budget is tied to education funding, he said -- half of the state's general revenue fund.

To be honest, Florida's education funding structure is way more complicated than Haridopolos let on. But he's right that the state general revenue fund, which is a little more than a third of the overall state budget, is being used primarily to fund education.

We rate this statement True. 
Orlando Sentinel, Florida Senate president: Cuts in education funding are likely, Jan. 13, 2011
Florida Department of Education, Funding for Florida School Districts, 2010-2011
State Sen. Mike Haridopolos, e-mail interview with David Bishop, Jan. 13, 2011
Florida Legislature, Fiscal Analysis in Brief, August 2010
Florida Department of Revenue, General Revenue collection report, July 19, 2010
St. Petersburg Times, Florida in line to get $1.3 billion from new federal stimulus bill, Aug. 11, 2010
Browse the Truth-O-Meter
More by Aaron Sharockman
Support independent fact-checking.
Become a member!
In a world of wild talk and fake news, help us stand up for the facts.