Stand up for the facts!
Our only agenda is to publish the truth so you can be an informed participant in democracy.
We need your help.
I would like to contribute
In Europe, "church attendance rates (are) in the single digits" because churches are supported by taxes.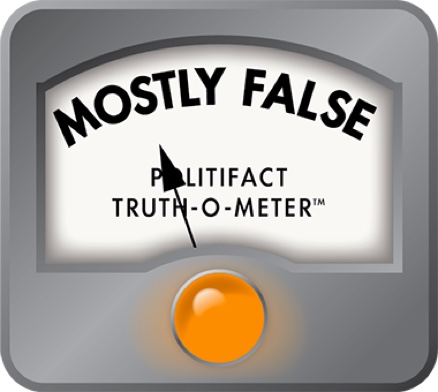 Rick Santorum says church attendance in the single digits in Europe because of government support
Rick Santorum often says on the campaign trail that liberty -- economic and spiritual -- has made America great. But Europe isn't so fortunate.

"Look at every other country from which we came and almost every one, if not every one, are dead from a faith perspective," the former U.S. senator, R-Penn., said at a Henniker, N.H., house party on July 18, 2011. "You go to Europe, church attendance rates in the single digits -- secular society. Why? Because the government co-opted faith, because faith and the government are intertwined. (People in Europe) pay taxes -- you don't tithe to your church -- you pay taxes to support your church, and they've been co-opted to the point where the two are unrecognizable as far as of difference, and so people have lost faith."

There's a lot to unpack here. But let's start with his claim about church attendance rates:  Do Europeans attend church, on a percentage basis, in the single digits?

When we asked Santorum's campaign for its source on this, we were pointed to news articles dating back to 2005 and a European Social Survey conducted in 2008 and 2009. All detail declining church attendance, but none indicate single-digit rates continent-wide.
 
In fact, Santorum's back-up material largely reaffirms the view of the experts on European worship patterns we consulted, who say Santorum is exaggerating.

"Europe as a whole, compared to the United States is much less religious, but there are great differences between European countries," says Peter Berger, Director of the Institute on Culture, Religion and World Affairs at Boston University.

Ronald Inglehart, a political scientist at the University of Michigan and chairman of the Stockholm-based World Values Survey, which collects public input in religious practices in more than 100 countries, said Santorum is correct to a point. England, France, and the Scandinavian countries, do indeed have attendance rates in the single digits.

"But Italy has about 39 percent church attendance; Ireland has about 65 percent; Portugal 30; Spain 20; Germany 15. So, single digits are actually fairly rare."

And what about about Santorum's other main contention: that European countries that collect a so-called "church tax" or earmark public money for churches, are less religious?

Let's recall the candidate's exact words:

People in Europe "pay taxes to support your church, and they've been co-opted to the point where the two are unrecognizable in terms of difference and so people have lost faith."

As sources, the Santorum campaign cited an unusual pair: French historian Alexis deTocqueville, who died in 1859, and Santorum's 2012 GOP-rival Mitt Romney. Both men have argued  -- 178 years apart -- that America is better off for not having a state religion.

But neither prove Santorum's claim that directing tax dollars to churches drives down attendance levels in 2011.

"I think he's not terribly well-informed," said Inglehart of the World Values Survey, "He is stretching."

Indeed, some churches get tax support and still have high attendance rates, according to World Values Survey:

Italy directs tax dollars to churches and attendance levels there stand at 39 percent, roughly on par with the U.S.

Germany and Austria levy "church taxes" and have rates of church attendance around 15 percent.

Finland and Iceland also collect taxes for religious use, and their churchgoing rates stand at around 4 percent.

Berger examined this question in his book Religious America, Secular Europe?  He says that in the 17th, 18th and 19th centuries, Europe saw instances when political tensions led to dissatisfaction with a state church. But Berger says Santorum misses the mark when he suggests that government-church relations are driving contemporary worship trends.

"He is distorting things. To talk about Europe today as if it were Europe 200 years ago is not very accurate."

Our Ruling:

While Santorum is right that some European countries have church attendance rates that are below 10 percent, we found others that have rates of worship well above the single digits.

Santorum's other claim, that European governments collect taxes and send the money to churches, is also a mixed bag. Santorum is correct when he says some countries assess so-called church taxes. But more importantly to his main point, scholars say they don't see a connection between the taxes and church attendance. Indeed, the rate in Italy is about 39 percent. So we rate this statement Mostly False.
Interview with Peter R. Berger, July 22, 2011
Interview with Ronald Ingelhart, July 19, 2011

EU Working Paper on Taxation,Tax Co-Ordination In The European Union
Nationmaster.org, Church Attendance, retrieved July 20, 2011
World Values Survey
The Economist, Europe's Irreligious, August 9, 2010
USA Today, Religion Takes A Back Seat In Western Europe, August 11, 2005
Boston Globe, Catholic Church Withers In Europe, May 2, 2005
Support independent fact-checking.
Become a member!
In a world of wild talk and fake news, help us stand up for the facts.