Stand up for the facts!
Our only agenda is to publish the truth so you can be an informed participant in democracy.
We need your help.
I would like to contribute
The average person "will pay $6,000 more a year" under Rep. Paul Ryan's Medicare proposal.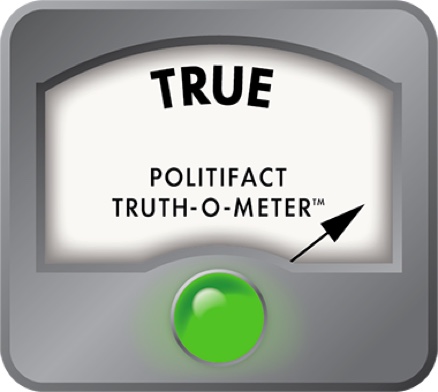 Rep. Tim Ryan says Rep. Paul Ryan's Medicare proposal will cost patients $6,000 more a year
Rep. Tim Ryan, a Democrat from Niles, Ohio, shares a last name with House Budget Committee Chairman Paul Ryan of Wisconsin, but the pair don't share the same vision for Medicare, the U.S. government's health insurance program for the nation's elderly and chronically disabled.

Republican Paul Ryan's budget blue print suggests retaining the current Medicare system for people who are currently over age 55 but giving future retirees a "premium support payment" they could use to purchase private insurance, prompting Democrats to accuse the GOP of attempting to dismantle Medicare. Those on the House Energy and Commerce Committee even put out a report that purports to outline the amount of extra Medicare costs that the new program would require taxpayers in every congressional district to pay.

Tim Ryan, whose office frequently gets phone calls meant for the other Ryan, took to the House floor on May 24 to denounce the GOP plan. He argued that the value of the proposed vouchers would not keep pace with heath care costs because they'd be linked to the Consumer Price Index, which hasn't risen as fast as health care costs.

"The average person going into this Medicare proposal will pay $6,000 more a year," Ohio's Ryan said in his speech.

Would the GOP plan escalate yearly out-of-pocket health care costs for the elderly as significantly as Tim Ryan claims?

The budget by Wisconsin's Ryan  --  which he dubbed  "The Path to Prosperity" -- argues that Medicare won't be able to meet the needs of current seniors or future generations without reforms. It aims to balance the federal budget by slicing $5.8 trillion in government spending over 10 years, reforming taxes and trimming the growth of entitlement programs including Medicare.

An analysis from the Congressional Budget Office estimates that Ryan's plan would accomplish its budget balancing goals, putting the budget into a surplus by 2040, and reducing federal debt to about 10 percent of Gross Domestic Product by 2050. Much of that would be accomplished by reducing the government's costs for Medicare.

Currently, Medicare is a "fee for service" program, which pays health care providers for each procedure or visit. Instead, Paul Ryan wants the government to issue a subsidy that will pay part - but probably not all - of the cost of a person's health insurance. The size of that subsidy would depend on the beneficiary's income and health status.

Ryan's GOP "Path to Prosperity" document calls Medicare a "top-down, government-run system" marked by unnecessary tests, redundant treatment and an inefficient bureaucracy that bungles billings and misplaces records. It contends the system's "open-ended blank-check commitments to reimburse health-care providers for services" creates incentives for them to bilk the government. Such flaws drive up costs, threatening to "bankrupt the system - and ultimately the nation," the budget document says.

Starting in 2022, Paul Ryan's budget blueprint calls for enrolling new Medicare beneficiaries in a program that would pay "a Medicare premium-support payment" to an insurance plan "chosen by the beneficiary, subsidizing its cost." Existing Medicare beneficiaries could stay in the traditional fee-for-service Medicare plan, or enroll in the new program. The age for Medicare eligibility would ratchet up by two month increments each year, until it reached 67 in 2033.
       
Analyses by the Congressional Budget Office, which does budgetary analysis for both parties in Congress, and by the Kaiser Family Foundation concluded that Medicare beneficiaries coming into the system after 2022 would spend significantly more for health care under the proposal from Wisconsin's Ryan. Pegging the growth of the federal government's Medicare payments to the Consumer Price Index will save the federal government money, but "expose beneficiaries to increasingly larger out-of-pocket costs and risks over time," the Kaiser report says.

"First, private plans would cost more than traditional Medicare because of the net effect of differences in payment rates for providers, administrative costs, and utilization of health care services," said CBO's report on Paul Ryan's plan. "Second, the government's contribution would grow more slowly than health care costs, leaving more for beneficiaries to pay."

The CBO estimates the net federal premium support payments for a typical 65-year-old would be $8,000, or 39 percent of Medicare spending per enrollee, under the program that would be established by the GOP's "Path to Prosperity."  That means the total cost of providing health care benefits (premium and other costs) to a typical 65-year-old in such a plan would be about $20,500 in 2022. The beneficiary would pay $12,500 in out-of-pocket costs.

Using CBO projections, the folks at Kaiser did the math, and determined that if a person who turned 65 in 2022 were to remain in the traditional Medicare system, the out-of-pocket costs would be just $5,630 - a full $6,870 less than it would be under the new program.

Kaiser explains it would cost more money to provide benefits under the Republican proposal "because private plans have higher administrative costs and typically pay higher fees to providers than Medicare."

"While private plans may be able to achieve lower utilization through tighter costs and care management practices, the CBO believes the total costs of providing a similar benefit package would be higher under private plans than Medicare, and that the differential between the costs under traditional Medicare and the costs under private plans would widen over time," the Kaiser report says.

Paul Ryan's proposal would reduce federal spending for Medicare by providing future beneficiaries with a fixed amount of money they could put towards an insurance premium, leaving them on the hook for significantly greater out-of-pocket payments than they'd pay under the current Medicare system.

In his speech, Tim Ryan said said that those new out-of-pocket costs would amount to $6,000 each year, a bit of less than what the CBO calculated. So although perhaps undersold, Tim Ryan's claim is accurate with nothing significant missing for an understanding.

On the Truth-O-Meter, that rates as true.
Rep. Tim Ryan, speech in the House of Representatives, May 24, 2011

House Budget Committee, Rep. Paul Ryan chairman, "The Path to Prosperity," April 5, 2011

Committee on Energy and Commerce Democrats, "Impact of Republican Medicare Plan by Congressional District," June 3, 2011

Congressional Budget Office, Long-term Analysis of a Budget Proposal by Chairman Ryan, April 5, 2011

Kaiser Family Foundation, Proposed Changes to Medicare in the "Path to Prosperity," April 2011
Browse the Truth-O-Meter
More by Sabrina Eaton
Support independent fact-checking.
Become a member!
In a world of wild talk and fake news, help us stand up for the facts.