Get PolitiFact in your inbox.
"Protesters caused $7.5 million in damage to the Wisconsin State House"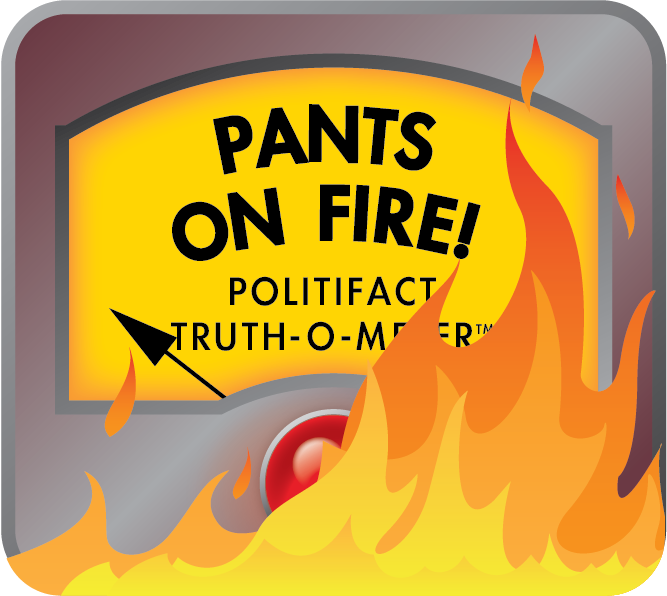 Wisconsin Sen. Dan Kapanke says protesters caused $7.5 million in damage to the Capitol
As the unprecedented nine Senate recall elections approach, the red alert has been sounded by state Sen. Dan Kapanke (R-La Crosse)

Facing a challenge from state Rep. Jennifer Shilling (D-La Crosse), Kapanke issued an appeal June 28, 2011to subscribers to the National Tea Party Alert email service, seeking support and contributions.

In the email appeal, which came from his campaign office under his signature, Kapanke warns "if we do not win here, liberals will be emboldened to try this recall tactic in states across the country."

The email says "The unprecedented damage and intimidation union protesters caused in Wisconsin this year isn't over." It lays out four "facts you may not know about the impact unions have had in Wisconsin."

Among them, this headline:  "Protesters caused $7.5 million in damage to the Wisconsin State House."

Beneath it: "Union protesters who swarmed the State House and climbed through windows in an attempt to disrupt the people's business caused millions in damage in the process."

We've been down this path before.

Since the protests began, PolitiFact Wisconsin has rated seven statements about the conduct of protesters and claims of damage at the Capitol. One was Half True, one Barely True, one False, and four were Pants on Fire.

The Pants on Fire category included one from Kapanke, in which he claimed protesters damaged the windshield of his car. Madison police said it was likely due to a pebble on the highway.

And it also includes a March 3, 2011 claim by Administration Secretary Mike Huebsch who said protesters caused $7.5 million damage to the Capitol.

That's the same claim Kapanke is making now.

The evidence for Huebsch's claim -- which was almost immediately retracted -- was a single page, handwritten estimate. The state later paid $13,800 to historic preservation architect Charles Quagliana to assess the impact of weeks of protests on the Capitol and its grounds.

His report said the damages resulted in $270,000 in wear and tear to the building. He cited unintended damage such as nicks and chips to stone, as well as stains to stone from skin oils (such as from hands),  residue from tape used to hang signs and a few marker stains.

"Essentially the building experienced three to five years of wear within a two-week period," Quagliana wrote.

We asked Kapanke's campaign about the $7.5 million claim.

"We issued a correction on that," said campaign manager Jennifer Harrington, adding the campaign staff dug up a March 3, 2011 JSOnline blog post based on the original claim.

But later blog posts and the March 4, 2011 Journal Sentinel article shot down the estimate.

The March 4 story included a tour of the Capitol with state officials who said they saw very little obvious damage. They estimated that a cleanup would cost $347,000 if outside specialists were not needed -- an estimate that also turned out to be high.

"Our guys were referencing the original article," Harrington said. "For whatever reason, nobody caught it."

Kapanke did not respond to requests for comment.

The campaign said an emailed correction had been sent to the tea party group, which sent the original solicitation to its members. Here's what the Kapanke campaign posted on its website in an attempt to straighten it all out:

"The estimated costs, including security, are in the millions of dollars but are not expected to reach the estimate referenced in the Journal Sentinel. Any costs to the taxpayers that are unnecessary such as damages to public property or recall elections hurt Wisconsin."

But that statement mixes apples (damages) with oranges (the cost of security) and strawberries (the cost of the recalls, which include three led by Republicans against Democratic senators).

A May 13, 2011 estimate said it cost $7.8 million to bring in police officers from around the state to handle the Capitol protests. The report says that figure is expected to grow because the estimate does not include overtime.

But Kapanke's original solicitation never mentioned security costs.

So where does that leave us ... again?

Kapanke's campaign staff cited a March news account with a wildly inflated estimate of damage to the Capitol. That estimate was almost immediately withdrawn, and then reduced to $272,000 -- a fraction of the original estimate. The campaign acknowledged its mistake. Yet its revised statement changed the nature of the claim, broadening it from a claim solely about physical damage to the building.

It's starting to smell like a whole bunch of grills on a holiday weekend.

We rated an earlier $7.5 million Capitol damage claim Pants on Fire.

This one, too.
Kapanke letter to National Tea Party Alert.com

PolitiFact Wisconsin, "Wisconsin officials claim cleaning up the Capitol will cost $7.5 million," March 8, 2011

PolitiFact Wisconsin, " Wisconsin Senator Dan Kapanke says protesters at the Capitol damaged the windshield of His Car," April 25, 2011

PolitiFact Wisconsin, "Wisconsin Democratic Party says in response to protesters Republicans have bolted shut windows at the Capitol," March 4, 2011

PolitiFact Wisconsin, "Wisconsin Gov. Scott Walker says out-of-staters account for "almost all" in Madison protests," Feb. 23, 2011

PolitiFact Wisconsin, "Wisconsin Senate Majority Leader Scott Fitzgerald says "a mob" broke down the door and took over the Capitol," March 11, 2011

PolitiFact Wisconsin, "U.S. Rep. Paul Ryan compares Madison to Cairo, calls protests over collective bargaining changes 'riots.'" Feb. 18, 2011

PolitiFact Wisconsin, "Wisconsin Manufacturers and Commerce says protesters 'attacked' their headquarters with 'graffiti on the sidewalk' and more," June 15, 2011

Milwaukee Journal Sentinel, "State says damage to marble at Capitol could hit $7.5 million," March 3, 2011
Milwaukee Journal Sentinel, "State officials back off Capitol damage claim," March 4, 2011.

Milwaukee Journal Sentinel, "$270,000 is latest estimate for Wisconsin Capitol damage from Protests," May 13, 2011

Report by Charles Quagliana on damage to the state Capitol, May 10, 2011

Kapanke for Senate web site

Email, interviews Jennifer Harrington, Kapanke for Senate campaign, June 28, 2011
Browse the Truth-O-Meter
More by James B. Nelson
Support independent fact-checking.
Become a member!
In a world of wild talk and fake news, help us stand up for the facts.