Stand up for the facts!
Our only agenda is to publish the truth so you can be an informed participant in democracy.
We need your help.
I would like to contribute
"Since 1999, all Virginia Lottery profits have been used for public education in the Commonwealth for kindergarten through 12th grade."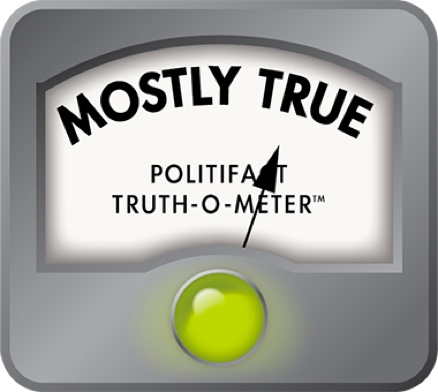 Virginia lottery claims all profits since 1999 have gone to education
With the Mega Millions jackpot up to $151 million, Virginians will be flocking to stores this week to buy lottery tickets.

Of course, there's no guarantee a Virginian will win. Forty-one states plus Washington, D.C. play the game and the chance of winning is almost 1 in 176 million for each dollar laid down. The Virginia Lottery encourages play by saying all of the profits it generates go to a good cause.

"Since 1999, all Virginia lottery profits have been used for public education in the Commonwealth, for kindergarten through 12th grade," its website boasts.

State politicians and officials have long debated whether all lottery profits really go to public schools. So we decided to take a look.

But before we get to the numbers, it's helpful to consider a thumbnail history of the Virginia Lottery. Voters approved it in 1987 and the first tickets were sold in 1988.

During the first two years, lottery profits were set aside tor construction projects.  During the 1991 recession, the proceeds were moved to the state's general fund which supports K-12 schools, health and public safety.

In 1995, the General Assembly was controlled by Democrats. Then-Gov. George Allen, a Republican, accused the Democrats of breaking long-standing promises to earmark every dollar of profits for education. Although news stories from the time say Allen did not provide proof of his claim, defensive lawmakers approved the Omnibus Education Act which required all lottery revenues sent to the general fund to be used only for public education.

Many Republicans and educators denounced the bill as an election-year sham. That was because the $312 million in annual lottery profits at the time was one of many revenue sources flowing into the multi-billion dollar general fund. No one could say with certainty whether proceeds would up in education or another service. Think of it this way: when raindrops fall into a reservoir, can anyone pinpoint whose bathtub they fill?

In 2000, the General Assembly asked voters to approve a state constitutional amendment that required lottery profits only be used for public education. The amendment was overwhelmingly approved. It established a Lottery Proceeds Fund to funnel lottery profits to education.

The controversy was hardly settled, however. The new coffer was made part of the general fund. Again, it was impossible to trace a direct flow of lottery profits into public schools. Although state  support for education increased over ensuing years, it's impossible specify how much of the rise was caused by lottery profits and how much was caused by revenue surges from a variety of taxes that pour into the general fund.

Walt Kucharski, Virginia's long-time Auditor of Public Accounts, says he has always been able to confirm that state lottery officials have transmitted their profits to the general fund. But until three years ago, he could not verify that 100 percent of the lottery proceeds ended up in the K-12 budget.

"Can I match it up dollar for dollar, serial number to serial number, the answer is no," Kucharski said.

That changed in 2008 when the General Assembly, heeding advice from then-Attorney General Bob McDonnell, separated the Lottery Proceeds Fund from the general fund. The action provided the direct pipeline that allowed Kucharski and others to trace the flow of lottery money into schools.

Kucharski has no hesitation saying that since 2008, every penny of lottery profits has gone to public education. The state budget now lists line items that detail the allocations of the proceeds to specific education programs. This fiscal year, the Lottery is expected to contribute $436 million to the state's $5.5 billion education budget.

About two-thirds of the lottery money is earmarked for programs that help prepare four-year-olds from low income families to enter school, provide early reading intervention, provide breakfast for low-income students, and provide special education.

John Hagerty, a lottery spokesman, noted that its always been up to the General Assembly to decide how to spend lottery profits.

"The lottery makes the money and then hands it over to the state," Hagerty said.

Let's Review:

The lottery says that since 1999, all of its profits have gone to support K-12 education.

The claim has problems. Prior to 2008, the money went into the state's general fund -- now totaling about $16 billion a year -- which supports major services such as health and public safety in addition to public schools. It was impossible to trace individual lottery profits into any specific program. Audits show lottery officials correctly transmitted all their proceeds to the state, but make no representations about how the money was specifically allocated.

Since 2008, the state's auditor of public accounts said that the profits go into their own separate fund and are distributed directly to localities for public education. The money is detailed in the state budget line items.

Just as lottery officials can't prove their claim that all lottery profits since 1999 have gone to education, nor we can we disprove it. The Lottery would lay aside doubts if it simply said all of its profits go to schools and didn't mention a start date.

We rate their claim Mostly True. 
Virginia Lottery website, Where the money goes., accessed March 2, 2011.

E-mail from John Hagerty, Virginia Lottery spokesman, March 2, 2011.

Telephone interview with Dan Timberlake, Virginia's director of planning and budget, March 3, 2011.

Interviews with Walter Kucharski, Virginia's auditor of public accounts, March 2, 2011 and March 8, 2011.

State audits of the Lottery Department, State auditor of public accounts, 1999-2010.

E-mail from Charles Pyle, spokesman for the Virginia Department of Education, March 8, 2011.

Telephone interview with Paula Otto, executive director of the Virginia Lottery, March 7, 2011.

Interview with Robert Vaughn, staff director of the House Appropriations Committee, March 8, 2011.

The Virginian-Pilot, The Virginia lottery: playing politics with profits, Oct. 17, 1995.
Browse the Truth-O-Meter
More by Sean Gorman
Support independent fact-checking.
Become a member!
In a world of wild talk and fake news, help us stand up for the facts.