Stand up for the facts!
Our only agenda is to publish the truth so you can be an informed participant in democracy.
We need your help.
I would like to contribute
Says David Prosser = Scott Walker.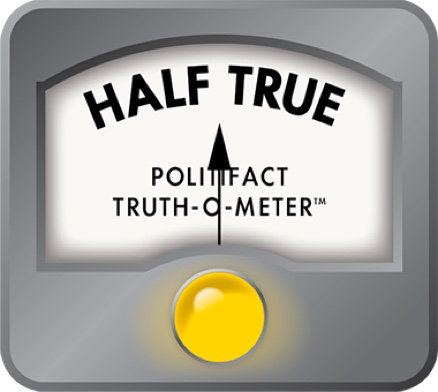 Greater Wisconsin Committee says state Supreme Court Justice David Prosser equals Gov. Scott Walker
A TV ad aims to help unseat conservative Wisconsin Supreme Court Justice David Prosser by comparing him to Republican Gov. Scott Walker, who has become a polarizing figure in the wake of his efforts to reduce the power of public employee unions.

The commercial is produced by the liberal Greater Wisconsin Committee, which is also airing an ad critical of Prosser's handling of a decades-old priest abuse case. We rated the claims in the priest ad Barely True.

With its "Prosser will be rubber stamp" ad, the committee's calculation is that voters angry with Walker will vote for JoAnne Kloppenburg, Prosser's opponent in the April 5, 2011, election.

The 30-second ad -- supported by a website called ProsserEqualsWalker.com -- shows pictures of Prosser and Walker. A narrator begins by asking, "Can we trust David Prosser to be impartial?," and then makes five statements about Prosser and Walker. Those are echoed by messages on the screen.

In the end, the ads boil down to this equation: Prosser = Walker.

(Yes, that's a theme in this election. We previously rated a claim that Milwaukee County executive candidate Jeff Stone = Walker as Mostly True.)

We'll evaluate the ad's five statements -- paying particular attention to those that cite Prosser's own words -- in terms of how well they support the overall claim.

"In the Legislature, Prosser and Walker voted the same way 95 percent of the time."

The ad cites votes in the 1995-1996 legislative session, when Prosser and Walker were members of the state Assembly. The Assembly was controlled by the GOP and Prosser served as the speaker.

Michelle McGrorty, the Greater Wisconsin Committee's executive director, said the committee paid for a review of 1,048 roll call votes in which both men participated.

Prosser's campaign spokesman, Brian Nemoir, didn't dispute the 95 percent figure. He said it isn't surprising because "a good majority party puts together a widely supported legislative agenda they can advance."

Clearly, 95 percent is a big number and it's a start in making the "Prosser equals Walker" case. But it is common for members of the same party to vote with each other the vast majority of the time and many of the votes are on minor matters.

Prosser and Walker both voted "against the middle class."

The ad cites Walker's and Prosser's votes against a 1994 bill to raise the minimum wage.

The Greater Wisconsin Committee also told PolitiFact Wisconsin that Prosser and Walker voted to allow banks to raise credit card fees; for a state budget proposal that included increases in vehicle registration fees; against making more people eligible for the Healthy Start program; and for a state budget proposal that would allow taxing the income of public employees who retired in other states.

In response, Nemoir cited Prosser votes for laws that froze school property tax levies and required the state to pick up two-thirds of the cost of public schools; required employers to give 60 days' notice of a plant closing; and gave consumers protection against "lemon" vehicles. Nemoir said Prosser also sponsored a bill to allow public defenders to collectively bargain.

So, the second statement is very much a mixed bag.

"As a judge, Prosser has sided with corporations and against workers."

The ad cites two Supreme Court cases in which Prosser voted against the majority of the court in cases involving workers with disabilities. The ad doesn't mention Walker in this statement, but presumably he is viewed as against workers because of his collective bargaining bill.

In 2003, the Supreme Court affirmed that a Barron County employer discriminated against an employee with a disability because it refused to modify her job duties and her work space. In 2004, the court upheld affirmed that an Eau Claire County employer failed to make a reasonable accommodation so that an employee with a disability could continue to work there.

Prosser's campaign countered by citing four decisions -- each authored by Prosser -- that were decided in favor of workers.

In 2000, the court ruled that a school district employee had the right to a trial to try to prove she had to quit her job because of harassment. And in three decisions in 2001, the court upheld a pension boost for public employees and retirees; upheld an award of more than $555,000 to a county employee who won a sexual harassment suit; and declared that a fired county employee has a right to a hearing before his vested pension benefits can be denied.  

This statement is another mixed bag -- some of Prosser's rulings went against workers, others favored them.

"Now Prosser has promised to act as a complement to Walker."

The ad cites a news release issued by Prosser's campaign on Dec. 8, 2010, that called Prosser a "common-sense complement to both the new administration and Legislature." The statement was attributed to Nemoir, but at PolitiFact we attribute a statement from a spokesman as coming from the candidate, who is responsible for it.

The reference was to Walker, who had been elected governor in November 2010 but had not yet taken office, and Republicans who would take control of the Senate and Assembly in January 2011.

Weeks later, Prosser disavowed the statement. But it left the impression that, rather than being part of an independent judiciary, Prosser saw himself as teaming with Republicans who controlled the executive and legislative branches of government to advance their agenda.

This statement supports the Prosser = Walker equation, though Prosser later disavowed it. That leads nicely to the final element.

Prosser's "views 'closely mirror' Walker's"

The ad's fifth statement cites an e-mail sent Dec. 9, 2010 by Nemoir in response to criticism by Kloppenburg about the "complement" comment. The e-mail said Prosser's "personal ideology more closely mirrors that of the incoming administration and Legislature."

So that statement also supports the Greater Wisconsin Committee's claim.

Of course, we're not limited to the evidence provided by the group. Prosser has also made other comments that relate to himself and Walker.

Walker is regarded as a strong conservative. Prosser has in some instances described himself as a conservative, but at other times as a "political moderate" and "in the political center." It is clear, however, that he holds the swing vote in the current 4-3 conservative majority on the Supreme Court.

In a March 24, 2011, meeting with the editorial board of the Milwaukee Journal Sentinel, Prosser said "what I've tried to do is to step back from partisan politics."

He cited a ruling he made that favored Walker's predecessor, Democratic Gov. Jim Doyle. In the same meeting, Prosser said Walker's bill constricting the collective bargaining rights of most public employees "is not necessarily legislation that I agree with."

In response to the Prosser = Walker claim, Nemoir said Prosser "recognizes his job on the court is to approach each case with impartiality. Had Prosser ruled favorably on a number of lawsuits advanced by the governor or against the governor, perhaps a case could be made.  Merely sharing the honor of representing the state as members of the Legislature is not evidence to support such a claim."

That brings us to a final piece of context.

Even if Prosser and Walker share the same political beliefs, it does not necessarily mean Prosser would vote on the Supreme Court the way Walker would act as governor.

Justices must consider the law and legal precedent in making their decisions; and Prosser's votes, in employment cases alone, show he has not consistently favored one side over another. Similarly, in a claim we rated Barely True, Kloppenburg said Prosser has prejudged matters likely to be heard by the Supreme Court, but she did not cite any specific examples.

Let's assess where we've come.

In comparing Prosser and Walker, the Greater Wisconsin Committee cites votes the two men made in the Legislature and votes Prosser cast on the Supreme Court -- neither of which amount to strong evidence. Some of Prosser's own statements, however, indicate a strong similarity between his beliefs and Walker's.

Here is the PolitiFact definition for Half True: "The statement is generally accurate but leaves out important details or takes things out of context."

Here's our ruling on the claim: Half True.
WTMJ-AM, David Prosser interview, March 23, 2011

PolitiFact Wisconsin, "Scott Walker says Mark Neumann = Nancy Pelosi," Sept. 9, 2010

Prosser for Supreme Court campaign, news release, Dec. 8, 2010

Milwaukee Journal Sentinel, "First dust-up emerges in race for Supreme Court," Dec. 9, 2010

Milwaukee Journal Sentinel, "Opinion polls show sharp divisions on Walker," March 5, 2011

Greater Wisconsin Committee's ProsserEqualsWalker website

Greater Wisconsin Committee,TV ad, March 18, 2011

Wisconsin Supreme Court, Wisconsin Professional Police Association v. Lightbourn, June 12, 2001

Wisconsin Supreme Court, Milwaukee District Council 48 v. Milwaukee County, June 15, 2001

Wisconsin Supreme Court, Strozinsky v. School District of Brown Deer, July 12, 2000

Wisconsin Supreme Court, Salveson v. Douglas County, July 10, 2001

Wisconsin Supreme Court, Crystal Lake Cheese Factory v. Labor and Industry Review Commission, July 11, 2003

Wisconsin Supreme Court, Hutchinson Technology v. Labor and Industry Review Commission, June 30, 2004

Wisconsin Blue Book 1995-1996, Assembly officers page

PolitiFact Wisconsin, "Kloppenburg says Wisconsin Supreme Court Justice has 'prejudged matters that are likely to come before the court,'"March 27, 2011

PolitiFact Wisconsin, "Greater Wisconsin Committee says Supreme Court Justice David Prosser mishandled allegation of sex abuse by priest," March 29, 2011

Milwaukee Journal Sentinel editorial board interview, David Prosser, March 24, 2011
Browse the Truth-O-Meter
More by Tom Kertscher
Support independent fact-checking.
Become a member!
In a world of wild talk and fake news, help us stand up for the facts.