Stand up for the facts!
Our only agenda is to publish the truth so you can be an informed participant in democracy.
We need your help.
I would like to contribute
Says Mitt Romney has flip-flopped on his support for President Reagan's policies.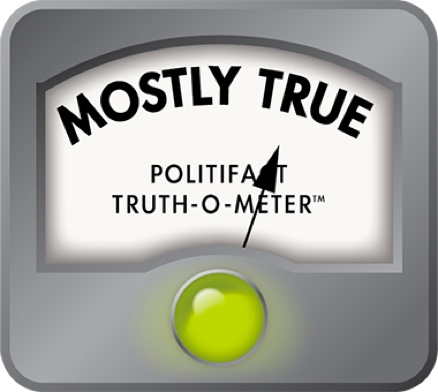 DNC calls out Romney's evolving affection for Reagan
The Democratic National Committee is beating the flip-flop drum to attack Mitt Romney. A four-minute DNC video ad accuses the Republican presidential candidate of switching positions on a host of issues including President Barack Obama's job stimulus package, abortion, global warming and health care reform.

Another topic on which the DNC says Romney pulled a switcharoo: his support for former President Ronald Reagan.

The ad, released Nov. 28, 2011, juxtaposes two clips of Romney talking. In the first, he says, "I was an independent during the time of Reagan-Bush. I'm not trying to return to Reagan-Bush."

Next, he's standing at a podium saying, "The principles that Ronald Reagan espoused are as true today as they were when he spoke them."

It's wrapped up with a clip of Reagan himself chuckling and saying, "There you go again."

We're looking separately at several claims in the ad. Here we ask, is Romney really a flipper when it comes to the Gipper?

The video evidence

The DNC provided us with a fact sheet laying out the source of each claim in the ad. The first clip of Romney, in which he seemed to be distancing himself from Reagan, comes from a 1994 debate when Romney was challenging the late Edward Kennedy in a race for U.S. Senate.

The two were having a mostly philosophical discussion about poverty and families with Kennedy, a liberal Democrat, claiming that child poverty rates rose when Republicans occupied the White House.

"Under the Reagan/Bush economic programs, under the economic programs you want to return to, the total number of children that are living in poverty, the total number of children out of wedlock -- this has happened, you know we've had Republican presidents during this period of time and the cutting back of support systems for children and most of all for families to get jobs," Kennedy said. "If you're not going to provide a climate and an atmosphere for men and women to be able to work and provide for their children, you're going to see the breakdown of the family as well."

Kennedy said discussions about supporting families shouldn't be used to score "political hits," prompting Romney to fire back that he wasn't politicizing the issue -- Kennedy was.

"I mentioned nothing about politics or your position at all. I talked about what I'd do to help strengthen families, and you talked about Reagan-Bush. Look, I was an independent during the time of Reagan-Bush. I'm not trying to return to Reagan-Bush," Romney said, distancing himself from the popular former president.

In the second clip, Romney was speaking at the annual Reagan lecture at the Reagan library in Simi Valley, Calif., in May 2010. He was talking about America's position in the world.

"I have to tell you that I'm optimistic. I'm optimistic about the future because I recognize that there is a growing awakening among the American people that this administration has put us on the wrong track and that the principles that Ronald Reagan espoused are as true today as they were when he spoke them."

Romney was interrupted by applause, and then continued by elaborating on policies emphasizing low taxes, balanced budgets and strong families.

So the two clips are as the DNC presented them in the ad. They are not covertly edited or cut to leave a false impression about what Romney said.

But is it a flip flop?

The DNC ad is titled "Mitt v. Mitt, The story of two men trapped in one body."

It opens with ominous-sounding music and white letters on a black background saying, "He wants to be president" followed by "but what does he really believe?" Then a voice in the background asks, "Who is this guy? Can you trust him?" and the Romney images unfold.

The ad's overt message is that Romney has changed his position on numerous issues, and that makes him an untrustworthy candidate.

But the Reagan matter is not so simple as a candidate voting in favor of a concrete issue, then voting against it. We looked and couldn't find any other references to Romney distancing himself from Reagan, beyond the 1994 debate comment. Prior to 1994, Romney was a businessman, not a politician.

It's true that Romney was not registered with any party for several years in Massachusetts, and in 1992, he voted for former Sen. Paul Tsongas, a liberal Democrat, in the Massachusetts Democratic presidential primary, according to a McClatchy newspapers story. (Romney's spokesman responded then "that the vote for Tsongas was a vote against Bill Clinton and that not enrolling in either major party was common in Massachusetts.")

Later, during his first presidential campaign in 2007, Romney blasted primary rival John McCain for voting against President George W. Bush's tax cuts.

"That's failing Reagan 101," Romney said, holding up Reagan as the standard to which Republicans should aspire.

In a debate that year, he was asked whether the primary candidates would support the Republican nominee if it was someone else. Yes, Romney said, then added, "I want that nominee, however, to come out of the same mold as Ronald Reagan."

In the 2010 Reagan library address, Romney had more flattering words for the former president. While speaking about the need to keep America strong for the sake of world peace, he paraphrased "that wonderful line" of Reagan's:

"(Reagan) said, 'of the four wars that were begun during my lifetime, not one of them was begun because America was too strong.' And he's absolutely right," Romney said.

And again in that speech, Romney approvingly quoted Reagan taking a jab at the left, recalling Reagan's words, "it isn't that liberals are ignorant, it's just that what they know is wrong."

Our ruling

The DNC ad casts Romney as a flip-flopper on his support for the policies of former President Reagan. In the first clip, Romney in 1994, as a candidate running against a liberal icon in a liberal state, says he's "not trying to return to Reagan-Bush." Then, 13 years later, he's speaking approvingly of the former president saying that Reagan's principles "are as true today as they were when he spoke them." Romney's affection for Reagan's presidency has grown warmer over the years and as he appealed to a different electorate. In 1994, Romney needed to win votes from the middle while gunning for the Massachusetts Senate seat. Running for the Republican nomination for president, it's politically wise for him (and any Republican presidential candidate) to speak glowingly of Reagan. We rate the claim Mostly True.
"Mitt v. Mitt," DNC campaign ad, Nov. 28, 2011
Massachusetts senatorial debate, Oct. 25, 1994, Faneuil Hall, Boston, Mass.

Annual Reagan Lecture, May 25, 2010, Ronald Reagan Presidential Library, Simi Valley, Calif.

"Reagan-like? Views on Romney mixed," Dec. 25, 2007, McClatchy Newspapers, accessed via Nexis

"Romney: McCain's no Reagan," Dec. 23, 2007, Associated Press, accessed via Nexis
"Mitt soared and flopped during debate," Oct. 14, 2007, Arizona Republic, accessed via Nexis
Browse the Truth-O-Meter
More by Molly Moorhead
Support independent fact-checking.
Become a member!
In a world of wild talk and fake news, help us stand up for the facts.