Stand up for the facts!
Our only agenda is to publish the truth so you can be an informed participant in democracy.
We need your help.
I would like to contribute
Says the federal stimulus program was ineffective because "the number of jobs has actually decreased by 18,300 through July 2011."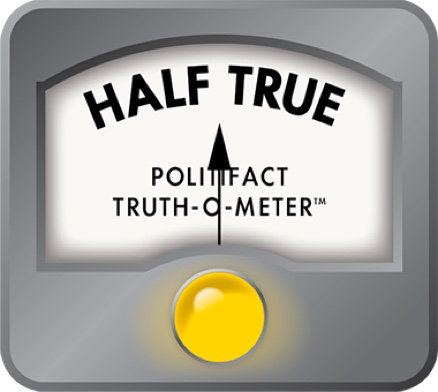 Greg Walden says stimulus hasn't helped Oregon gain jobs
Like most Republicans, Rep. Greg Walden says the $825 billion stimulus law has been a failure.

But unlike other critics who speak in contemptuous generalities, Walden puts hard numbers behind his opinion.

"When the bill was signed into law, the White House promised that the stimulus would increase by 44,000 the number of jobs in Oregon by December 2010," he says on his official congressional website. "Unfortunately, even with the stimulus, since the bill was signed, the number of jobs has actually decreased by 18,300 through July 2011."

Walden supports his claim with a study by the Republican staff of the House Ways and Means Committee. That study relies on federal statistics and, sure enough, both the federal Bureau of Labor Statistics and the Oregon Employment Department show that Oregon had fewer people working in July 2010 than February 2009.

When the stimulus was signed into law in February 2009, 1.643 million people in Oregon held non-farm jobs, according to the federal Bureau of Labor Statistics. In July 2010, after billions of dollars of stimulus spending had been dispersed, the number of non-farm jobs in Oregon was 1.625 million.

That's a loss of 18,000 jobs which is the number Walden cited.

But it's only part of the story.

First, a quick recap. The American Recovery and Reinvestment Act, which is the full name of what is commonly called the stimulus, became law in February 2009.  Democrats pushed the legislation as a way to create jobs and extend unemployment benefits through a mix of government spending, tax cuts and financial aid to cash-strapped states.

The stimulus and its performance have provided a high intensity battlefield ever since. The White House released at least six reports on the program, counting jobs that were created or "saved" as a result of the stimulus. Those counts were augmented by dozens of other reports from independent sources.

The most recent came Nov. 22 from the Congressional Budget Office. It says the stimulus is responsible for adding between 500,000 and 3.3 million jobs nationally.

But the CBO, which is nonpartisan, also says its reports, "do not provide a comprehensive estimate of the law's impact on U.S. employment, which could be higher or lower..."

Among the reasons is that "some of the jobs included in the reports might have existed even without the stimulus," and that the reports do not "attempt to measure" the number of indirect jobs.

Earlier studies, both independent and partisan, have offered similar ranges for the law's impact on jobs. A March study by the White House Council of Economic Advisers explains why.

"Evaluating the impact," said the report, which was the sixth in a series, " … is inherently difficult because we do not observe what would have happened to the economy in the absence of policy."

Separately, the council's report cited four independent analyses by the CBO and three private economic analysis companies that all found between 1.3 million and 3.6 million jobs saved or created.

Oregon's acting state economist Mark McMullen agrees precision is difficult -- and fraught with politics.

"This issue is about as politically charged as topics in economics get," he said.

He points to CBO numbers to explain how many stimulus jobs were created and reported in Oregon. In 2009, 18,412 direct jobs were created with 33,489 in 2010 and 17,663 in 2011.

Even trickier is estimating the indirect jobs from the stimulus. Here, McMullen and other economists extend estimates that Oregon collected between 1.2 percent and 1.5 percent of stimulus jobs depending on the year. That translates to 2,967 to 13,350 indirect jobs in 2009; 8,714 to 41,078 jobs in 2010 and 5,820 to 30,473 jobs in 2011.

Economists say there's another conundrum: Because of constant churning in the economy, the stimulus law could have generated - or come close to generating - the number of jobs the White House predicted even though total employment in the state declined. The reason is that the jobs total is fluid and that additions in jobs like road construction could be eclipsed by losses in other parts of the economy that aren't touched by the stimulus.

There are also jobs protected with stimulus money. Teachers, prison guards, and other state workers who probably would have been laid off were able to keep their jobs because the stimulus sent $2.4 billion to Oregon. More than $1.2 billion was used to fill state cuts to education that could have triggered teacher layoffs in every district. Another $117 million went to public safety, with some of that money used to avoid cut-backs in police and emergency response personnel.

The White House and supporters factor those "saved" jobs into their calculations. Walden and critics do not.

Got it?

It's all very murky and far from precise. But this much is certain: As of July 31, 2011, there were 18,300 fewer people working in Oregon than in February 2009. That is the number Walden cites in his comment and that much is true.

But Walden's context suggests that the stimulus did not produce jobs for Oregon, and that is not correct. While economists and other experts say it's impossible to say how many Oregon jobs were "created or saved," as the White House puts it, there certainly were some. And it's clear that a significant number of Oregon jobs would have been lost without the stimulus.

Walden's assertion of lost jobs uses numbers out of context and leaves out important details. For that reason we rate this claim: Half True.
Email exchange with Andrew Whelan, communications director for Rep. Greg Walden, Nov. 9;

Bureau of Labor Statistics, database for state employment statistics;

"The Job Impact of the American Recovery and Reinvestment Plan," Christina Romer, nominated to chair the President's Council of Economic Advisers and Jared Bernstein, Office of the Vice President-elect, Jan. 10, 2009;

Congressional website, Rep. Greg Walden;

Oregon Employment Department, employment database;

Republican members, House Ways and Means Committee; "Another Unhappy Labor Day for American Workers: Obama Stimulus Created More Unemployment and Debt, but Not the Jobs It Promised," Sept. 2, 2011;

Stimulus jobs for Oregon by quarter, The White House;

Congressional Budget Office, "Estimated Impact of the American Recovery and Reinvestment Act on Employment and Economic Output from October 2010 Through December 2010," February 2011;

The White House, "American Recovery and Reinvestment Act: State-By-State Jobs Impact," Feb. 13, 2009.

Congressional Budget Office, "Estimated Impact of the American Recovery and Reinvestment Act on Employment and Economic Output from July 2011 Through September 2011." Nov. 22, 2011.
Browse the Truth-O-Meter
More by Charles Pope
Support independent fact-checking.
Become a member!
In a world of wild talk and fake news, help us stand up for the facts.