Stand up for the facts!
Our only agenda is to publish the truth so you can be an informed participant in democracy.
We need your help.
I would like to contribute
Says, "Since 1994 when VAWA was first passed, incidents of domestic violence have dropped more than 50 percent."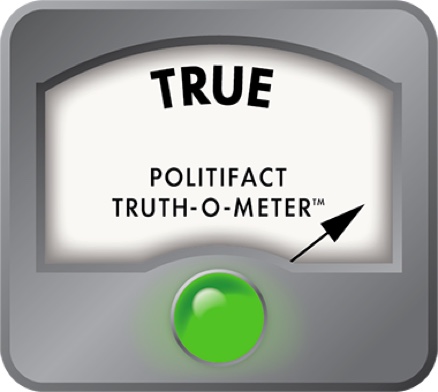 Jeff Merkley says domestic abuse against women has fallen 50 percent since federal law went into effect
Violence - or the potential for violence -  is everywhere. It's the reason we have police and laws, jails and federal programs to study the causes and suggest responses.

It's the reason, too, that Congress passes laws to address crime in all its facets. One of those is the Violence Against Women Act, which is intended to protect women from domestic abuse and violence. It provides federal dollars for an array of programs to achieve that goal. Oregon, for example, collected $9.4 million in 2012 for programs to protect women from violence.

The law was first passed in 1994 and easily renewed in 2000 and 2005 by lopsided majorities. But it was allowed to lapse in 2011 after a partisan Congress couldn't reach agreement. (Partisanship in Congress? Shocking, we know.)

Now it's back and in an effort to build momentum and the votes to renew it, supporters like Sen. Jeff Merkley, D-Ore.,  have been talking about the law's benefits.

Here's what Merkley said Feb. 7 during a conference call with reporters: "Since 1994 when VAWA was first passed, incidents of domestic violence have dropped more than 50 percent."

That seems to be a pretty strong selling point and as the bill moves toward a final vote in the Senate it's something that will be repeated and emphasized during debate.

But is it true?

First, we need a quick fly-by of the law and what it provides. The law, known by the shorthand VAWA, first passed in 1994 and was written by then senator and now Vice President Joe Biden.

It acknowledged domestic violence and sexual assault as crimes, and provided federal resources to encourage community-coordinated responses to combating violence.  

When it was re-authorized in 2000 lawmakers expanded the definition of crime to include dating violence and stalking.  Its subsequent reauthorization in 2005 created new programs to meet the emerging needs of communities working to prevent violence.

Until it expired in 2011, the law was expansive and reached into every corner of the country. (Some funding continued into 2012.) Among other things, it provided grants to states and local law enforcement to beef up enforcement as well as money to prosecutors to focus on gender-based crime. Included in the array of programs and assistance, VAWA provided money for direct services for victims of sexual assault and for things like transitional housing and legal assistance.

According to Merkley, all those programs made a difference.

Which brings us back to his claim that since it was first enacted domestic violence has fallen 50 percent.

Another fortunate development when it comes to crime is that governments at all levels but especially the federal government go to great lengths to quantify, parse and sub-total crime. Data abounds.

It's also unambiguous.

"From 1994 to 2010, the overall rate of intimate partner violence in the United States declined by 64 percent, from 9.8 victimizations per 1,000 persons age 12 or older to 3.6 per 1,000," the U.S. Justice Department's Bureau of Justice Statistics reported in November 2012.

The report notes that over that same period "4 in 5 victims of intimate partner violence were female."

A report by the National Network to End Domestic Violence, an interest group focusing on the issue, comes to a similar conclusion.

"The rate of nonfatal intimate partner violence against women has decreased by 63 percent and the number of women killed by an intimate partner has decreased 24 percent," between 1994 and 2010.

The group connects the numbers directly to the VAWA, saying the law "has changed the way federal, tribal, state and local entities respond to domestic violence, sexual assault, dating violence and stalking."

Surveys by the American Bar Association and other independent groups had similar findings.

That's a lot of scholarship and paper, sponsored, collected and analyzed by federal and independent researchers. And while the results don't perfectly align, all agree that the incidence of domestic abuse has dropped by more than 50 percent since the Violence Against Women Act was passed in 1994. You can quibble about the minor differences but not the accuracy of Merkley's statement.

We rate this claim: True.
Conference call with reporters to discuss the Violence Against Women Act reauthorization, Sen. Jeff Merkley; Feb. 7, 2013

Email exchange with Martina McLennan, office of Sen. Jeff Merkley; Feb. 7, 2013

"Intimate Partner Violence, 1993-2010," Department of Justice, Bureau of Justice Statistics; Nov. 27, 2012

"Survey of Recent Statistics," American Bar Association, February, 2013

"Violence Against Women Act, Issue Overview," National Network to End Domestic Violence, February 2013

"Reauthorization of the Violence Against Women Act," National Network to End Domestic Violence, February 2013

"National Advisory Committee on Violence Against Women, Final Report," June 2012

"Criminal Victimization, 2010, National Crime Victimization Survey," U.S. Department of Justice, September 2011.
Browse the Truth-O-Meter
More by Charles Pope
Support independent fact-checking.
Become a member!
In a world of wild talk and fake news, help us stand up for the facts.