Get PolitiFact in your inbox.
"My home state since June of 2009 created 40 percent of the new jobs in America."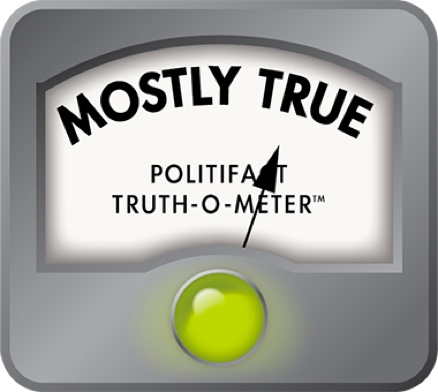 Is Perry right on Texas job growth?
Republican presidential frontrunner Rick Perry visited the Atlanta area Friday to talk to a group about what his state has done to help businesses flourish.

The Texas governor proudly did so amid some verbal shots at President Barack Obama and Republican rival Mitt Romney.

Perry made a Texas-size claim about job growth in his state during his 12-minute speech at the Cobb Energy Performing Arts Centre.

"My home state since June of 2009 created 40 percent of the new jobs in America," Perry told the Georgia Public Policy Foundation, an organization that researches and advocates for fiscally conservative ideas to promote the Peach State's economic growth. June 2009 is when economists believe the "Great Recession" ended.

Was Perry right? We wanted to find out.

Perry has based his candidacy -- in part -- on all the people working in Texas, saying policies like the state's lack of an income tax and his efforts to get out of the way of businesses are part of the reason for the job growth.

In June 2009, there were nearly 10.3 million Texans on payrolls, according to the U.S. Bureau of Labor Statistics. In August 2011, the most recent federal data available, slightly more than 10.6 million people were working in Texas. The increase was about 323,000 jobs.

Nationally, the number of additional Americans working increased by nearly 837,000 during that same time span. If you do the math, Texas accounts for 38.6 percent of that increase. Perry's camp calculates the increase at 39.2 percent. It came up with the same amount of new workers in Texas but said the job increase was 824,000.

Either way you slice it, the percentage of additional workers in Texas in comparison to the rest of the nation is impressive. So what's going on in Texas?

Some economic experts say Texas has some natural advantages, such as its oil, its ports and its proximity to Mexico. Thomas Saving, the director of Texas A&M University's Private Enterprise Research Center, noted several other factors -- such as it being a right-to-work state and having low debt -- that draw businesses to the state.

Saving, who teaches at Perry's alma mater, said much of the job growth is in education and health care. The state's population is growing, which means it needs more teachers. Texas, he said, has more people on the Medicaid rolls because of that population growth, which requires more health care professionals.

Saving noted that the governor's office in Texas does not have as much power as other states, so Perry should not get all the credit for the job growth. He also noted the simple factor of the additional people moving into the Lone Star State is another explanation for the job growth. That state's population grew by nearly 4.3 million people between 2000 and 2010, more than any other state, according to the U.S. Census Bureau. California was second, with a population increase of about 3.4 million. Texas is now third in U.S. population, behind California and New York.

Economist Doug Hall also pointed out the state's population growth and its unemployment rate, which has risen from 7.7 percent in June 2009 to its current rate of 8.5 percent.

"That's a pretty significant number that [Perry] doesn't mention," said Hall, director of the Economic Analysis & Research Network for the Washington-based Economic Policy Institute.

Our friends at PolitiFact Texas tackled a similar topic when Perry boasted about the state's job creation during a GOP presidential debate. It noted that moderator Brian Williams pointed out that Texas has the highest-in-the-nation share of minimum-wage workers.

Perry's numbers are on target, but there is some context to consider here. Some of the growth may be attributable to Texas' regulations, but there are other factors, such as the state's major population growth and the large number of minimum-wage workers. We rate his claim Mostly True.
Email from Perry for President, Sept. 30, 2011

PolitiFact Texas, "Rick Perry says that with what 'we have done,' Texas created 1 million jobs while rest of nation lost 2.5 million jobs," Sept. 7, 2011

Telephone interview with Thomas Saving, professor, Texas A&M University, Sept. 30, 2011

Telephone interview with Doug Hall, Economic Policy Institute, Sept. 30, 2011

U.S. Bureau of Labor Statistics database

U.S. Census Bureau, "Population Distribution and Change: 2000 to 2010"
Browse the Truth-O-Meter
More by Eric Stirgus
Support independent fact-checking.
Become a member!
In a world of wild talk and fake news, help us stand up for the facts.