Stand up for the facts!
Our only agenda is to publish the truth so you can be an informed participant in democracy.
We need your help.
I would like to contribute
"The Democrat-controlled Senate, it hasn't passed a budget in more than 1,000 days."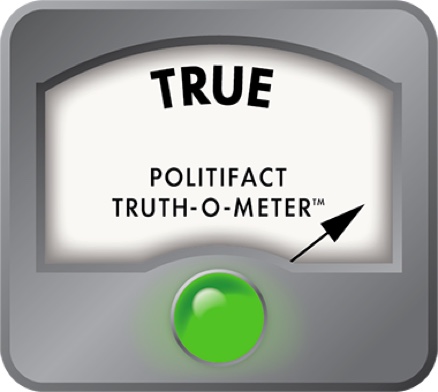 John Boehner says Senate Dems haven't passed a budget in more than 1,000 days
As the House prepared to begin floor consideration of several contending budget resolutions for fiscal 2013, U.S. House Speaker John Boehner released a video trumpeting the Republican position.

"Ours is the only responsible budget in town," Boehner said about the GOP spending plan proposed by Paul Ryan, the House Budget Committee's Republican chairman.

Other budget proposals included those from the House Democratic leadership, the conservative Republican Study Committee, the Congressional Progressive Caucus and the Congressional Black Caucus, plus a bipartisan budget inspired by the Simpson-Bowles Fiscal Commission and co-authored by Reps. Jim Cooper, a Tennessee Democrat, and Steve LaTourette, the Ohio Republican.

"Unfortunately, we're again waiting for leadership from the Democrats who run Washington," Boehner added, and then refreshed a favorite GOP talking point: "The Democrat-controlled Senate, it hasn't passed a budget in more than 1,000 days."

Ultimately the House approved the Ryan budget by a near party-line 228-191 vote, but it isn't expected to go anywhere in the Senate. PolitiFact Ohio, though, thought it'd check out the speaker's claim about Senate budgets.

It is similar to other statements that have been rated by PolitiFact national, PolitiFact Ohio, PolitiFact Wisconsin, PolitiFact Florida and PolitiFact New Hampshire. Among them:

Each of those statements cites the same starting point as Boehner's claim of 1,000 days -- April 29, 2009. That was,  according to the Congressional Research Service and news sources, when the Senate passed a budget resolution for fiscal 2010.

No budget resolution has passed since then, so Boehner's time tally -- like those of the previously checked statements -- is accurate. The day his video statement was posted, March 28, 2012, was 1,064 days from that date.

The PolitiFact rulings on these and other similar statements depended on their phrasing, but none was rated entirely True.

Knowing how Congress comes up with its federal budget helps to explain why.

Since the passage of the Congressional Budget Act of 1974, the Senate and the House are supposed to pass budget resolutions in the spring. These budget resolutions set a framework for spending, taxation and other fiscal items in the coming fiscal year. They also lay out general plans for the next four years. If these budget resolutions differ, the chambers are supposed to hammer out a compromise.

Budget resolutions are policy plans. They are not appropriations bills, or spending bills, which actually allocate money for specific purposes.

If a budget resolution doesn't pass, the federal government won't go dark. In the absence of a budget resolution, appropriations bills have continued to allocate money.

But, as a previous PolitiFact story said, "the inability to pass the budget framework can reflect poorly on the majority's organizational skills and/or the degree of partisan discord in Congress. It also increases the likelihood of a logjam of appropriations bills in the fall and winter, and decreases the chance that controversial tax bills will pass the Senate."

We wondered if the Senate, under Democratic control, had neglected its basic responsibility.

Our PolitiFact colleagues in Wisconsin, Florida and at PolitiFact national had the same question, and concluded that neither party can claim superiority on budget resolutions.

In 2010, the then Democratic-controlled House and Senate did not adopt a budget resolution or adopt a single spending bill "because the Democrats were afraid of being labeled big spenders," said Steve Ellis, a budget expert with Taxpayers for Common Sense, an independent group that analyzes federal spending.

Senate Democrats didn't pass a fiscal 2011 budget because "Republicans were threatening to hijack the budget process and waste the American people's time with pointless political votes," a spokesman for Senate Majority Leader Harry Reid told PolitiFact Florida. "Faced with this obstruction, we decided it would be a more productive use of the American people's time to move on and address other issues critical to middle-class families."

Our Florida colleagues also found that the House and Senate have failed to pass a joint budget bill on four earlier occasions since 1983.

For fiscal year 2003, the Senate, under Democratic control in 2002, failed to pass a budget resolution of any kind. For fiscal 1999, 2005 and 2007, the House and Senate failed to reconcile their different bills and pass a compromise measure. In these latter three cases, the Republicans were in the majority in both chambers of Congress.

Those facts lend perspective to Boehner's statement.

But on its face, Boehner's statement is accurate. And it is more precisely worded than those that we've previously checked.

On the Truth-O-Meter, it rates True.
Rep. John Boehner, "The Only Responsible Budget In Town," March 28, 2012

Washington Post, "Democrats release budget to compete with Ryan plan," March 26, 2012

The Plain Dealer via Cleveland.com, "U.S. Rep. Steve LaTourette's long-shot, bipartisan budget proposal defeated, 382-38," March 28, 2012

Bipartisan Policy Center, "Cooper-LaTourette Fiscal Year 2013 Budget," March 29, 2012

PolitiFact Wisconsin, "Democrat-controlled U.S. Senate has gone nearly three years without a budget, GOP Rep. Paul Ryan says," Feb. 2, 2012

PolitiFact Florida, "George LeMieux rips Sen. Bill Nelson for Senate's budget failure," May 24, 2011

PolitiFact Ohio, "Sen. Rob Portman says Senate Democrats neglected basic responsibilities by not passing a budget," June 16, 2011

PolitiFact, "Roemer faults Obama and Congress on budgets," Aug. 5, 2011

PolitiFact Georgia, "Isakson: Democrats failed to submit budget in past 1,000 days,"
March 14, 2012

PolitiFact, "Hoyer says GOP 'didn't have a budget' in 2002, 2004, 2006," June 14, 2010
Browse the Truth-O-Meter
More by Tom Feran
Support independent fact-checking.
Become a member!
In a world of wild talk and fake news, help us stand up for the facts.