Stand up for the facts!
Our only agenda is to publish the truth so you can be an informed participant in democracy.
We need your help.
I would like to contribute
As Florida secretary of state, Kurt Browning "allowed 1,800 illegal voters to register in Florida."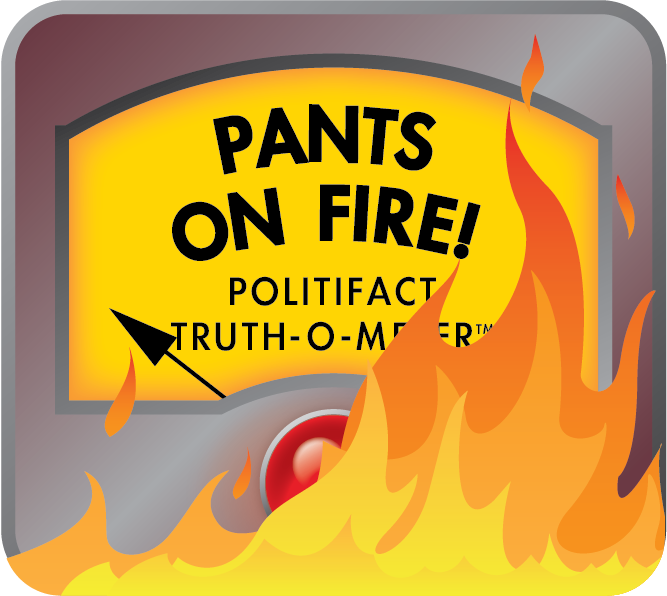 Heather Fiorentino said Kurt Browning "allowed 1,800 illegal voters to register in Florida"
In the run up to Tuesday's primary election, Pasco schools superintendent Heather Fiorentino sent out a campaign mailer aiming to distinguish herself from challenger Kurt Browning.
Fiorentino, who has trailed Browning in campaign contributions and endorsements, for the second time attacked the former two-time Florida secretary of state as a "double dipper" and a former Democrat. She also rolled out a new contention, that Browning "allowed 1,800 illegal voters to register in Florida" during his tenure.
Browning scoffed at the claim, which includes a number of alleged noncitizen voters we'd never seen before. We set out in search of her facts.
• • •
In early 2011, while Browning was secretary of state, the Division of Elections learned the Department of Motor Vehicles maintained a database that categorized driver's license holders as citizens and noncitizens, spokesman Chris Cate said. (Cate worked at the time for Browning; he and his wife have since donated $50 to Browning's campaign.)
After a discussion with Gov. Rick Scott, Browning decided to take a closer look at just how many noncitizens might be registered to vote. Officials took the driver's license database and compared it to the state voter registration list.
The first pass-through generated 180,000 names of potential noncitizen voters, a number that was widely reported by the news media. But Browning was skeptical of that figure: The data was crunched by DMV, not his own department. And he suspected it included some people who obtained their citizenship and registered to vote after they got their last driver's license. The driver's license database might not reflect their current citizenship status.
A later effort whittled the list down to 2,600 names, including about 1,400 verified matches from the first list and 1,200 people who get annual driver's licenses because they are on work or student visas. That list went to county elections supervisors to review.
Those supervisors did their due diligence, giving the voters in question an opportunity to respond. Some voters quickly returned documents verifying their citizenship.
Pasco County Supervisor of Elections Brian Corley said of the 13 names he received, "more than half were actually U.S. citizens." One woman was improperly flagged when her records were mistaken for someone else's, Corley said.
After finding flaws in its methodology, the Department of State told supervisors of elections to stop using the list of 2,600 names.
"We consider that number obsolete now," Cate said. The state is working out an agreement with the U.S. Department of Homeland Security to better identify noncitizens and compare that list to the voter rolls.
As for Fiorentino's flier: "I don't know where they would come up with a number of 1,800," Cate said.
Fiorentino acknowledged her flier contained a typo: She meant to use the original 180,000 figure.
"I was kinder than it should have been," she said.
• • •
The question then turns to whether Browning "allowed" all — or any — of those voters to register.
The secretary of state is Florida's chief election officer. His responsibilities include creating and administering a statewide voter registration system. "The secretary may delegate voter registration duties and records maintenance activities to voter registration officials," Florida statute states.
Those officials include county supervisors of elections, whose powers include accepting voter registration applications and updating the statewide voter registration system.
"It is the supervisor who is activating the voters," Cate explained.
From that perspective, Browning did not have a hand in the registration.
He also was secretary of state from 2006-10, and again from 2011-12. The voter list under review included registrations from years outside his terms.
• • •
Fiorentino said she was aware the 180,000 number represented "all the people" initially tagged. She argued that Browning allowed illegal voters to remain on the rolls even after several elections supervisors, including Corley, raised red flags in 2011.
"He did nothing," she said. "I call that allowing."
Browning emphasized that supervisors of election are responsible for voter registration. "I didn't register those voters," he said. He added that he had no firm number of illegal voters but that he tried as secretary of state to identify them so local elections officials could address them. "She doesn't understand how the law works," Browning said.
Our ruling
Fiorentino accused Browning of "allowing 1,800 illegal voters to register in Florida."
Her number is wrong. The state's initial list of 180,000 names never identified voters as illegal, but rather created a starting point for further verification. The state later stopped using the list, deeming the data unreliable.
The secretary of state does not register voters in Florida, nor does he have the authority to remove them from the rolls. That's the job of county elections supervisors. And Browning was not secretary of state during the entire time the people on that list registered to vote.
Fiorentino played fast and loose with her claim in an effort to discredit her opponent on election eve.
We rule her claim Pants on Fire!
Interview with Chris Cate, spokesman for the Florida Division of Elections
Interview with Pasco County schools superintendent Heather Fiorentino
Interview with Kurt Browning
Interview with Pasco County Supervisor of Elections Brian Corley
PolitiFact Florida, MoveOn says Gov. Rick Scott "tried to kick 180,000 people off the voter rolls," July 10, 2012
Federal statutes, Help America Vote Act of 2002
Florida Statute 97.053, Acceptance of voter registration applications
Florida Statute 97.021, Qualifications and registration of electors
Florida Statute 97.012, Secretary of State as chief election officer
Miami Herald, Ken Detzner letter to the editor, June 25, 2012
Miami Herald, Florida's noncitizen voter purge grew from 5-minute conversation, June 13, 2012
Browse the Truth-O-Meter
More by Jeffrey S. Solochek
Support independent fact-checking.
Become a member!
In a world of wild talk and fake news, help us stand up for the facts.