Stand up for the facts!
Our only agenda is to publish the truth so you can be an informed participant in democracy.
We need your help.
I would like to contribute
Says Texas has the 15th largest economy in the world.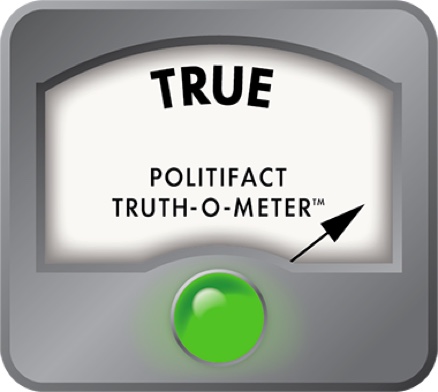 Secession petition says Texas has 15th largest economy in the world
When numerous petitions to secede popped up on the White House's website after President Barack Obama was re-elected, one drew a Texas-sized share of attention.

Drawing tens of thousands of signatures within days, the petition written by "Micah H" made national news. Among its claims: Texas "is the 15th largest economy in the world."

We decided to check that claim and a related one from Texas pro-secession candidate Larry Kilgore, who said the Texas economy is 30 percent larger than Australia's. That's False.

The petition's author was quickly identified in news reports, including a Nov. 14, 2012, story in The Shorthorn, the University of Texas-Arlington's campus paper, as Micah Hurd, a Marine Corps veteran enrolled at the university. Hurd told CBS-TV, Channel 11, of Dallas in a Nov. 14 interview that he wrote the petition in five minutes, not anticipating it would make news.

We did not reach Hurd about the basis of his Texas ranking. Plowing ahead, we touched base with the Texas state comptroller's office, which calculates each year how Texas would rank globally if it were a nation.

Spokesman RJ DeSilva emailed us the comptroller's most recent chart, drawing on early-2011 figures for gross domestic product in U.S. dollars from economic forecasting firm IHS Global Insight and the U.S. Bureau of Economic Analysis, the statistical branch of the U.S. Commerce Department.

He also sent the final 2011 GDP for Texas, which was almost the same as the preliminary amount; both rounded off to $1.3 trillion.

GDP, the most-used measure of national economic output, is defined as the market value of the goods and services produced by labor and property within a country.

The comptroller's chart showed that if Texas were a nation (in early 2011), its $1.3 trillion GDP would have ranked 14th -- just below Australia's $1.5 trillion and above Mexico's $1.2 trillion.
Separately, bureau spokesman Thomas Dail told us by phone that finding nations' 2011 GDP calculated with current prices in U.S. dollars would allow us to make a "conceptually consistent" comparison with his agency's calculation of Texas GDP.

Dail helped us generate such a chart on the International Monetary Fund website. It looked pretty similar to the comptroller's figures, and again, Texas ranked 14th, between Australia and Mexico.

Finally, on another suggestion from Dail, we turned to the Organization for Economic Cooperation and Development, a group that comprises 34 countries. Spokesman Matthias Rumpf told us his organization didn't have Texas data for 2011, but "the claim about the relative size of Texas' GDP does not seem out of proportion."

He created a spreadsheet for us showing 2008 and 2009 GDPs adjusted for "purchasing power parity," which eliminates distortions based on the relative value of currencies and the local costs of commodities.

Rumpf's spreadsheet included nations and U.S. regions -- specifically, he said, "GDP for the larger OECD countries, other large economies (some big countries are missing) and large regions in the OECD," given in U.S. dollars.

In 2008 and 2009, Texas ranked 14th, falling between Canada and Turkey. However, the charts showed that if California had been a country, too, it would have come in 10th and bumped Texas to 15th in both years.

Note to self: Do not secede at same time California does.

It's all an academic exercise, anyway, because secession would change a number of economic factors. Trade agreements, national defense and the postal service leap to mind. And then there's the labor-force productivity issue raised by Austin American-Statesman humor columnist John Kelso: Would we all have to work on the Fourth of July?

Our ruling

Hurd's petition claimed that Texas is the 15th largest economy in the world. By a reasonable measure, Texas' GDP would rank it 14th among nations. We rate the statement as True.
University of Texas-Arlington Shorthorn news story, "Freshman starts petition for Texas secession," Nov. 14, 2012

CBS-TV Channel 11 Dallas news story, "Texas secession petitioner talks about why he wrote it," Nov. 14, 2012

Email interviews with RJ DeSilva, spokesman for Texas Comptroller's office, Dec. 6-14, 2012

Telephone and email interviews with Thomas Dail, public affairs specialist at U.S. Bureau of Economic Analysis, Dec. 10-14, 2012

Email interviews with Matthias Rumpf, chief media officer for Organization for Economic Cooperation and Development, Dec. 11-12, 2012

Email interview with Susan Fridy, senior manager for public affairs for Organization for Economic Cooperation and Development, Dec. 14, 2012

Browse the Truth-O-Meter
More by Sue Owen
Support independent fact-checking.
Become a member!
In a world of wild talk and fake news, help us stand up for the facts.