Stand up for the facts!
Our only agenda is to publish the truth so you can be an informed participant in democracy.
We need your help.
I would like to contribute
Newt Gingrich "was fined $300,000 for ethics violations."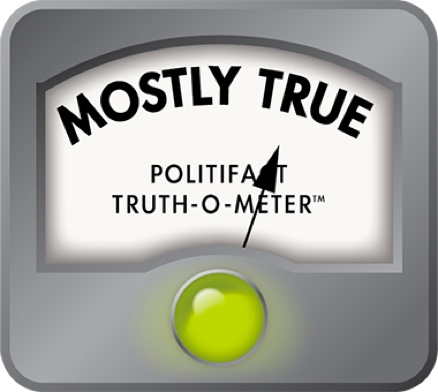 Did Newt Gingrich pay a $300,000 ethics fine back in the 1990s?
EDITOR'S NOTE: We originally ruled this claim True. A short time later, we were contacted by an attorney who represented Gingrich during the ethics proceeding and who disputed that Gingrich was "fined" by the ethics committee. The lawyer said Gingrich had paid a "cost assessment." We decided to take a second look at the issue and decided to change the ruling to Mostly True.

***

A pro-Mitt Romney "Super PAC" is flexing its muscles in the Republican race for president, telling conservative voters not to fall for Barack Obama's plan to hand Newt Gingrich the GOP nomination. The group, called Restore our Future, is running television ads in Iowa and Florida.
   
"Barack Obama's plan is working: Destroy Mitt Romney, run against Newt Gingrich," the ad says. "Newt has a ton of baggage. He was fined $300,000 for ethics violations and took $1.6 million from Freddie Mac, before it helped cause the economic meltdown. Newt supports amnesty for illegal immigrants, and teamed with Nancy Pelosi and Al Gore on global warming. Maybe that's why George Will calls him the least conservative candidate. Check the facts at NewtFacts.com."
   
Super PACs aren't formally affiliated with campaigns, but they can still spend money to try to influence elections, and they don't face the same disclosure requirements as official campaigns. In this case, Restore our Future is run by supporters of Mitt Romney, the former governor of Massachusetts.
   
The ad makes a lot of claims. Here, we wanted to check whether Gingrich "was fined $300,000 for ethics violations."
   
Gingrich's ethics violations date back to the 1990s, when Gingrich taught a course at Kennesaw State College while serving in Congress.
   
The organizers of the course solicited financial support from "individuals, corporations and foundations," promising that the project qualified for tax-exempt status. But an ethics committee investigation concluded that the course was "actually a coordinated effort" to "help in achieving a partisan, political goal" -- something that would run afoul of its tax-exempt status.
   
A further problem for Gingrich was that during the investigation, he submitted letters from his lawyers for which "the subcommittee was unable to find any factual basis." Gingrich "should have known" that the information in the letters "was inaccurate, incomplete, and unreliable," the investigation found.
   
The allegations were largely adjudicated by January 1997, with Gingrich agreeing to pay a sum of $300,000 and admitting that he had "engaged in conduct that did not reflect creditably on the House of Representatives." He became the first speaker to be sanctioned in this fashion by the House. (Here's a time line of the case.)
   
During this year's campaign, Gingrich said that the investigation was conducted by "a very partisan political committee" in a way that "related more to the politics of the Democratic Party than to ethics." We rated that statement Pants on Fire. (Read our fact-check for more details.)
   
As we've noted before, Gingrich's intensely partisan style and his heavy use of the congressional ethics process against others ramped up the level of partisan warfare during his investigation.
   
But, the investigation itself moved forward with bipartisan support. The ethics panel's case had the consent of Republicans, including the committee's chairwoman, and it was led by a special counsel who was not a Democratic partisan and who focused on substantive legal matters.
   
Most notably, when it came time to vote, the House -- including nearly 90 percent of voting Republicans -- voted to support the committee's recommendation.
   
At any rate, the investigating subcommittee released its findings to the full committee on Dec. 21, 1996. It recommended "a reprimand and the payment of $300,000 toward the cost of the preliminary inquiry."
   
On Jan. 17, 1997, the full committee held nearly six hours of televised hearings, then voted 7 to 1 to accept the subcommittee's recommendation. The full House went on to pass the ethics report 395 to 28, with 196 Republicans voting for it and 26 voting against it.
   
The question of whether the $300,000 payment was a fine attracted some debate at the time, and continues to do so today.

After our initial analysis resulted in a rating of True -- archived here -- J. Randolph Evans of the law firm McKenna, Long & Aldridge and one of Gingrich's lawyers in the ethics case wrote us to question our ruling.

"Based upon the actual language of the House Committee report itself, it is clear that Speaker Gingrich was only asked to reimburse the House $300,000 to offset some costs of the Committee's investigation. No fine was ever levied against the speaker," Evans wrote. He also criticized us for promoting our fact-check via Twitter.

"Any statement in any broadcast communication supporting the notion that Speaker Gingrich paid a congressional fine is wholly inaccurate, and should be characterized that way by PolitiFact. More significantly, in light of controlling authority on this issue, any additional publication by PolitiFact that supports the truth of such a statement will be considered knowingly false," he wrote.

Evans has a point that the committee's official findings do not mention the word "fine." Instead, the report recommends that Gingrich receive "a reprimand and a payment reimbursing the House for some of the costs of the investigation in the amount of $300,000."

Lawyers with expertise in political law agreed with Evans' point about the committee's decision not to label it a "fine." But these experts also warned against interpreting the levy as merely a reimbursement, saying it's hard to view it as anything but a penalty against Gingrich.

"I think it is fair to say that the $300,000 was assessed as a punitive measure, and there would have been no such assessment if the ethics committee thought he was free from wrongdoing," Kenneth A. Gross, the head of the political law practice at the law firm Skadden, Arps, Slate, Meagher & Flom. "It really is matter of characterization and even semantics. It was not a fine in a legal sense but a punitive measure."

Other experts agreed.

"I suspect that the committee never asks a person to pay $300,000 for its investigation costs if the result of the investigation was to find the person completely blameless," said legal commentator Stuart Taylor.

"The payment was meant to penalize Gingrich personally for lying to Committee investigators, so it could fairly be called a 'penalty' from a layman's point of view," said Brett Kappel, a counsel with the firm Arent Fox LLP.

It's also worth noting that the head of the committee that investigated and reprimanded Gingrich said at the time that, although the committee didn't officially call it a fine, she personally considered it to be a fine.

As the House was preparing to vote on the ethics panel's findings, the chair of the House ethics committee, Rep. Nancy Johnson, R-Conn., had this exchange with Katie Couric of NBC News:

Couric: "Do you view this $300,000 as a fine or to compensate for the cost of the investigation?"

Johnson: "Well, it can be seen either way."

Couric: "How do you see it?"

Johnson: "I see it personally as a fine."

Another view: The Congressional Research Service, in a 2005 report, said the sum paid by Gingrich "was not characterized by the Committee as a 'fine,' " but CRS did use the term "penalty" to describe it.

To cut through the semantic fog, we turned to Geoffrey Nunberg, a linguist at the University of California at Berkeley. He said it's fair for a media outlet to describe the fee Gingrich paid as a "fine" or to write that Gingrich was "fined."

"Some people distinguish fines and charges for costs, but the verb 'fine' is also routinely used as including costs," he said. He sent us several examples of courts noting that their fines included court costs.

"The implication that since the penalty charged Gingrich was not a 'fine' there was no imputation of guilt or violation of ethics rules is simply false: People are not held responsible for costs if the charges are found groundless," he said.

A footnote: Gingrich paid off the $300,000 in installments, according to contemporaneous news accounts. At one point he was even going to borrow money from former Sen. Bob Dole, R-Kan. But by the end of 1998 Gingrich had finished paying the fine without Dole's help.
   
Our ruling

The Super PAC Restore Our Future made a linguistic overstep when it labeled the $300,000 payment a "fine," since the ethics committee never used that precise term. But the underlying point of the pro-Romney Super PAC ad remains valid. Although the payment was not technically a "fine," it was a penalty.

The committee reprimanded Gingrich and assessed him a sum of $300,000. The chair of the committee said on national television that despite the panel's word choice, she personally considered it to be a fine. It is common in many legal settings for court costs to be included in fines. And an array of legal experts told us that the avoidance of the word "fine" in describing the payment does not suggest vindication for Gingrich; rather, they said, the payment was clearly intended to be punitive. On balance we rate this statement Mostly True.
Restore Our Future via YouTube, Plan ad, Dec. 14, 2011

PolitiFact, Newt Gingrich blasts 1990s ethics investigation of him, calling it partisan, Dec. 7, 2011

PolitiFact, "Did Newt Gingrich pay a $300,000 ethics fine back in the 1990s? Yes he did," Dec. 21, 2011

PolitiFact, "David Axelrod calls Newt Gingrich 'the godfather of gridlock,'" Dec. 5, 2011

U.S. House of Representatives, In the matter of Representative Newt Gingrich: Report of the Select Committee on Ethics, Jan. 17, 1997

Letter from J. Randolph Evans of McKenna, Long & Aldridge, Jan. 24, 2012

The Associated Press via The Washington Post, Gingrich pays off ethics penalty, Dec. 30, 1998

CNN, Gingrich ethics timeline, accessed Dec. 7, 2011

Nancy Johnson, interview with NBC's Today show, Jan. 21, 1997 (CQ subscribers only)

House Standards of Official Conduct Committee, transcript of news conference, Jan. 21, 1997 (CQ subscribers only)

PBS Frontline, text of request for funding for Renewing American Civilization," June 1, 1993

New York Times, "The Gingrich Case: Text of 'Analysis and Conclusion,' From Report by House Ethics Counsel," Jan. 17, 1997 (accessed via Lexis-Nexis)

St. Petersburg Times, "Reprimand, $300,000 fine urged," Jan. 18, 1997 (accessed via Lexis-Nexis)

Washington Post, "Ethics Panel Supports Reprimand of Gingrich," Jan. 18 1997

Washington Post, "Gingrich to Pay Penalty With Dole Loan," April 18 1997

New York Times, "Ethics Panel Clears Slate for Gingrich," Oct. 11, 1998 (accessed via Lexis-Nexis)

Congressional Research Service, "Expulsion, Censure, Reprimand, and Fine: Legislative Discipline in the House of Representatives," Jan. 25, 2005

E-mail interview with Geoffrey Nunberg of University of California at Berkeley, Feb. 2, 2012

E-mail interview with Brett Kappel, counsel with the firm Arent Fox LLP, Feb. 1, 2012

E-mail interview with Stuart Taylor Jr., legal commentator, Feb. 1, 2012

E-mail interview with Stanley M. Brand, partner at Brand Law Group, Feb. 1, 2012

E-mail interview with Kenneth A. Gross, head of the political law practice at Skadden, Arps, Slate, Meagher & Flom, Feb. 1, 2012
Browse the Truth-O-Meter
More by Angie Drobnic Holan
Support independent fact-checking.
Become a member!
In a world of wild talk and fake news, help us stand up for the facts.