Stand up for the facts!
Our only agenda is to publish the truth so you can be an informed participant in democracy.
We need your help.
I would like to contribute
President Obama told people "to skip coming here (Las Vegas) for conventions and meetings."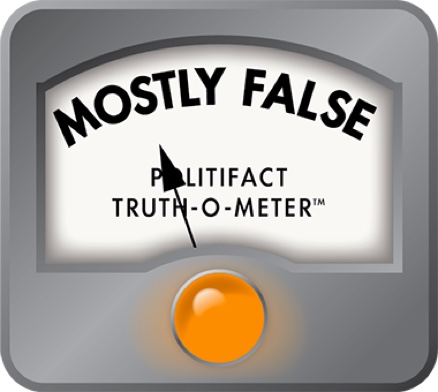 Mitt Romney says president told people to skip Vegas conventions
Fired up from a victory in Nevada's caucuses, Mitt Romney used his stump speech in Las Vegas to remind supporters that President Barack Obama has not fixed the state's economic woes.

"Four years ago, candidate Obama came to Nevada, promising to help. But after he was elected, his help was telling people to skip coming here for conventions and meetings," Romney told the crowd at the Red Rock Casino Resort and Spa on Feb. 4, 2012.

Did we hear that right? Was the president urging a business boycott of Sin City?

Time for a fact-check.

Obama's remarks on Vegas

Asked for the source of Romney's remark, his campaign pointed us to this story, which covers the president's prickly history with Las Vegas.
Romney was right, at least, in saying that Obama has spoken unflatteringly of the city in the past.

Twice he has landed in hot water for grasping at a metaphor linking trips to Vegas with extravagance and irresponsibility.

But was Romney right that the president wasn't just dissing all-American weekend trips of debauchery to Vegas -- he was hating on business meetings?

On Feb. 11, 2009, Obama spoke about excess on Wall Street to a crowd in Elkhart, Ind.
"You are not going to be able to give out these big bonuses until you pay taxpayers back," Obama said. "You can't get corporate jets. You can't go take a trip to Las Vegas or go down to the Super Bowl on the taxpayers' dime. There's got to be some accountability and some responsibility."

Okay, so CEOs shouldn't blow federal bailout money at the $10,000 minimum blackjack tables. We get it. But we didn't hear anything about blowing off conventions.

What else?

A year later, in February 2010, Obama infuriated the oddsmakers again by drawing an analogy between the federal government's fiscal practices and those of an average family.

"Responsible families don't do their budgets the way the federal government does. Right? When times are tough, you tighten your belts," Obama said at a town hall-style meeting in Nashua N.H. "You don't go buying a boat when you can barely pay your mortgage. You don't blow a bunch of cash on Vegas when you're trying to save for college. You prioritize. You make tough choices. It's time your government did the same."

Please, Mom and Dad, don't raid our college fund for a night in the Rain Man suite!

Again, the comparison is clear; the reference to conventions and meetings is nonexistent.

The backlash

Obama's words landed with a loud thud.

The mayor of Las Vegas demanded an apology. Several major companies canceled meetings worth hundreds of thousands of dollars "not because of costs but because of appearances," according to Newsday.

"The president needs to lay off Las Vegas and stop making it the poster child for where people shouldn't be spending their money," said Senate Majority Leader Harry Reid, a Nevada Democrat who is normally an ally of the president.

"Las Vegas is suffering through one of the highest unemployment rates in the country, and we cannot afford for the president to bring us down any further," added Republican Sen. John Ensign.

Obama had to clarify his love of The Strip, telling the Las Vegas Chamber of Commerce in February 2010, "Let me set the record straight: I love Vegas...There you go. Always have. I love Vegas."

Our ruling

Romney said that Obama told people "to skip coming here (Las Vegas) for conventions and meetings."

Obama said heads of corporations shouldn't use taxpayer money for Vegas jaunts (or corporate jets or Super Bowl excursions or any other flight of luxury paid for by the rest of us). And he said parents shouldn't spend their money on Vegas trips when they need to be saving for kids' college.

That could certainly be construed as a rap on tourism. But a suggestion to skip meetings and conventions? The president said no such thing. Romney's claim, like so much about Las Vegas, was over the top. We rate it Mostly False.
C-SPAN.org, "Mitt Romney Wins Nevada Caucuses," Feb. 4, 2012

Huffington Post, "Obama Draws Fire For Las Vegas Comments Ahead Of Visit," Oct. 24, 2011

ABC News, "President Obama: 'I Love Vegas -- Always Have,'" Feb. 19, 2010

Newsday, "It's what doesn't happen in Vegas that worries mayor," Feb. 16, 2009, accessed via Nexis

8NewsNow.com, "President Obama Again Criticizes Trips to Las Vegas," Feb. 2, 2010
Browse the Truth-O-Meter
More by Molly Moorhead
Support independent fact-checking.
Become a member!
In a world of wild talk and fake news, help us stand up for the facts.