Stand up for the facts!
Our only agenda is to publish the truth so you can be an informed participant in democracy.
We need your help.
I would like to contribute
"Florida ranks 45th" in the nation for tuition.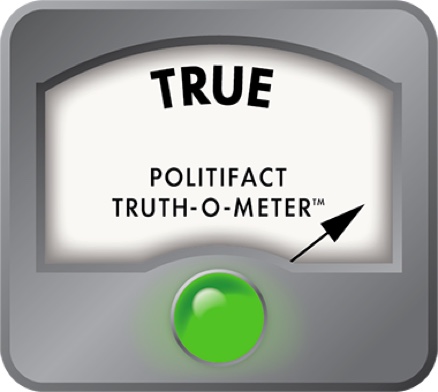 Florida ranks 45th in the nation for tuition costs, Denise Grimsley says
After the budget committee in the Florida House recommended an 8 percent tuition increase last month, parents, students and politicians alike cried foul because the state university system has raised tuition for the past six years.

Even Gov. Rick Scott, who signed a budget last year with a tuition increase with nary a peep, said, "I don't believe in tuition hikes."

The problem with getting upset about those higher tuition bills, said House budget panel chair Rep. Denise Grimsley, R-Sebring, is that Floridians aren't really paying all that much for college as it is because Florida's tuition rates are already among the lowest in the nation.

"The cost of postsecondary education in Florida is almost the lowest in the nation at an average of $5,531 (Florida ranks 45th), which is 32 percent lower than the national average of $8,200," Grimsley told the Tampa Bay Times. "The increase is equal to $8.27 per credit hour, which equates to $248.10 for a full 30 credit hours per year. Allowing tuition increases helps keeps Florida nationally competitive."  

This oft-cited ranking of 45th is a very popular argument among proponents of the increase, in Tallahassee and across the state's 11 public universities. PolitiFact wondered, since this ranking is quoted so often, is it accurate?

The source of the national rankings is the College Board's 2011 Trends in College Pricing report. The annual report is produced by the nonprofit organization, which also owns the SAT, and is comprised of data from surveys of almost 4,000 postsecondary institutions nationwide and historical data from the National Center for Education Statistics and the U.S. Department of Education. In this case, we're talking about the average price paid by a full-time student for one year of undergraduate enrollment. (It does not include room and board.)

For the 2011-12 academic year, this amounted to an average of $5,626, the survey says. This is an 11.8 percent increase from the previous year, when the average was $5,034. The discrepancy between Grimsley's numbers and the final reported $5,626 is a difference between weighted and unweighted data, said College Board analyst Jennifer Ma. The simple average across tuitions is $5,531, but the board uses a formula to create totals that better reflect full-time enrollment, she said.

Last year, the Legislature increased tuition 8 percent, and the state university system followed up with another 7 percent hike under a program known as tuition differential. Universities are allowed to raise tuition beyond any legislative base tuition hike as long as the total increase does not exceed 15 percent each year. They're allowed to keep going up until reaching the national average, which currently stands at $8,244.  (Last year's 15 percent increase differs from the 11.8 percent listed in the Trends in College Pricing report because the report includes fees as well as tuition.)

As any parent with a checkbook can see, Florida's average tuition is cheaper than $8,244. It's also cheaper than the state with the highest average tuition in the country, an honor that belongs to New Hampshire, which stands at $13,507. The last school on the list is Wyoming, which charges an average of $4,125.

In addition to Wyoming, the other states costing less than Florida are West Virginia, New Mexico, Alaska, Utah and Louisiana.
If your eyes haven't glazed over from so many numbers, the important part is that of all 50 states and the District of Columbia, Florida does indeed rank 45th, although if we want to get technical, which PolitiFact always does, Florida is ranked 44th among the 50 states when you exclude D.C. (which comes in at No. 31 on the list with an even $7,000). 
In case you were wondering, the wide variance among state tuition costs comes down to taxpayer-funded support for postsecondary education. In states with very high average tuition, tax coffers contribute very little to public colleges and universities. Florida's tax contribution to tuition costs has dropped significantly in recent years; tuition used to pay about 25 percent of the cost of college, with state support picking up 75 percent of the bill. That ratio has moved closer to a 50-50 model.

Ralph Wilcox, provost at the University of South Florida and chairman of the Council of Academic Vice Presidents for the state university system, prefers to compare Florida to other states with high-ranked public research universities recognized by the Carnegie Foundation for the Advancement of Teaching, using data from the U.S Department of Education. In that scenario, Florida ranks dead last for tuition costs. The average among those 40 states now tops $9,200.

Grimsley's office defends continued increases in order to bring Florida schools in line with other research universities and to fund new initiatives. The rise in prices would also help schools recruit highly qualified faculty and researchers, she reasons.

Our ruling

For this fact-check, we're not looking at the case for or against college tuition increases. Instead, we wanted to see if Florida actually came in 45th in the nation for tuition costs, because we've heard that number cited so often. Using the most comprehensive survey of postsecondary education available, Florida does indeed rank 45th if you count the District of Columbia; otherwise, the state ranks 44th. The only states that have lower tuition than we do are West Virginia, New Mexico, Alaska, Utah, Louisiana and Wyoming. We rate this claim True.
Tampa Bay Times, "Gov. Rick Scott says he will reject a tuition hike," Feb. 1, 2012

College Board, Trends in College Pricing, 2011

Interview, Ryan Duffy, press secretary for Rep. Denise Grimsley, Feb. 2, 2012
Interview, Ralph Wilcox, USF provost, Feb. 13, 2012

Interview, Michael Moore, USF associate vice president for decision support, Feb. 14, 2012

Interview, Jennifer Ma, independent policy analyst for the College Board, Feb. 15, 2012
Browse the Truth-O-Meter
More by Joshua Gillin
Support independent fact-checking.
Become a member!
In a world of wild talk and fake news, help us stand up for the facts.