Stand up for the facts!
Our only agenda is to publish the truth so you can be an informed participant in democracy.
We need your help.
I would like to contribute
Says Steve Jobs was responsible for creating more jobs than the stimulus bill.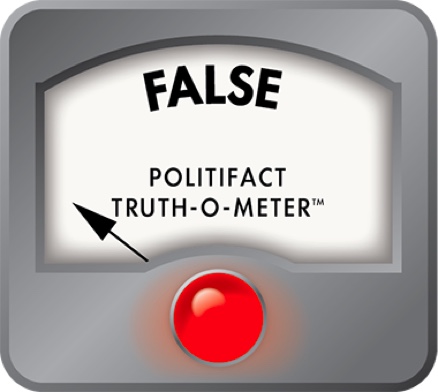 Mitch Daniels says Steve Jobs created more jobs than the stimulus
Did Apple founder Steve Jobs do more to boost American employment than the $800 billion federal stimulus program?

In the Republican response to President Barack Obama's State of the Union address on Jan. 24, 2012, Indiana Gov. Mitch Daniels said just that.

"Contrary to the president's constant disparagement of people in business, it's one of the noblest of human pursuits. The late Steve Jobs -- what a fitting name he had -- created more of them than all those stimulus dollars the president borrowed and blew."

Many readers suggested that we check this comparison. First we'll look at jobs numbers for both Apple and the stimulus, then we'll discuss whether this comparison is valid.

Apple

Apple, the iconic technology company, was started in 1973. According to its 2011 SEC filing, Apple now employs about 60,000 people, 43,000 of whom work in the United States. Its contractors add another 700,000 to its overall workforce, but few of them work in the U.S.

Daniels didn't specify in his speech if he was including overseas jobs. But we aren't in this analysis.

So the job tally for Jobs stands at 43,000.

The stimulus

The American Recovery and Reinvestment Act passed Congress along party lines and was signed by Obama in early 2009. Its purpose was to save and create jobs immediately. How well the program worked in jump-starting employment is a matter of great controversy.

Numerous Republicans have said the stimulus created zero jobs, a claim we rated Pants on Fire.

In this case, we'll rely on the same figures we have in the past, which come from the non-partisan Congressional Budget Office.

In this report (see the chart on page 3), the CBO provides high and low estimates for how the stimulus affected the number of people employed and how many jobs it generated. Bear in mind, some of those were temporary jobs (such as work on construction projects) that came and went. On the other hand, jobs that were created and still existed year after year were counted in each year's totals.

That said, the CBO report credits the stimulus with creating between 900,000 and 4.7 million jobs in 2010 and between 600,000 and 3.6 million in 2011. It projects between 200,000 and 1.3 million jobs will be created in 2012.

We've also looked at estimates by other private analysis.

IMH/Global Insight estimated that 1.25 million jobs were created or saved by the end of 2009, 2.45 million were created or saved by the end of 2010, and 1.97 million were created or saved by the end of 2011.

Macroeconomic Advisers projects 2.1 million jobs will be created or saved through early 2012. Moody's economy.com put the peak of the employment impact in the third quarter of 2010, when the stimulus was responsible for an additional 2.5 million jobs.

This report from the White House's Council of Economic Advisers, released in July, estimates the Recovery Act "raised employment by 2.4 to 3.6 million jobs relative to what it otherwise would have been."

Of all these studies, the single lowest estimate -- CBO's -- was 1.5 million jobs through the end of 2011.

So based on the raw numbers, the stimulus created about 35 times as many jobs as Apple did. Even the CBO's lowest estimate of jobs created in a single quarter (200,000 in the second quarter of 2009, right after the law was passed) is more than four times larger than Apple's current workforce.

"Daniels is not in the ballpark," said Dean Baker, co-director of the liberal Center for Economic and Policy Research.

Beyond the numbers

But there are issues that complicate any Apple-stimulus comparison.

Bruce Bartlett, a economist and former official in the administrations of Ronald Reagan and George H.W. Bush, calls it an "apples and oranges comparison."

Here are some of the issues raise by Bartlett and other economists:

• The job figures for Apple's full-time U.S. staff are solid, but the stimulus job statistics are only estimates.

J.D. Foster, an economist with the conservative Heritage Foundation, discounts the stimulus job estimates and says "no one knows, or will ever know" how many it created. "In my view, the best one could hope for is that the stimulus did not destroy any jobs, on net," Foster said in an email.

• It's difficult to gauge the indirect impact of Apple on jobs created among suppliers -- or jobs lost by companies that faced competition from Apple.

On the upside, for every U.S. staff job at Apple, some number of additional full- or part-time jobs has been created indirectly, from freelance app designers to short-order cooks in restaurants near Apple's Cupertino, Calif., headquarters. Estimating how many additional jobs owe their existence to Apple is tricky, but it's likely a substantial number, making Apple's actual job footprint bigger than the 43,000 jobs cited above.

Although Daniels' office didn't respond to our request for back-up for his statement, Jane Jankowski, a spokeswoman for Daniels, told CNNMoney: "Between Apple and its suppliers, there are hundreds of thousands of jobs that have been created and sustained over years and years ... Meanwhile, a number of credible economists, including Robert Barro of Harvard have questioned whether the stimulus created any net new jobs; if they did, the jobs were temporary and disappeared as the stimulus money ended."

On the other hand, as Apple has grown, some new jobs have come at the expense of its competitors. As the iPhone took off, did Motorola fire workers when its phone sales slipped? The aggregate loss among competitors is hard to calculate, but it's likely not a trivial number. And the number is one that should be considered if a full comparison is desired.

"Once you look at what Apple's success does to competitors, then you must eventually conclude that all job creation is a zero-sum game, which bodes ill for unemployment," Foster said.

• Apple is a company that created jobs continuously over 30 years, while the stimulus was a government program that was largely over within a couple years.

It's not clear whether a 30-year, ongoing business concern should be compared directly to a two- to three-year federal program. There are too many differences in scope, duration and mission.

Even so, Foster argues that Daniels' comparison is valid. "There's nothing wrong with comparing a company to a nation," he said. "Nationally, jobs are created and destroyed. Even within Apple, not every division grew monotonically. They fired people, and hired them. It's not a common comparison, but that's what makes it interesting and still valid."

Other economists, including Gary Burtless, an economist for the Brookings Institution, suggest that Daniels' comparison is speculative at best, and incorrect at worst.

"Perhaps if we assume there were large spillover effects of Apple employees' consumption and Apple supplier contracts on U.S.-based employment, we might reach an estimated impact of Apple that reaches or exceeds the stimulus total," Burtless said. "On the other hand, some of Apple's success has come at the expense of competitors who have shrunk, disappeared, or grown more slowly than would have been the case if Apple had not been founded. No one knows the number of people who lost their jobs or failed to find jobs in those competing companies as a result of Apple's existence, but it is likely to represent a sizeable percentage -- far more than half -- of the employees that Apple hired or caused to be hired by its suppliers within the United States."

Our ruling

There's no question that the lack of information -- particularly about Apple's indirect impact on jobs and how many jobs were lost at its competitors -- weakens how certain we can be about the exact numbers. There's also a more fundamental question of whether it's fair to compare Apple (an ongoing business) to the stimulus (a short-term federal program).
But even if you were to assume that Apple's net impact on job creation was five times the 43,000 jobs the company listed in its SEC report, that would still be just one-seventh of the lowest estimate of jobs created by the stimulus. The "hundreds of thousands" of additional jobs from Apple and related companies, cited by Daniels' spokeswoman, also falls far short of the most cautious estimates of the stimulus by a large margin.
In addition to the huge discrepancy in the numbers, one of the principles of the Truth-O-Meter is that people who make factual claims are accountable for their words and should be able to provide evidence to back them up. We will try to verify their statements, but we believe the burden of proof is on the person making the statement. In this case, the best we have from Daniels' staff is a vague extrapolation that Apple created "hundreds of thousands" of jobs. We rate Daniels' statement False.
Mitch Daniels Republican Address to the Nation, Jan. 24, 2012
Apple Inc. 2011 Annual Report, accessed Jan. 25, 2012
New York Times, "How the U.S. Lost Out on iPhone Work," Jan. 21, 2012
PolitiFact, "Obama says stimulus is responsible for 2 million jobs saved or created," Feb. 17, 2012
President's Council of Economic Advisers, "The Economic Impact of the American Recovery and Reinvestment Act of 2009," July 1, 2011
"CBO: Up to 2.9 Million People Owe Their Jobs to the Recovery Act," Center on Budget and Policy Priorities, Aug. 30, 2011
Recovery.gov
Email interview with Jim Dorsey, IHS/Global Insight, Jan. 25, 2012
Email interview with Gary Burtless, Brookings Institution, Jan. 25, 2012
Email interview with JD Foster, Heritage Foundation, Jan. 25, 2012
Email interview with Ben Herzon, Macroeconomic Advisers, Jan. 25, 2012
Email interview with Mark Zandi, Moody's, Jan. 25, 2012
Email interview with Arloc Sherman, Center on Budget and Policy Priorities, Jan. 25, 2012
Browse the Truth-O-Meter
More by Louis Jacobson
Support independent fact-checking.
Become a member!
In a world of wild talk and fake news, help us stand up for the facts.