Stand up for the facts!
Our only agenda is to publish the truth so you can be an informed participant in democracy.
We need your help.
I would like to contribute
"We came out against Deepwater and everybody is now paying for [the project] in their electric bills."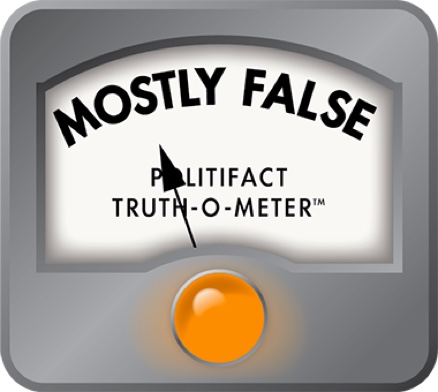 Tea Party leader Lisa Blais says Rhode Island consumers are now paying for Deepwater wind turbine project in their electric bills.
The controversy over Rhode Island's decision to guarantee $75 million in loans to 38 Studios to develop video games has raised questions about the government's role in promoting various businesses.

When Lisa Blais, a member of the board of directors of Ocean State Tea Party In Action, was asked about the deal on the May 21 edition of WHJJ's "Helen Glover Show," she brought up the state's support of the Deepwater Wind project, which is planning to build wind turbines in the waters off Block Island.

"As you know, we came out against Deepwater," Blais said. "And everybody is now paying for it in their electric bills."

With the Rhode Island economy in such bad shape and many residents facing financial problems, "who can afford these extra surcharges on our electric bill," she asked, calling the Deepwater project another example of "crony capitalism."

Her claim caught our attention because Deepwater is still in the planning stages, years away from completion. We wondered: Are Rhode Islanders really paying for a project that hasn't been built?

Before we answer that question, here's some background.

In 2004, the General Assembly passed a law requiring National Grid -- the company that provides electricity and gas to Rhode Island -- to start buying electricity generated from renewable sources, such as wind and solar, even though such sources cost more.

In 2007, when the law took effect, the amount was 3 percent of the power the company purchased, rising incrementally each year. It is now at 6.5 percent, according to David Graves, spokesman for National Grid.

In 2009, the legislature and Gov. Donald Carcieri modified that law, requiring National Grid to actively encourage renewable energy projects; one of them was to be an undersea power line from Block Island to the mainland.

The line would be used to feed cheaper power to the island (currently the island relies on diesel generators for its power). Ultimately, the line would feed excess electricity from the Deepwater turbines to the mainland when the wind is blowing.

In the first phase, there would be five turbines. In the second phase, up to 200 more would be built in federal waters.

National Grid has racked up some legal costs dealing with that power line and those costs are being passed on to consumers as part of a 0.007 cents per kilowatt hour surcharge on their bills. For the typical residential customer -- who uses about 500 kilowatts per month -- that surcharge translates to no more than 3.5 cents per month.

The real cost is going to come when National Grid has to buy the power Deepwater generates.

Initially, National Grid and Deepwater agreed that National Grid would pay no more than 24.4 cents per kilowatt hour for that energy -- but that was still more than two and a half times the cost of buying energy from conventional sources at the time. However, that price would automatically increase by 3.5 percent per year over the next 20 years.

The state Public Utilities Commission overruled the deal on March 30, 2010, saying the price was not "commercially reasonable" for Grid's customers.

Carcieri and legislative leaders reacted by passing a law requiring the PUC to rehear the case using different rules and a shortened timetable. It also redefined what was "commercially reasonable" and declared that Deepwater's initial Block Island project was "in the public interest."

Critics said the changes gave the PUC no choice but to approve the agreement, even though the project was expected to result in consumers paying $409 million to $415 million extra for their power while getting economic benefits worth $129 million (as calculated by the state Economic Development Commission) and the creation of just six permanent jobs.

The PUC approved the agreement by a 2-1 vote on Aug. 11, 2010.

How much extra will the power from Deepwater Wind ultimately cost consumers?

On an individual basis, Graves said, the best estimate in 2009 was that the typical residential bill would rise by $1.37 per month. The actual amount will depend on prices at the time. To put that number in context, the bill for the average customer is currently $78 a month.

But the costs will show up in other ways as well, as businesses struggle with more-expensive electricity, an effect that will ripple through the Rhode Island economy. Benefits, such as cleaner energy, are even harder to quantify.

Our ruling

Lisa Blais of the Ocean State Tea Party In Action said that, in the wake of the state's approval of the Deepwater Wind project, "everybody is now paying for it in their electric bills."

When we asked for the source of her information, she said she remembered it from the debate over Deepwater, but said she should have referred to the extra cost as something consumers will be facing.

"I would have been more precise if I said now 'we face' paying for it, which was the tenor of my comments on Glover's show," she said.

If the Deepwater Wind project becomes operational and if prices for purchasing electricity don't change significantly, Blais' statement could become true.

But most radio listeners would have heard what we did: that we're paying for the project now.

In the strictest sense, we're paying less than 3.5 cents a month for some incidental National Grid expenses connected with the project. That's enough to avoid a False on the Truth-O-Meter, but not enough juice to move the needle very far.

We rate her statement Mostly False.

(Get updates from PolitiFactRI on Twitter. To comment or offer your ruling, visit us on our PolitiFact Rhode Island Facebook page.)
920WHJJ.com, "Legislative Alert for May 21," May 21, 2012, accessed May 22, 2012

Interviews and emails, Lisa Blais, member, board of directors, Ocean State Tea Party In Action, May 22-24, 2012

Interviews and emails, David Graves, spokesman, National Grid, May 22-25, 2012

The Providence Journal, "Utility to buy wind farm's electricity," Dec. 10, 2009, and "Carcieri, others put pressure on PUC to OK wind-farm pact," Aug. 3, 2010

Courts.RI.gov, Supreme Court opinion No. 2010-273-M.P. (4185), "In re: Review of Proposed Town of New Shoreham Project," July 1, 2011, accessed May 24, 2012

RIPUC.org, "RE: Docket 4227 – National Grid Response to Commission Data Request issued on March 29, 2011," April 19, 2011, accessed May 25, 2012
Browse the Truth-O-Meter
More by C. Eugene Emery Jr.
Support independent fact-checking.
Become a member!
In a world of wild talk and fake news, help us stand up for the facts.