Stand up for the facts!
Our only agenda is to publish the truth so you can be an informed participant in democracy.
We need your help.
I would like to contribute
Obama has "racked up more debt than any president in history — over $5 trillion."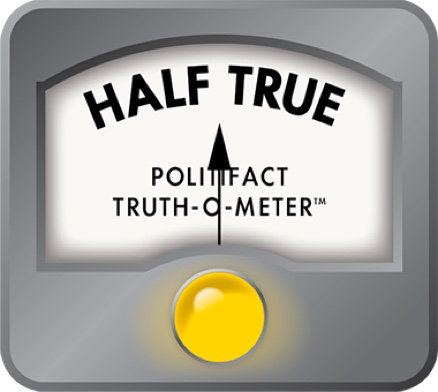 Jim Renacci says Obama has racked up more debt than any other president
A lot of claims are circulating about government spending and the federal debt, usually in statements attacking or backing the policies of President Obama.
PolitiFact has looked at a number of the claims and found that their accuracy varies widely -- mostly because Obama's record on federal government spending is a lot more flattering than is his record on debt.

We found it was inaccurate to claim, as Mitt Romney did, that "since President Obama assumed office three years ago, federal spending has accelerated at a pace without precedent in recent history."

In fact, Obama has presided over the slowest growth in spending of any president in the past 60 years using raw dollars, and the second-slowest if you adjust for inflation.

But we also found that while spending is poised to be increasing by 1.4 percent per year under Obama, the debt will be increasing by 14.6 percent per year. The reason? Year by year, federal revenues haven't been keeping up with spending, due to the struggling national economy (which has held back tax revenues) and a continuation of tax cuts. And each year there's an annual deficit, the national debt grows.

That led to the frequently cited -- and wrongly exaggerated -- claim that the debt has increased more under Obama than under all previous 43 presidents combined.

It also led to this blog posting by Rep. Jim Renacci, the Republican incumbent facing Democratic incumbent Rep. Betty Sutton in Ohio's newly redrawn 16th congressional district:

"In less than one term, (Obama has) racked up more debt than any president in history — over $5 trillion."

The statement interested PolitiFact Ohio because it was less sweeping and more specific than
many others.

Responding to our inquiry, Renacci's staff cited a CBS News story from March, which compared the debt growth under Obama's three years and two months in office to eight years under George W. Bush.

On Jan. 20, 2009, the date Obama took office, the debt stood at $10.6 trillion. At the time of the CBS story, it had increased by $4.9 trillion.

By  the day Renacci's statement was posted, the Treasury Department's online "Debt to the Penny" calculator showed the debt at more than $15.7 trillion -- an increase of $5.1 trillion.

During the two terms of the Bush presidency, whose debt exceeded all predecessors, the debt rose $4.899 trillion.

So Renacci's numbers checked out. 
But Renacci's statement that Obama "racked up" the debt, fails to account for factors beyond Obama's control.
Obama did approve the stimulus bill and a deal to extend tax cuts, both of which contributed to the debt.

Not surprising though, that Obama's Treasury Department blames most of the current debt on decisions made under Bush, including tax cuts (which it says cost the government $3 trillion), the wars in Iraq and Afghanistan (which it tallies at $1.4 trillion) and the Medicare prescription drug program ($300 billion).

They may have a point that there is plenty of blame to spread around. It is clear that some elements of the increase in the debt are a result of decisions made before this administration took office.

And it's worth noting that the president doesn't operate in a vacuum. Legislation that increases spending, such as the extension of the tax cuts, requires approval from Congress. In the case of the tax cuts, that support came from both Republicans and Democrats.

Experts note, too, that the weak economy has contributed to the debt, given the reduction in federal revenues and greater spending on items like unemployment benefits.

Renacci is accurate in asserting that the national debt has increased since Obama took office by more than $5 trillion, more than any previous administration.

But his statement assigns direct control -- and blame -- to Obama. Lost in that is the impact of the faltering economy, decisions made before Obama took office and the fact that others, such as Congress, also have had a role in increasing the debt.
On the Truth-O-Meter, Renacci's claim rates Half True.
Rep. Jim Renacci, "GOHP blog: Obama Proves He Does Not Understand the Economy," June 12, 2012

PolitiFact, "Viral Facebook post says Barack Obama has lowest spending record of any recent president," May 23, 2012

Email with Renacci staff, June 21, 2012

CBS News, "National Debt has increased more under Obama than under Bush," March 19, 2012

FactCheck.org, "Dueling Debt Deceptions," Feb. 2, 2012

U.S. Treasury, "The Debt to the Penny and Who Holds It"

PolitiFact New Jersey, "Obama has added more to national debt than the previous 43 presidents combined, chain e-mail states," May 4, 2012

PolitiFact Ohio, "Rep. Jim Renacci says that since President Obama took office, federal spending went up nearly 30 percent and the national debt increased by almost 50 percent," April 13, 2012

New York Times, "In Romney and Obama Speeches, Selective Truths," June 19, 2012
Browse the Truth-O-Meter
More by Tom Feran
Support independent fact-checking.
Become a member!
In a world of wild talk and fake news, help us stand up for the facts.