Stand up for the facts!
Our only agenda is to publish the truth so you can be an informed participant in democracy.
We need your help.
I would like to contribute
"The median income in America has dropped by 10 percent in the last four years."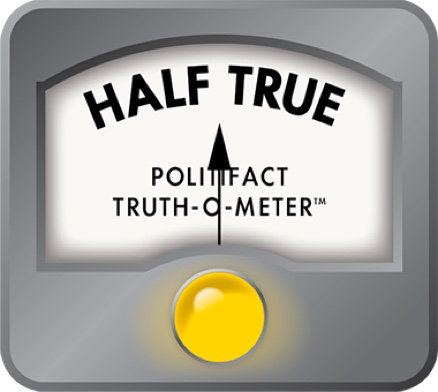 Romney says median income has dropped 10 percent in last four years
Milking an opponent's mistake is a campaign staple, especially if you happen to be a presidential candidate visiting the Dairy State.

During his June 18, 2012, trip to Janesville, presumptive Republican nominee Mitt Romney again mocked President Barack Obama's recent declaration that the private sector is "doing fine."

And he used a recycled line to make his case that Obama was dead wrong in his perception.

"The median income in America has dropped by 10 percent in the last four years," Romney told a sweat-drenched crowd at a manufacturing plant, "even as gasoline prices have doubled and the prices on many things we buy have gone up and up and up."

Romney used the same line about falling incomes in a GOP presidential debate on January 23, 2012. It earned a Half True from PolitiFact National, which said the numbers were outdated by six months, somewhat off the mark and from a respected but unproven data-analysis firm.

We wondered what the numbers look like now, with another 10 months in the books.

In this case, we'll look only at the income trend, not to what degree Obama is to blame for any decline. In Janesville, Romney surely was out to criticize Obama, but his remarks show it was more for being out of touch than saying he was responsible for creating the problem.

The gold standard of income data comes from the U.S. Census Bureau's Current Population Survey -- Annual Social and Economic Supplements. But it is generated only once a year, so it is not very timely. The 2011 data is not out yet. More on that later.

In both instances, Romney turned to household income figures generated by a private economic research agency, Maryland-based Sentier Research. The firm uses other Census Bureau income data that is released monthly and adjusts it to provide a more timely look at income trends. Its reports have become widely quoted in media accounts.

In January, and again in Janesville, Romney said he was comparing changes in the "last four years," which takes us to different periods in the George W. Bush presidency as the starting point. We examined Sentier's reports from April 2008 to April 2012, the latest available from the firm at the time of Romney's speech.

The inflation-adjusted median household income declined 8.3 percent when comparing those two points in time, a decline of $4,596 per household.

So by the latest numbers in the report Romney used, he's in the ballpark but off more than a percentage point.

Case closed? Not quite.

Romney's campaign told us  relied on a reference to earlier Sentier research that was highlighted in an April 30, 2012, Bloomberg news report.

That piece referred to February 2012 data from Sentier showing a 9.7 percent drop compared with the same month in 2008. The big swing in just a couple months is not unusual in the month-to-month data.

So, as in the presidential debate reference, Romney was very close using outdated data, but high compared to the latest data available when he spoke.

Either way, according to the Sentier data, the income trend has gone the wrong direction in the last four years. Median household incomes move up and down, but overall trended sharply downward during Obama's first two and a half years before recovering somewhat since summer 2011, according to the firm's index.

The more standard source of income statistics, the annual Census Bureau data, has figures only through 2010 because 2011 is not out yet. That survey asks people in the spring what they earned for the previous calendar year.

Using that annual data for a four-year comparison going back to 2007, incomes declined 6.4 percent from 2007 to 2010.

Because the reference periods are different, the trends identified by the annual census data can't really be compared directly to monthly census data that Sentier uses.  

PolitiFact National has examined in detail the data source that Romney uses, Sentier Research. The firm is run by two retired Census Bureau officials (one of whom, Gordon Green, directed the income statistics program) whose work has been cited in many national news publications. Sentier's client list has included major government clients and think tanks on both sides of the ideological spectrum.

Economists have said the Sentier-created income index fills a knowledge gap in a timely way, but still has to stand the test of time.

Our rating

Romney chided Obama for being out of touch, saying that median household incomes have fallen 10 percent. He uses data from a reputable private firm that used census data to create a new income index.

At one point in Obama's term incomes were down about 10 percent from four years earlier, but the decline is now closer to 8 percent, based on the firm's data. Romney continues to use the outdated figure, making the decline sound somewhat larger than it is.

We'll stick with the Half True rating he received in January, based on the Truth-O-Meter definition of a claim that is "partially accurate but leaves out important details or takes things out of context."
Wisconsin Eye, video of Romney speech, Janesville, WI, June 18, 2012

Interview with Gordon Green, partner, Sentier Research, June 19-20, 2012

Interview with Allie Brandenburger, Romney campaign spokeswoman, June 19, 2012

Bloomberg News, "Obama Fails to Stem Middle-Class Slide He Blamed on Bush," April 30, 2012

Sentier Research, Household Income Trends February 2012, March 2012

PolitiFact Wisconsin, Truth-O-Meter item, Romney statement on income, Jan. 24, 2012

US Census Bureau, Household Income Table, 1967-2010, accessed June 20, 2012
Browse the Truth-O-Meter
More by Dave Umhoefer
Support independent fact-checking.
Become a member!
In a world of wild talk and fake news, help us stand up for the facts.