Stand up for the facts!
Our only agenda is to publish the truth so you can be an informed participant in democracy.
We need your help.
I would like to contribute
Says Barack Obama "promised" gasoline at $2.50 a gallon.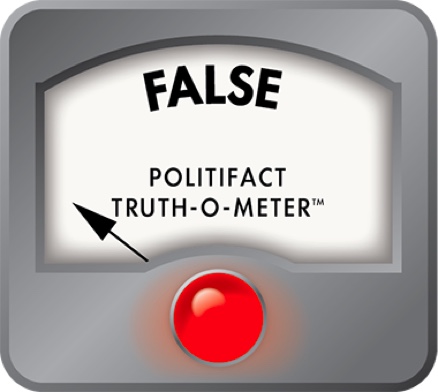 Obama promised gas at $2.50 a gallon, says Florida GOP head Lenny Curry
Lenny Curry, head of the Republican Party of Florida, said President Barack Obama is going to have a hard time winning Florida, citing gas prices and federal spending as just two reasons.

"Obama's going to come here and spend a lot of money, but President Obama's going to have to run on his record. He's going to have to run on what he promised," Curry said in an interview on Bay News 9's  "Political Connections" on March 4, 2012.

"He promised gasoline I believe at $2.50. When he took office it was about $1.68. We know it's well above $2.50 now. He promised he would cut the deficit in half. We know what's happened there," Curry said.

Curry went on to praise Florida Gov. Rick Scott for job creation, saying that showed a clear contrast with the Obama administration.

Curry, a businessman from Jacksonville, became head of the state party in September 2011. He was the hand-picked successor of party chairman Dave Bitner, who died after a fight with Lou Gehrig's disease.

We wondered if Curry was accurate in describing Obama's promises to voters, so we decided to check it out. Here at PolitiFact, we take a special interest in the campaign promises of elected officials. We collected Obama's promises for our Obameter and Scott's promises for the Scott-O-Meter.

We asked the Republican Party of Florida for evidence to back up Curry's claims about Obama's promises on gas prices, but we didn't hear back.

Curry said that gas prices were at $1.68 when Obama took office, and on that point, he's largely correct. The national city average for regular unleaded at the beginning of 2009 was $1.79, so that's in the ballpark, considering flexibility for regional variations.

But what did Obama promise on gas prices? Here, we'll look at whether Obama promised gasoline prices at $2.50 a gallon. (In a separate report, we'll look at whether he promised to cut the deficit in half.)

Back in the summer of 2008, Obama said the federal government should immediately consider energy rebates and releasing oil from the Strategic Petroleum Reserve. For the long term, though, he had other ideas for energy policy, such as investing in renewable fuels and making cars more fuel efficient. (See all of Obama's energy promises here.)

Obama has broken one significant gas-related promise: to enact a "windfall profits" tax on oil companies. In 2008, he said the new tax could pay for energy rebates to American families. We gave that a Promise Broken on our Obameter back in March 2011. Aides said the tax was not necessary after gas prices fell from their 2008 highs. We have yet to hear of any moves to revive the plan.

The closest we could find to a promise on gas prices were comments Obama made in Winston-Salem, N.C. in April 2008: "I want to invest that money in clean, affordable, renewable energy sources like wind power, and solar power, and biofuels, so that we're not talking about high fuel prices next summer or the next summer after that or the summer after that."

But that's a far cry from pledging a particular price.

We did find one current candidate making such a pledge: Republican Newt Gingrich said he would keep gas prices at $2.50 or less if elected president.

"I've developed a program for American energy so no future president will ever bow to a Saudi king again and so every American can look forward to $2.50 a gallon gasoline," he said at a CNN debate.

Analysts, though, are dubious of the power of any president to affect short-term gas prices.

"What can you do to change the market in the short term? The answer is not much," said James Bartis of the RAND Corporation, a nonprofit research group that provides independent policy analysis. "It takes many years to open up a new oil field, to prepare and get production from a new oilfield. Generally, I would say a decade is the minimum."

Obama recently mocked Republicans for promising lower gas prices in a speech in Miami. "It's the easiest thing in the world to make phony election-year promises about lower gas prices. What's harder is to make a serious, sustained commitment to tackle a problem," he said.

Our ruling

Obama has discussed the need for the country to achieve energy independence through reduced consumption and more renewable energy sources. At times he connected those policies to lower gas prices for families. But he never promised a particular price point and certainly not $2.50 a gallon. We rate Curry's statement False.
PolitiFact Florida is partnering with 10 News for the 2012 election season. See the video version of this fact-check here.
Political Connections, interview with Lenny Curry, March 4, 2012
PBS Newshour, Transcript: Obama's 'New Energy for America' Speech, Aug. 4, 2008

Buzzfeed, In 2008, Obama Talked Of Keeping Gas Prices Down, Feb. 23, 2012

CNN Money, Gingrich's $2.50 gas promise, Feb. 24, 2012

U.S. News and World Report, Obama Can Control Some Factors That Affect Oil Prices: Domestic energy production has increased despite president, not because of him, March 5, 2012

POLITICO, What happened to Obama's Big Oil windfall tax?, March 1, 2012

WTSP, Obama's broken promise on gas prices, March 7, 2012

PolitiFact, Obameter: Enact windfall profits tax for oil companies, last updated March 16, 2011

White House, Remarks by the President on energy in Miami, Feb. 23, 2012

Interview with Jessica Brady of AAA Auto Club South, March 7, 2012

Interview with James Bartis of the RAND Corporation, March 7, 2012

PolitiFact, Michele Bachmann says gasoline cost $1.79 a gallon when Barack Obama took office, Sept. 8, 20122
E-mail interview with Brian Hughes of the Republican Party of Florida, March 7, 2012
E-mail interview with Ben LaBolt of the Barack Obama campaign, March 7, 2012
Browse the Truth-O-Meter
More by Angie Drobnic Holan
Support independent fact-checking.
Become a member!
In a world of wild talk and fake news, help us stand up for the facts.