Get PolitiFact in your inbox.
Says Democratic recall opponent Tom Barrett is campaigning on "lifting property tax" limits.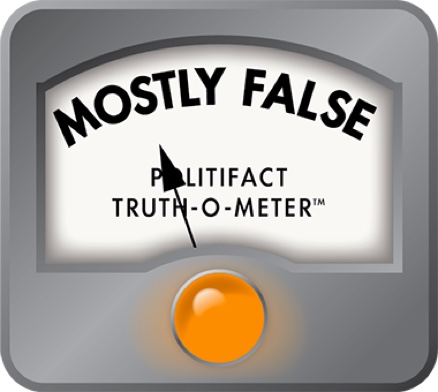 In Wisconsin recall, Gov. Scott Walker says opponent Tom Barrett campaigning to raise taxes
Reducing property taxes is one accomplishment Wisconsin Gov. Scott Walker touts in his bid to remain in office.

In April 2012, the Republican governor announced that during his first year in office, the property tax bill for the typical Wisconsin homeowner had gone down -- the first such decrease in 12 years.

Meanwhile, as we found in rating a claim by the Republican Governors Association,  the Milwaukee property tax levy increased in seven of eight years under Mayor Tom Barrett, Walker's opponent in the June 2012 recall election.  

So it was no surprise that Walker would seek an opportunity to hit Barrett on the issue.

On May 7, 2012, a day before Barrett won the Democratic recall nomination, Walker released a TV ad claiming -- among other things -- that taxes would go up if Barrett is elected governor.

At one point in the ad, the narrator says "Barrett wants to undo (Walker's) reforms and raise your taxes to pay for it."

As those words are spoken, a more specific message appears on the screen:

"Barrett campaigns on lifting property tax ceilings."

Walker himself repeated the more specific claim the next day on Milwaukee talk radio, telling host Jay Weber of WISN-AM (1130) that both Barrett and Kathleen Falk, who finished second in the primary, "said they'd lift the caps on property taxes."

But hardly anybody likes taxes, right? Is Barrett really "campaigning on" raising them?

Let's start with some background.

Walker and the Republican-led Legislature adopted strict property tax caps as part of the 2011-2013 state budget. For counties and municipalities, growth in the levy is limited to the value of new construction. Walker and lawmakers also cut school aid and reduced the overall amount of revenue that schools could raise in state aid and property taxes -- known as the revenue limit -- by 5.5 percent.

The result?

According to the state Department of Revenue, the total property tax levy in the state rose by just $21 million, or 0.2 percent, in 2011. And property taxes on the median home valued at $157,600 fell about $11, or 0.4 percent, to $2,951 -- the first such drop since 1999.

But Walker's ad focuses on Barrett's position.

Walker's evidence

In accusing Barrett of campaigning to lift the caps, the ad cites a news article on the website of WTAQ, an AM and FM radio station in Green Bay. The article was posted April 17, 2012, the day after Walker announced the property tax reduction.

The headline on the article -- "Barrett, Falk campaign on lifting property tax ceilings" -- was almost word for word the message that appeared on the screen in Walker's ad.

But the article itself made an important distinction between Barrett and Falk.

Both criticized the property tax limits, but while Falk said she would repeal the limits, Barrett "stopped short of making that promise," the article said.

When we asked Walker campaign spokeswoman Ciara Matthews to back Walker's claim, she argued that even if Barrett didn't promise to remove the caps, he nevertheless had campaigned to do so.

Matthews pointed us to another part of the article, which quoted Barrett campaign spokesman Phil Walzak as saying the caps are "absolute and draconian."

Matthews also noted that a longer version of Walzak's comment appeared in a Milwaukee Journal Sentinel article the same day the radio station website article was posted.

The newspaper, noting that Walzak's comment was made in a prepared statement, quoted Walzak as saying:  

"Of course controlling tax increases will be a priority. But Walker's caps are absolute and draconian. They don't account for inflation adjustments, or allow adjustments for real economic growth."

That statement shows Barrett is against keeping the current property tax caps in place -- but doesn't indicate whether Barrett would merely modify the limits or lift them altogether.

Matthews didn't provide any other evidence, and we couldn't find any other statements Barrett has made in the campaign about property tax caps.

Barrett's response

Walzak told us Barrett has not campaigned on lifting the caps, and that the statement he issued criticizing them was in response to a Journal Sentinel reporter's question.

That's a relevant point, given that Barrett has campaigned repeatedly on a number of issues -- including restoring collective bargaining rights for public employees and "ending the civil war" that he says Walker started. But he hasn't emphasized property tax caps.

Walzak also argued that Walker's ad wrongly implies Barrett would lift the caps in a way that would lead to widespread property tax increases, leaving no controls. But what Barrett advocates, according to Walzak, is working with local governments to give them flexibility to raise property taxes when more revenue is needed to spur economic growth.

Here's the full statement Walzak issued on the subject:

"Unlike the top-down imposition of policy that dictates policy instead of develops it in partnership with local leaders, Tom as governor will work with local governments and officials to determine what they need to make local investments to attract retain and create jobs on the local level.  Of course controlling tax increases will be a priority.  But Walker's caps are absolute and draconian.  They don't account for inflation adjustments, or allow adjustments for real economic growth.  These inflexible, rigid caps can actually stifle opportunities for local growth, because they can have a negative impact in investing in business parks and transportation infrastructure that are so often key to making investments that encourage business expansion or make local areas more attractive to businesses considering relocation from other states."

The complete statement makes it clear that Barrett wants to change the current property tax caps.  

But the fact that no other Barrett statements on the caps could be found indicates he has not been campaigning on the issue. And he has not articulated to what degree he would change the caps.

Our rating

In a TV ad, Walker claimed that Barrett is campaigning "on lifting property tax ceilings." It was part of a more sweeping claim that taxes overall would go up with Barrett as governor.

Barrett issued a statement during the campaign making it clear he wants to change the caps, so in that sense he would "lift" them. But he has not campaigned on the issue, nor spelled out how much he would modify the current limits.

Walker's claim contains an element of truth but ignores critical facts that would give a different impression -- our definition of Mostly False. 
(You can comment on this item on the Journal Sentinel web site)
YouTube.com, Scott Walker campaign "Forward, backwards" TV ad, May 7, 2012

WTAQ-AM, "Barrett, Falk campaign on lifting property tax ceilings," April 17, 2012

Interview and email interview, Scott Walker campaign spokeswoman Ciara Matthews, May 8, 2012

Interview and email interview, Tom Barrett campaign spokesman Phil Walzak, May 7 and 8, 2012

WISN-AM, Scott Walker interview, May 8, 2012

Milwaukee Journal Sentinel, "Falk, Barrett pledge to roll back tax cuts for corporations," April 16, 2012

PolitiFact Wisconsin, "Republican Governors Association says Milwaukee Mayor Tom Barrett raises taxes and fees every year," April 12, 2012
Browse the Truth-O-Meter
More by Tom Kertscher
Support independent fact-checking.
Become a member!
In a world of wild talk and fake news, help us stand up for the facts.