Get PolitiFact in your inbox.
Says in U.S. Congress, members "don't even have to be on the floor for debates or votes."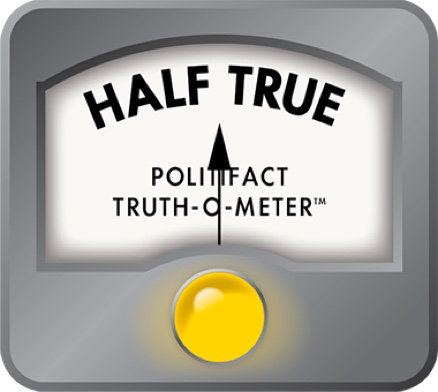 Tennessee House Speaker says Congressmen don't have to be present for debates or votes
Since the Tennessee General Assembly installed electronic voting systems in the House and Senate chambers more than 20 years ago, lawmakers have often cast votes for an absent colleague – a practice that has been nicknamed "ghost voting." The old custom got some fresh attention in the last days of the 2012 session when a Nashville television station, WTVF, filmed state representatives using long sticks to sit at their desks and punch voting buttons on the desks of other members who were missing.

Subsequently, House Speaker Beth Harwell offered commentary on the matter in an interview with the station, saying she doesn't really condone the practice but it is permitted under legislative rules. That's true. But then the speaker went on to say that,"We're not like Congress. In Congress, they don't even have to be on the floor for debates or votes. I require my members to be on the floor."

Was the speaker speaking the truth in contrasting Congress with the General Assembly in ghost voting?

We consulted the U.S. House of Representatives rules, and  rule III, section 2, states:

(a)   A Member may not authorize any other person to cast the vote of such Member or record the presence of such Member in the House or the Committee of the Whole House on the state of the Union.
(b)   No other person may cast a Member's vote or record a Member's presence in the House or the Committee of the Whole House on the state of the Union.

So U.S.House rules explicitly prohibit "ghost voting."

Recorded and roll call votes are normally taken by electronic device, and each member is provided with a personalized Vote-ID Card which can be used to vote electronically. A number of vote stations are positioned around the House chamber. Each vote station has a slot into which the voting card is inserted and buttons marked "yea," "nay," "present." The stations have an "open" indicator, which is lit when a vote is in progress and the system is ready to accept votes.

The state House procedure is far more informal. There is no voting card. Each member's desk is equipped with three buttons – green for voting "yes," red for voting "no" and blue for abstaining or answering a roll call.

The "roll call" votes come at the start and end of each House session. And being present for a roll call has consequences – those voting present automatically get their $174 daily expense payment, called "per diem." Members are allowed to vote a colleague present if he or she is absent from the chamber at the moment. Indeed, one legislator – state Rep. Lois DeBerry, D-Memphis – refunded her "per diem" payment after the WTVF video aired, acknowledging she wasn't present on a day when a colleague voted for her.

State House rules permit one member to vote for another, so that legislators can take a short break to visit the restroom, get a sandwich, meet with a visiting constituent or perhaps a lobbyist outside the chamber. But the speaker can order that all members be at their desks to vote. This is done by the speaker declaring the chamber "under the rule." Harwell estimates that the House is "under the rule," meaning a member must be seated at his or her desk to vote, about half the time. The rest of the time, it's OK to push another member's voting button -- and often that's done on non-controversial or procedural matters.

On the other hand, Congress is far more informal than the Tennessee General Assembly when it comes to being present for debates.

We've sat through enough congressional proceedings to know firsthand that House members are not always present during debates. Often, the only lawmakers in the House chamber during a floor debate are those representatives who are speaking on the issue or waiting to speak.

There are a number of reasons why there are a lot of empty seats in the House chamber during debates. For one, legislative committees often meet while the House is in session and a floor debate is taking place. Lawmakers can't be two places at once, so unless they have a particular interest in the topic being debated on the House floor, they go to their committee meetings instead.

House floor proceedings also are beamed live into the offices of each member via closed-circuit television. Lawmakers often monitor floor debates from their offices and head to the House floor when debate begins on a topic on which they have an interest or want to speak.

At the state House, members are generally required to be in the chamber during floor sessions – with the exception of the permitted and presumably brief absences where "ghost voting" occurs. That's the case even when legislators embark on lengthy "personal orders," wherein guest speakers make sometimes long-winded speeches and are honored by the reading of a resolution.

In contrast to Washington practice, legislative committees in Nashville do not meet when floor sessions are underway. Debates, both on the floor and in committees, are face-to-face, back-and-forth encounters with multiple members joining in on a hot topic. And only rarely does the speaker move to limit the debate.

So Harwell is correct when she says that members of Congress don't have to be present for debates. But she was mistaken insofar as voting goes.

Kara Watkins, spokeswoman for Harwell, acknowledges the speaker "misspoke" by including "votes" in the quoted remark and says her intention was to emphasize that Tennessee lawmakers are present on the floor a lot more than their counterparts in Washington.

With that in mind, we rate the speaker's statement Half True.
 
Initial WTVF-TV report on "ghost voting," April 27, 2012.

Video of interview with House Speaker Beth Harwell, May 1, 2012.

Office of the Clerk, U.S. House of Representatives, Electronic Voting Machine, accessed on May 17, 2012.

Committee on Rules, U.S. House of Representatives, Rules of the House for the 112th Congress, Jan. 5, 2011.

Congressional Research Service, Electronic Voting System in the House of Representatives: History and Evolution, Feb. 11, 2008.

Interview with Kara Watkins, spokeswoman for Beth Harwell, May 16, 2012.
Browse the Truth-O-Meter
More by Michael Collins
Support independent fact-checking.
Become a member!
In a world of wild talk and fake news, help us stand up for the facts.