Stand up for the facts!
Our only agenda is to publish the truth so you can be an informed participant in democracy.
We need your help.
I would like to contribute
"Newgard owed more than $13,000 for unpaid taxes on his $1 million Milwaukie apartment complex."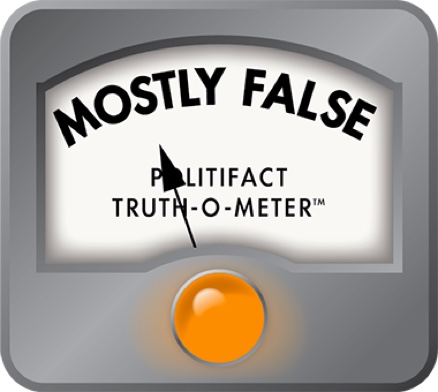 Did Steve Newgard owe $13,000 in back taxes on a $1 million property?
House Democrats have been slamming Republican candidate Steve Newgard pretty hard on his failure to pay property and income taxes over the years. Newgard faces Democrat Brent Barton, a former representative and lawyer, in the race to replace outgoing Rep. Dave Hunt, D-Gladstone, for House District 40 in Clackamas County.

Democrats have set up a website devoted to Newgard's tax delinquency. There's also a TV ad paid for by Friends of Brent Barton, which has been on air for about three weeks. Newgard doesn't contest that he has failed on multiple occasions to pay his taxes on time -- although he resents the implication that what he's done is illegal. He did pay up, along with late penalties.

But one statement made by Democrats has puzzled him and his children.  

"Newgard owed more than $13,000 for unpaid taxes on his $1 million Milwaukie apartment complex," says the gloomy voice-over in the bleak ad targeting Newgard. The ad later states that he "won't pay his taxes."

One million dollars? If only he owned the multi-story, Craftsman-style units featured so briefly in the campaign attack ad. Alas, Newgard says, his five-unit complex in Milwaukie is decidedly more modest, "little ramblers built in the 1960s." The single-story units are numbered 9 through 14. (There is no No. 13.)

The Clackamas County tax assessor's office says the property has a real market value of $302,000 for 2012.

So how do Democrats go from $300,000 to $1 million? We did some sleuthing with our Scooby nose. Apparently there are four complexes at this address, with three separate owners. Newgard owns one. Another person owns two, with a combined market value of $480,000. The third person owns the most expensive portion, valued at $1.2 million.

Newgard doesn't own the $1.2 million property.

And it would seem that House Democrats who set up www.stevenewgardfacts.comunderstand this. Because the only property tax statement they post is the one that shows his property valued last year at $280,000.

So what gives? We sent an email to Jared Mason-Gere, spokesman for House Democrats' political action committee. "We screwed up," he wrote back late Tuesday. "The assessment of the apartment complex is a mistake, plain and simple."

"It was never our intent to mislead anyone on this, since the point was never about the building, it's always been about the unpaid taxes. The ad will be down tomorrow, if it's not already down, and it will be corrected with the right figure."

We also checked with the Newgards to verify the accuracy of the amount owed on the apartment complex. Linda, Steve Newgard's wife, said they fell behind on payments but paid the amount due with interest in July. The amount paid was about $13,200, she said.

She said they have paid taxes faithfully but fell behind when the economy soured. Her husband runs a masonry business. The commercial, she said, "villainized him, like he had done a crime. Being on top of our taxes is important to us. These are not easy times."

Obviously, it's up to Clackamas County voters to decide whether this is an issue for them.

What we can confirm is that Newgard owed more than $13,000 on his apartment complex. And if the Democrats want to make the point that Newgard paid his taxes late, that's fine. But the complex he owns is nothing like the fat cat pad pictured and claimed as valued at $1 million.

"The core argument remains," Mason-Gere said. "Steve Newgard thinks he plays by a different set of rules; voters should not trust Steve Newgard with their taxes when he can't even be trusted to pay his own."

We're not so sure. It's not cool to get behind on your payments to government, but it's an option open to others, not just to Newgard. And he did pay, despite the assertion in the ad that he "won't pay his taxes."

The ad, in our view, gives the image of a wealthy candidate wiggling out of rules that apply to the humble rank-and-file. And that's what turns this into a statement that contains an element of truth -- property taxes were owed -- but ignores critical facts that would give a different impression. A $300,000 rental property doesn't have the same ring as a $1 million one.

Late Wednesday House Democrats shared a new version of the ad. There is no mention of the value of the property and no image of one either. We like how quickly Democrats work. We still rate the statement Mostly False.
Interviews with Steve Newgard, Oct. 9-10, 2012
Interview with clerk at Clackamas County Assessment and Taxation, Oct. 9, 2012
Interview with and email from Jared Mason-Gere, House Democrats, Oct. 9-10, 2012
Interview with Linda Newgard, Oct. 10, 2012
Willamette Week, "House candidate frequently failed to pay taxes," Sept. 17, 2012

Browse the Truth-O-Meter
More by Dana Tims
Support independent fact-checking.
Become a member!
In a world of wild talk and fake news, help us stand up for the facts.