Stand up for the facts!
Our only agenda is to publish the truth so you can be an informed participant in democracy.
We need your help.
I would like to contribute
"The president said he was going to create daylight between ourselves and Israel."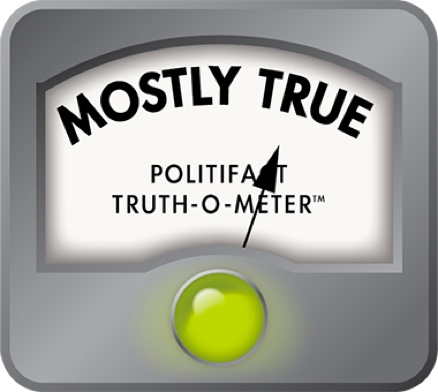 Romney says Obama wants 'daylight' in U.S.-Israel relationship
Mitt Romney frequently criticizes President Barack Obama's stance on Israel, saying the president doesn't hold the Jewish state in a tight enough embrace.

"The president said he was going to create daylight between ourselves and Israel," Romney said in a foreign policy-focused debate, the final one of the presidential election.

We decided to dig into the origin of that statement and check whether Romney's characterization is accurate.

What Obama (reportedly) said

The "daylight" comment stems from a July 15, 2012, story in the Washington Post about a meeting Obama held in 2009 with several Jewish leaders. The meeting was closed to the press, and there is no transcript of what was said. The Post story was based on interviews with people in the meeting.

Here's the relevant excerpt:
 
"If you want Israel to take risks, then its leaders must know that the United States is right next to them," Malcolm Hoenlein, the executive vice chairman of the Conference of Presidents of Major American Jewish Organizations, told the president.
Obama politely but firmly disagreed.
"Look at the past eight years," he said, referring to the George W. Bush administration's relationship with Israel. "During those eight years, there was no space between us and Israel, and what did we get from that? When there is no daylight, Israel just sits on the sidelines, and that erodes our credibility with the Arab states."

The White House does not confirm that Obama said those words. There also has been no explicit denial.

What he meant

Further into the Post story, deputy national security adviser Ben Rhodes explained Obama's purpose in the meeting, in which he explained to the Jewish leaders his thinking about the Israeli-Palestinian conflict and how he differed from Bush's approach.

"The case he was trying to make was that the United States will be a better partner to Israel if it has more credibility with the Arab states, that we will be a better, more useful friend to Israel if we have more friends in the Arab world," Rhodes said, according to the story.

The White House pointed us to several examples of how Obama is not distancing his administration from Israel. He and Israeli Prime Minister Benjamin Netanyahu have met nine times and spoken on the phone dozens of times. In July, Obama signed the Israel Security Act, a bill designed to increase security ties with the Jewish state, and boosted U.S. funding for Israel's Iron Dome missile defense system by $70 million.

The White House also pointed to statements from Netanyahu and Israeli Defense Minister Ehud Barak on the two countries' relationship.

Netanyahu, at the AIPAC conference in May 2011: "Yesterday President Obama spoke about his ironclad commitment to Israel's security. He rightly said that our security cooperation is unprecedented. He spoke of that commitment not just in front of AIPAC. He spoke about it in two speeches heard throughout the Arab world. And he has backed those words with deeds."

Barak, to CNN in July: "This administration under President Obama is doing in regard to our security more than anything that I can remember in the past."

Some interpretations

We talked to Danielle Pletka, a scholar with the conservative American Enterprise Institute, who said Romney's take was a "fair paraphrase" of Obama's reported words.

"It is the widespread perception that the president has in fact worked fairly assiduously to put daylight between the U.S. and Israel," she said, mentioning Obama's more hard-line stance on Israeli settlements and his comment to French President Nicolas Sarkozy about Netanyahu, saying, "You're tired of him; what about me? I have to deal with him every day."

"I think it's a world view. I think that President Obama's world view is not one in which Israel plays a special role -- Israel is a country like any other, it causes us too much trouble in the Middle East, and the time has come to distance ourselves," Pletka said, adding that most Americans don't share that view.

Aaron David Miller, in a first-person piece for Foreign Policy magazine, wrote that when it comes to Israel, "Obama really is different. Unlike (President Bill) Clinton and George W. Bush, Obama isn't in love with the idea of Israel. As a result, he has a harder time making allowances for Israeli behavior he doesn't like. Obama relates to the Jewish state not on a values continuum but through a national security and interest filter."

Referring to the Post story, Miller wrote: "Obama doesn't believe the 'no daylight' argument -- that is, to get Israel to move, you need to make the Israelis feel that America will stand by it no matter what. Quite the opposite: Obama appears to believe that Israel needs to understand that if it doesn't move, the United States will be hard pressed to continue to give it complete support."

On the other side of the argument, Natan Sachs, a scholar with the centrist Brookings Institution, said it's somewhat misleading for Romney to say that daylight is Obama's goal.

"It is true that President Obama, early in his tenure, tried to carve out a role for the United States as a broker for negotiations, airing differences in policy between the United States and Israel, especially on settlements. It is also true that this coincided with his attempt to regain U.S credibility in the Arab and Muslim world... But two important caveats should be made: once the attempt to restart negotiations between Israel and the Palestinians failed, the Obama administration has in fact stopped putting much pressure on the Israeli government on settlements. ... Second, the point of the policy was not to put 'daylight' per se, but rather to be forward about policy disagreements between Israel and the United States -- disagreements that the Bush administration shared, to some degree -- rather than attempting to hide this disagreements," Sachs wrote in an email.

Our ruling

Romney said that Obama said he would create daylight between the United States and Israel.

It's not as simple in this case as going to the tape to see what Obama said. The comment was reported secondhand by the Washington Post, based on anonymous interviews.
Romney fairly characterizes a quote attributed to Obama, which the White House has not denied. We rate Romney's statement Mostly True.
Washington Post, "Where Obama failed on Middle East," July 15, 2012, via Nexis

Interview with Danielle Pletka, American Enterprise Institute, Oct. 18, 2012

Foreign Policy, "Warning: Turbulence Ahead," July 25, 2012

Email interview with Natan Sachs, Brookings Institution, Oct. 22, 2012

New York Times, A Closer Look at Some of the More Hotly Disputed Assertions, Oct. 17, 2012

CNN, "Fact check: Did Obama say he wants 'daylight' between U.S., Israel?" Oct. 9, 2012
Email interview with Robert Terra, Romney campaign, Oct. 22, 2012
Browse the Truth-O-Meter
More by Molly Moorhead
Support independent fact-checking.
Become a member!
In a world of wild talk and fake news, help us stand up for the facts.