Stand up for the facts!
Our only agenda is to publish the truth so you can be an informed participant in democracy.
We need your help.
I would like to contribute
Says 55 percent of council members have come from area where only 10 percent of Austinites live.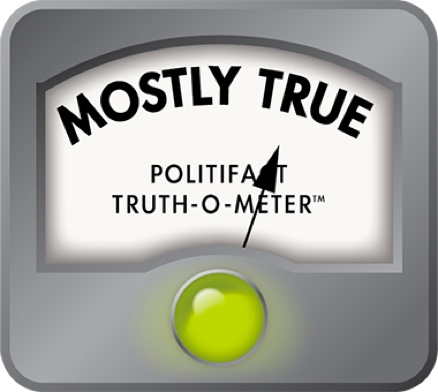 Gonzalo Barrientos says 55% of council members have come from area where only 10% of Austinites live
As voters began choosing between two approaches to electing the Austin City Council, Gonzalo Barrientos urged them to look at local history.

"Since 1971, City Council members have been elected through a system that encourages unequal representation -- 10 percent of the population lives in an area that receives 55 percent of the representation," he wrote in an opinion piece that ran in the Austin American-Statesman on Oct. 22, 2012, the day early voting started for the Nov. 6 election.

Barrientos, who long represented Austin in the Texas House and Senate, asked readers to support the plan offered by Austinites for Geographic Representation, which collected more than 20,000 petition signatures to get it on the ballot where it now faces a competing proposal from Mayor Lee Leffingwell and other council members, according to a Sept. 15, 2012, Statesman news story.

The group's "10-1" proposal would switch the council from seven members elected citywide to 10 members elected within smaller districts and the mayor elected citywide, according to an Oct. 4, 2012, Statesman news story. The competing "8-2-1" proposal would set up eight district representatives and two citywide seats plus the mayor, the story said.

Barrientos' statement could be read as implying that leaders who are elected citywide actually represent only the interests of the area where they live, a contention that we don't find factually checkable. So we looked into his declared percentages.

He told us by phone that he relied on information from Peck Young, who according to the Sept. 15 Statesman story leads the Geographic Representation group and has advocated for district representation since the 1970s.

Young told us in a phone interview that the group was hungry for data on this topic last year as it researched proposals. The information behind Barrientos' statement, he said, came from a map and research that appeared Aug. 4, 2011, on an investigative reporting website, The Austin Bulldog.

Young's group spot-checked the data against city records, found it reliable and "ran with it," he said. Separately, Austin city demographer Ryan Robinson told us he also found the research, compiled by Bulldog editor Ken Martin, to be reliable: "He really did his due diligence."

From 1971 through 2011, Young said, 55 percent of Austin's elected officials lived in four ZIP codes -- 78701, 78703, 78731 and 78759. The 10 percent population figure, he said, was derived from the 2010 Census totals for Austin and for those four ZIP codes.

The Bulldog's description of its research said, "This map indicates where every person who served on the Austin City Council from 1971 through 2011 lived at the time they were elected."

The Bulldog report said its research started with 1971 because that was the year voters started electing the mayor. Previously, mayors were chosen by council votes.

That gave a total of 17 mayors and 100 council members, according to the Bulldog analysis, which argued that Austin power has been too concentrated in select areas. "Forty-nine of those seats were won by people who lived in West and Northwest Austin," the Bulldog said.

We spot-checked a dozen addresses shown in the Bulldog's interactive map and found only minor discrepancies. For instance, former Council Member Brigid Shea told us by telephone that she moved from the French Place neighborhood, which has the 78722 ZIP code, to the 78701 address shown for her by the Bulldog about two years into her council term. The Bulldog website asks that readers send notice of any mistakes they spot; we make the same request.

For more detail, Young pointed us to Martin, who founded the Bulldog in 2010 after journalism  jobs including editor of the Austin Business Journal and past founder-owner of a City Hall news service, InFact Daily.

Martin told us in a phone interview that his starting point was a similar project that city demographer Robinson worked on in the 2000s. He supplemented that information with more city records and candidate financial statements, interviews and historical materials including old Austin phonebooks, Martin said.

According to his data, which he called up on his computer and crunched for us during the interview, those four ZIP codes accounted for 58 of the 117 city offices filled in Austin elections (City Council including mayor) from 1971 through 2011.

That divides out to 49.6 percent, not 55 percent.

We asked Young for help clarifying the discrepancy, and he sent us calculations that he said were made by a volunteer during the group's research. From that spreadsheet, it appears mayors were double-counted by adding the number of mayors to the number of "council members," a category that in Martin's data already included mayors. If mayors are double-counted, our math shows a result of 54.9 percent; if the mayors are, properly, counted once, we get 49.6 percent.

Young said the double-counting explanation seemed likely to him. "You and Ken may have found out my young person, who was a college student, had made a boo-boo," he said. But, he said, "58 is still half of all city elected officials that have come from these four ZIP codes in 40 years. So our basic point is still true even if our math is faulty."

We also wondered whether the cited ZIP codes had been home to 10 percent of Austinites throughout those decades.
Geographic Representation group spokeswoman Jessica Ellison said their research was limited to 2010 because they didn't have Census numbers for all 40 years.

Barrientos' statement could be read as applying to the entire period, though, so we decided to check as best we could.

A 2010 U.S. Census Bureau breakdown of the nation's most populous cities gave Austin's population as 790,390. So a tenth would be 79,390.

Beginning in 2000, the Census Bureau has used ZIP Code Tabulation Areas rather than ZIP codes for its calculations, in order to have clearly defined boundaries that didn't move as postal delivery logistics changed. An individual ZCTA (which the Census Bureau says you should pronounce ZIK-tah) is roughly equivalent, though not identical, to its corresponding ZIP code.

The 2010 counts for ZCTAs corresponding to the four ZIP codes are: 78701 population 6,841; 78703 population 19,690; 78731 population 24,614; and 78759 population 38,891.

These add up to 90,036 people, or 11.4 percent of Austin's 2010 population.

Robinson and Census librarian Asheleigh Perry told us the city and the Census Bureau Library don't have 1970-1990 Austin populations by ZIP code.

We did find on the Census website the 2000 ZCTA counts that correspond to the 2010 numbers above. Those totals are: 78701 population 3,855; 78703 population 19,585; 78731 population 24,059; and 78759 population 1,530.

That adds up to 49,029; divide by Austin's 2000 population of 656,562 and you get 7.5 percent -- an even smaller slice of the city than in 2010.

Population numbers aside, Robinson told us he believed the overall point is valid: Council members "have indeed come from a concentrated part of the city," he said. "The distribution of mayors over time has been even more concentrated."

Our ruling

Barrientos wrote, "10 percent of the population lives in an area that receives 55 percent of the representation," citing the system in place since 1971. Young later specified that the area is four ZIP codes.

Leaving out the implication that officials only advocate for their home neighborhoods, the 55 percent calculation is slightly off due to a double-counting of mayors. All told, it looks like 50 percent of Austin's council members (including mayors) have come from those ZIPs over the past four decades.

In 2010, the ZIPs were home to 11 percent of the city's population; in 2000, the ZIPs were home to 7 percent of the city's population, arguably reinforcing Barrientos' point.

We rate Barrientos' statement Mostly True.
Austin American-Statesman opinion column by former state Sen. Gonzalo Barrientos, "Barrientos: A 'pure' representation is best," Oct. 22, 2012

Telephone interview with Gonzalo Barrientos, Oct. 22, 2012

Telephone and email interviews with Peck Young of Austinites for Geographic Representation, Oct. 22-24, 2012

Telephone and email interviews with Jessica Ellison, press secretary for Austinites for Geographic Representation, Oct. 22-24, 2012
PolitiFact Texas notes and research spot-checking council addresses

Telephone and email interviews with Ken Martin, editor of the Austin Bulldog, Oct. 22-23, 2012

Austin American-Statesman news story, "Austin voters rejected City Council districts six times in the past. Will this year be different?," Sept. 15, 2012

Austin American-Statesman news story, "As voters weigh Austin district plans, a question lingers: Who should draw the boundaries?," Oct. 4, 2012

Austin Bulldog interactive map and research, "Aggregate Map 1971-2011," accessed online Oct. 24, 2012

Austin Bulldog news analysis, "Maps Prove a Select Few Govern Austin," Aug. 4, 2011

Austinites for Geographic Representation spreadsheet, supplied Oct. 23, 2012
Telephone and email interviews with catalog and international collection librarian Asheleigh Perry and reference and acquisitions librarian Naomi House at the U.S. Census Library, Oct. 24, 2012
Census 2010 "Interactive Population Map," accessed Oct. 24, 2012
Browse the Truth-O-Meter
More by Sue Owen
Support independent fact-checking.
Become a member!
In a world of wild talk and fake news, help us stand up for the facts.