Stand up for the facts!
Our only agenda is to publish the truth so you can be an informed participant in democracy.
We need your help.
I would like to contribute
Says Obama sent $450 million to China to build a wind farm in Texas.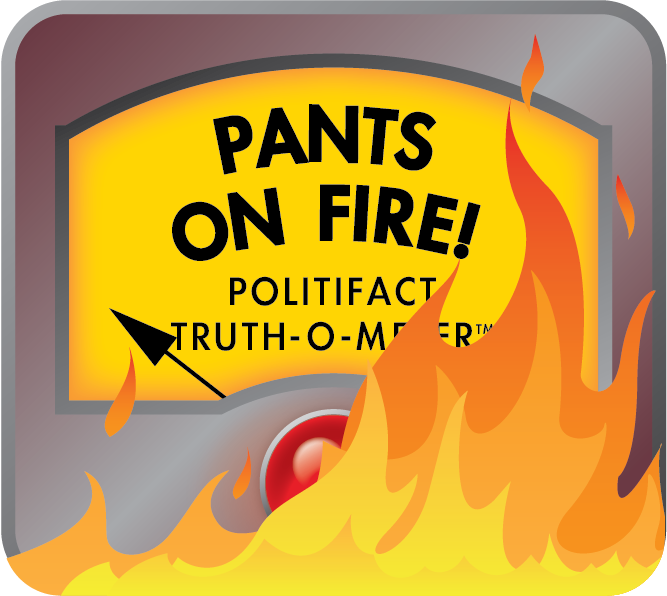 Anti-tax group says Obama sent $450 million to China to build Texas wind farm
In the battleground state of Florida, critics of President Obama have accused him not simply of spending billions in stimulus money to no good effect but actually using that money to give a leg up to America's economic rivals. Americans for Tax Reform has revived an old charge that Obama sent $450 million to create jobs in China.

Americans for Tax Reform -- an anti-tax group whose founder, Grover Norquist, is famous for arguing for a government so small it could be drowned in a bathtub -- mailed a flyer to Florida voters that showed a stack of hundred dollar bills being blown in a graceful arc across the globe to land in a very red China. On the reverse side, it said "Obama's massive spending includes giving millions to a Chinese company to build a wind farm in Texas. The Chinese company is expected to receive $450 million in U.S. taxpayer money. More jobs in China .. fewer jobs here."

We've looked at this sort of claim before and in this fact check, we examine whether Obama sent $450 million to China to build a wind farm in Texas.

Promoting alternative energy under the stimulus

Americans for Tax Reform told us it based this claim on an ABC News report from 2010. In that story, ABC pointed out that the bulk of the stimulus dollars spent on wind and solar projects went to foreign companies.

With the twin goals of diversifying the country's energy supply and boosting a domestic alternative energy industry, the Obama administration used the stimulus to expand a program that awarded tax credits for wind and solar projects once they came online and produced power.

The tax credits were handed out as grants that could cover up to 30 percent of the construction costs. We checked on the latest numbers and found that as of 2011, some $9.8 billion went to fund over 300 wind farms around the country.

The ABC report relied heavily on the work of Russ Choma, who at the time was a journalist with the Investigative Reporting Workshop, a project at American University. Choma noted that foreign companies received over 60 percent of the alternative energy grants. As we'll explain in a moment, that does not tell us how much of that money went overseas.

Right now, our main focus is that wind farm in Texas built with Chinese towers and turbines. The ABC report spoke of it this way, "Perhaps the most controversial wind project is one that has yet to receive stimulus money." It then goes on to say that a reporter visited the vacant offices of the Chinese firm that allegedly was providing the turbines.

So Americans for Tax Reform relied on an article that said the project had not been funded and gave some evidence that hinted strongly that the project was not very active.

In fact, by late 2010, it was clear that this particular Texas wind farm had never gone beyond the idea stage. In 2012, Liz Salerno, director of industry data and analysis for the trade group American Wind Energy Association, confirmed that. Salerno tracks wind projects across the country.

"The companies held a press conference at the National Press Club in 2010," Salerno said. "They have made no progress since that announcement."

PolitiFact Ohio wrote a piece making the same point in 2012.

Let's return briefly to the question of whether stimulus dollars have benefited foreign companies. The short answer is, yes but how much is unclear. Choma, the investigative reporter, noted that the larger overseas firms have American plants that make the blades and other components that were used in U.S. wind farms. Choma wrote that tracking the dollars would be a massive undertaking.

"I can't say how many of the turbines built by American manufacturers were overseas, and how many of the turbines built by foreign manufacturers were built here," Choma said.

To choose just one example, a wind farm in Alaska has a distinct multi-national flavor. The turbines come from GE, the blades from Brazil, the generators come from Southern California, the central hubs from the Florida Panhandle and the towers from China.

The National Renewable Energy Laboratory reported that the grant program added between 44,000 to 66,000 jobs  in the wind energy sector each year from 2009 to 2011. Employment peaked in 2009 when new construction was at its height. It has since fallen and the wind power industry is poised for further declines if government tax credits are not renewed beyond 2013.

Our ruling

The Americans for Tax Reform flyer said that Obama sent $450 million to China to build a wind farm in Texas.

The wind farm was never built, the project sponsors never applied for government funds and never received any.

These facts have been well known for at least two years and were publicly reported several times. The source cited by Americans for Tax Reform noted that the project had not been funded.

The flyer spreads a discredited claim. We rate the statement Pants on Fire.
Americans for Tax Reform, Florida mailer, September 2012

PolitiFact, Romney says stimulus money for wind and solar was "outsourced" to overseas companies, July 20, 2012

Email interview, John Kartch, communications director, Americans for Tax Reform, September 24, 2012

ABC News, New Wind Farms In The U.S. Do Not Bring Jobs, February 9, 2010

Reuters, U.S. Renewable Energy Group, China's Shenyang Power Group, and Cielo Wind Power to Develop a 600MW Wind Farm in Texas, October 29, 2009

Greenwire, DOE disputes senators' claims of stimulus grants flowing overseas, March 4, 2010

PolitiFact-Ohio, Josh Mandel says Sherrod Brown is responsible for Ohio jobs moving to China, March 1, 2012

IRS, 1603 Program payments

FactCheck.org, Stimulus Jobs In China?, October 29, 2010

PolitiFact, Stimulus went to windmills in China? Romney ad says so, July 23, 2012

National Renewable Energy Laboratory, Preliminary Analysis of the Jobs and Economic Impacts of Renewable Energy Projects Supported by the 1603 Treasury Grant Program, April 2012

Investigative Reporting Workshop, Renewable Energy money still going abroad, February 8, 2010

Investigative Reporting Workshop, Workshop's Wind Stories Kicking Up Political Dust, September 27, 2010

Anchorage Daily News, Turbines Rising at Fire Island, Wind Farm July 19, 2012

Interview with Liz Salerno, director of industry data and analysis, American Wind Energy Association, July 2012

Congressional Research Service, U.S. Wind Turbine Manufacturing: Federal Support for an Emerging Industry, September 23, 2011
Browse the Truth-O-Meter
More by Jon Greenberg
Support independent fact-checking.
Become a member!
In a world of wild talk and fake news, help us stand up for the facts.