Stand up for facts and support PolitiFact.
Now is your chance to go on the record as supporting trusted, factual information by joining PolitiFact's Truth Squad. Contributions or gifts to PolitiFact, which is part of the 501(c)(3) nonprofit Poynter Institute, are tax deductible.
I would like to contribute
Twenty four states have voter ID or comparable restrictions; before Barack Obama was elected, it was two.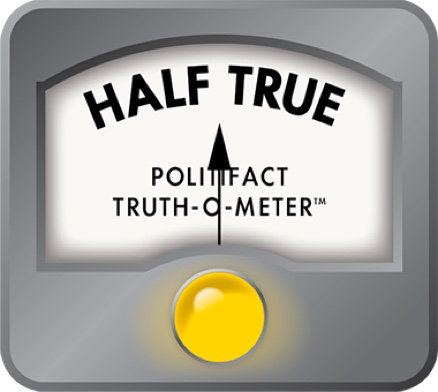 NAACP Providence President Jim Vincent says 24 states have restrictive voting laws now, compared with 2 before President Obama was elected
The question over what kinds of identification requirements should be imposed on voters -- and whether such rules are being used to exclude minorities, the poor and the elderly -- continues to be a hot topic.
During the Aug. 4, 2013, edition of WPRI-TV's "Newsmakers" program, James Vincent, president of the Providence chapter of the NAACP, was asked about a recent U.S. Supreme Court decision invalidating a key part of the Voting Rights Act.
"I think within five minutes, both Texas and North Carolina couldn't wait to restrict voting rights," said Vincent. "Let's face it. I think there's 24 states that have voting IDs or some form of restrictions in terms of who can vote and who can't vote, and I think before President Obama was elected, I think it was two."
He then spoke of "the demographic reality of the browning of America" and commented, "I think these things are related. All of a sudden you have a country that's being more diverse and then you have an African-American president, and now all of a sudden you have all these voting rights acts and the elimination of same-day voting and early voting."
"I don't think that's a coincidence," Vincent said.
We focused on the numbers. Recognizing that Vincent was making it clear that his tally might be off a bit, we were curious about the totals and whether the number of states with tougher restrictions had increased 12-fold since the election of the country's first black president.
First, let's look at the current situation.
We quickly discovered that checking this factoid depends on where you want to draw the line on whether a law restricts voter rights.
Some consider it restrictive to ask for any type of written identification. Others draw the line at photo ID requirements. Still others consider it restrictive to curtail laws that make it easier for people to cast their ballot, such as early voting.
(Rhode Island's voter ID law, which went into effect Jan. 1, 2012, requires voters to have one of several forms of identification, such as a birth certificate or Social Security card. Beginning Jan. 1, 2014, voters will be required to have a valid photo ID.)
Vincent said he got the 24 number from the website of the Lawyers' Committee for Civil Rights Under Law. He directed us to its 2013 "Map of Shame."
Chris Melody Fields, an election protection coordinator for the Lawyers' Committee, said it doesn't just include states with photo ID rules.
It "shows the overall assault on voting," she said. It identifies states that have passed "restrictive laws" that have eliminated or reduced early voting, eliminated same-day registration or passed a tougher proof-of-citizenship law.
It shows 25 states -- not 24 -- with laws the group considers restrictive, including (but not limited to) ones where a photo ID is requested or required. However the laws in seven of those states have not yet been implemented or have been challenged.
In 10 of the 25, a photo ID is only requested, not mandatory, although Fields warned that poll workers in some states misread the law and think that it is mandatory.
To get another perspective, we turned to the National Conference of State Legislatures, which tracks voter ID laws. Its website shows that four states require a photo ID and seven request one. Seven more states have passed legislation to require or request a photo ID, but those statutes are awaiting implementation or are under challenge.
If you include states that have any type of voter ID requirement -- whether or not a photograph is involved -- the number of implemented laws jumps to 30. It will rise to 34 if all are implemented.
So by the Lawyers' Committee definition, Vincent's claim on the number of states with restrictive voting is close to the mark. By the conference's tally, which looks exclusively at voter ID laws, his count is low.
Now let's look at the number of states that had voter ID laws before Obama was elected.
Vincent said he heard during the debate on Rhode Island's law that two states fell into that category.
According to NCSL, in 2001, three states -- Florida, Hawaii and Louisiana -- asked for but didn't require a photo ID and 10 states required some other form of voter identification.
Between 2003 and 2008, when Obama was elected, eight more states started requiring some sort of ID, bringing the total to 18. Among them, Michigan and South Dakota started asking for photo IDs. Indiana and Georgia, started requiring them.
"Indiana's law went to the U.S. Supreme Court in 2008 and it was upheld," said Wendy Underhill, a senior policy specialist with NCS. "I think after that, it did give other states a signal that that was something they could copy. So it's possible between 2005 [when the Indiana law passed] and 2008 states were sitting tight to see how that was going to come out."
Our ruling
James Vincent said 24 states today require voter IDs or impose some other restrictions on voting, while only two states had such limits before Barack Obama was elected.
He's using a measure set by the Lawyers' Committee that includes states with laws that request or demand a photo ID, and states that have restricted voting in other ways.
The only comparable pre-Obama metric we could find, from the National Conference of State Legislatures, involves voter photo identification, so we'll stick with that.
While only two states -- Georgia and Indiana -- required a photo ID to vote before 2008, Michigan, South Dakota, Louisiana, Florida and Hawaii, requested a photo ID, according to NCSL data.
That means at least seven states -- not two, as Vincent claimed -- were demanding or asking for a photo ID for the 2008 election that put Obama in office.
No matter which standard you use, the number of states adopting more-restrictive voter identification requirements has increased since 2008. We'll leave it to others to debate whether that's linked to Obama's election and America's changing racial demographics.
In short, Vincent was close on his first number but got the second number wrong. We rate his statement Half True.
(If you have a claim you'd like PolitiFact Rhode Island to check, e-mail us at [email protected] And follow us on Twitter: @politifactri.)
WPRI.com, "Newsmakers 8/2: NAACP's Jim Vincent; Providence Phoenix's Philip Eil," at the 7:10 mark, aired Aug. 4, 2013, accessed Aug. 5, 2013
NCSL.org, "Voter Identification Requirements," National Conference of State Legislatures, accessed Aug. 5, 2013
LawyersCommittee.org, "Map of Shame 2013," Lawyers' Committee for Civil Rights Under Law, undated, accessed Aug. 5, 2013
Interview and e-mails, James Vincent, president, Providence office of the NAACP, Aug. 5-6, 2013
Interview and e-mail, Wendy Underhill, senior policy specialist, National Conference of State Legislatures, Aug. 5, 2013
Interview, Chris Melody Fields, election protection coordinator, Lawyers' Committee for Civil Rights Under Law, Aug. 8, 2013
Browse the Truth-O-Meter
More by C. Eugene Emery Jr.
Support independent fact-checking.
Become a member!
In a world of wild talk and fake news, help us stand up for the facts.