Stand up for the facts!
Our only agenda is to publish the truth so you can be an informed participant in democracy.
We need your help.
I would like to contribute
Medicaid spending declined by 1.9 percent in 2012, the second such decline in 47 years.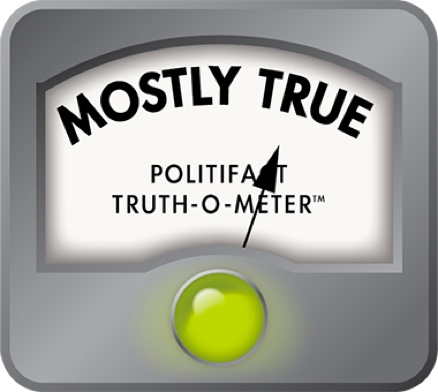 Obama official touts lower Medicaid spending
The Obama administration's top health care official recently gave a speech in Atlanta and made some specific comments about Medicaid spending that we wanted to diagnose.
PolitiFact Georgia was alerted to comments U.S. Health and Human Services Secretary Kathleen Sebelius made on the topic through Twitter posts from people  who heard her speak.
"Sebelius says Medicaid spending dropped 1.9% in 2012. First time in 47 years," one person tweeted.
But as we've learned with the popular social media tool, you can't always tell the whole story about something in 140 characters. Sebelius offered more context in her speech.
"(D)espite some of the rhetoric in Washington, the cost outlook for Medicaid is as strong as it's been in a long time," Sebelius said during her speech to the National Conference of State Legislatures. "In 2012, Medicaid spending per beneficiary actually fell 1.9 percent, the first time it had fallen in 47 years, except for the year when prescription drug costs shifted to Medicare Part D."
PolitiFact Georgia wanted to know whether Sebelius was correct that Medicaid spending per beneficiary declined by nearly 2 percent last year. We also wanted to find out how many times there has been a decline since the program was signed into law by President Lyndon Johnson in 1965.
Medicaid has been a big issue in Georgia over the past year. The state's top political leaders have refused to join the Obama administration's plans to expand Medicaid coverage, starting in 2014. Sebelius told The Atlanta Journal-Constitution in an exclusive interview during her recent visit here that the state's stance would hurt many working-poor families.
But Georgia leaders say the state cannot afford to pay for the estimated 650,000 residents who would be eligible for Medicaid under the expansion. The federal government has pledged to pick up nearly the entire tab in the coming years. Georgia leaders are dubious Washington can follow through with such a commitment and fear state taxpayers might have to foot the bill.
There have been many news accounts in recent years about the rise in spending on Medicaid, which provides health services to many low-income Americans. An estimated 54 million Americans receive Medicaid, according to congressional testimony. Medicaid spending has consistently grown higher than the nation's economic input. The costs rose dramatically in the aftermath of the Great Recession. Many fear it is a budget buster unless costs are brought under control.
So how could Sebelius be right about a cost decline?
The secretary's office sent us an actuarial report it put together to support her claim. It was a report on the current fiscal health of the Medicaid program, with statistics on past, present and future spending.
"Acute care fee-for-service Medicaid expenditures are projected to grow at an average rate of 5.7 percent per year over the next decade. In 2012, these expenditures are estimated to have declined by 1.9 percent. But they are projected to increase in 2013 and later years," the report says on Page 27.
By 2012, the report means the federal government's fiscal year 2012, which began Oct. 1, 2011, and ended Sept. 30, 2012. Sebelius said in her speech that Medicaid spending in 2020 will be 14 percent lower than previously projected.
One government spreadsheet we looked at showed federal Medicaid spending rose steadily since its creation. The only years we saw a decline were in 2006, the year when Medicare Part D took effect, and in 2011, which would include portions of fiscal year 2012. Medicare Part D was a drug benefit plan that federal officials said would save seniors money. Medicaid recipients eligible for the Part D benefits were automatically enrolled into the new Medicare program, which lowered total Medicaid spending, federal officials say.
"As a result of this shift in coverage, Medicaid drug spending (net of rebates) decreased 44 percent from 2005 to 2006," according to the Medicaid report that a HHS official sent us.
The same HHS report attributed the 2012 decrease in Medicaid spending on a decline in costs on hospital services and prescription drugs. Some news accounts said fewer new recipients added to the Medicaid rolls helped decrease spending. The HHS report says that was a small factor. The report credits the controversial Affordable Care Act, also known as Obamacare, as being another small factor in the spending decline.
Other organizations sent us reports with similar findings: The only other year Medicaid spending decreased was in 2006.
To sum up, Sebelius said per capita Medicaid spending declined by about 2 percent in 2012, the first time in the history of the program that happened, aside from 2006. The reports we reviewed confirm her claim.
She was making a much larger point: That Medicaid costs might not increase as rapidly as some had predicted, even though they will still go higher.
The federal government has warned spending is going to rise again sharply in the next few years.
Her claim is accurate but could have used a little more context.
We rate this claim as Mostly True.
National Conference of State Legislatures speech transcript by Secretary of Health and Human Services Kathleen Sebelius, Aug. 12, 2013.
Centers for Medicare and Medicaid Services tables on health care spending.
Email from the U.S. Department of Health & Human Services, Aug. 13, 2013.
Testimony before the U.S. House of Representatives Committee on the Budget, Feb. 28, 2012.
U.S. Department of Health & Human Services 2012 actuarial report on Medicaid.
The Washington Post, "Medicaid spending is slowing. Yes. Really," Oct. 25, 2012.
Browse the Truth-O-Meter
More by Eric Stirgus
Support independent fact-checking.
Become a member!
In a world of wild talk and fake news, help us stand up for the facts.