Stand up for the facts!
Our only agenda is to publish the truth so you can be an informed participant in democracy.
We need your help.
I would like to contribute
"Forty-seven percent of (members of Congress) are millionaires."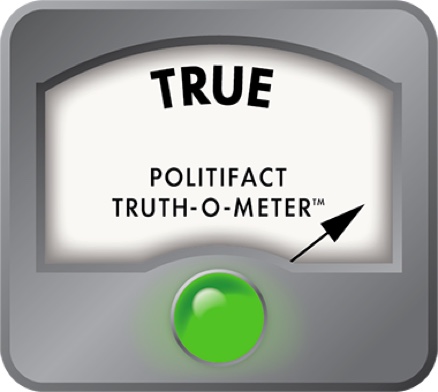 Is Congress a millionaires club?
Despite the pathetically poor approval ratings of Congress these days, there is apparently one big advantage to being elected to the nation's legislative body.

Nearly one-half of them are millionaires, one Georgia congressman said.

Rob Woodall, a Republican member of the House of Representatives from Gwinnett County, made the claim in response to a question at a town hall meeting about the grass-roots effort to stop members of Congress from getting paid if they don't pass a budget.

Woodall began his reply by needling the Democratic-led U.S. Senate for boasting that it plans to pass a budget this year. The Senate hasn't passed a budget resolution since April 2009.

Woodall then made his claim about the wealth of Congress.

"Forty-seven percent of (members of Congress) are millionaires. They don't care if they don't get paid," the congressman said at the Jan. 25 town hall meeting he hosted at the Gwinnett government complex in Lawrenceville.

PolitiFact Georgia was at the meeting and wondered whether Congress is in fact a millionaires club.

Woodall voted Jan. 23 in favor of the No Budget, No Pay Act that passed in the House by a 285-144 vote. Thursday, the Senate passed the resolution, which also extended the debt ceiling to May. The bill states that the salaries of Congress be held in an escrow account if there is no budget passed by April 15.

To Woodall's point, many of his colleagues are business owners, attorneys and doctors who earned a good living before coming to Washington. Congress also pays well. Most members make an annual salary of $174,000.

Members of Congress are required to file annual financial disclosure reports, which detail information about investments and liabilities. Last year, The Washington Post published a series of articles detailing the net financial worth of each member of Congress, using that information and other sources. The Post's calculations do not include assets lawmakers are not required to disclose, such as personal residences, which could increase the net worth of some members. In January, the nonprofit Center for Responsive Politics' website unveiled a database detailing the minimum, average and maximum net worth of nearly every member of the current Congress.

The research shows many of them are rich. Very rich. The median estimated net worth of Congress is $966,000, according to the center. By contrast, the median net worth of the typical American household is slightly more than $66,000. Ten members had a net worth greater than $100 million on one or both sites.

The multimillionaires include:
-- House Speaker John Boehner, R-Ohio, who has at least $3 million in stocks and mutual funds.
-- U.S. Sen. Al Franken, D-Minn., whose road to riches began in the 1970s as a writer on "Saturday Night Live." He has a listed net worth of about $8 million.
-- Darrell Issa, R-Calif., the former CEO of a company that created the Viper anti-theft system for vehicles, who has a net worth of nearly $500 million.
-- Outgoing U.S. senator and newly-appointed Secretary of State John Kerry, a Democrat from Massachusetts, whose wife is an heiress of the Heinz ketchup fortune. He has an estimated net worth of about $200 million.
-- House Minority Leader Nancy Pelosi of California, whose family real estate holdings are worth an estimated $100 million.
-- Republican Tim Scott of South Carolina, who was appointed to the Senate in January and owns about $3 million worth of real estate.

But there are some members who could use every penny they can get at the moment. Fourteen members had negative net worths on both sites. Many of them have taken out major loans for their businesses, such as U.S. Rep. David Valadao of California, or owe large sums in legal fees, such as U.S. Rep. Alcee Hastings of Florida. Both are millions of dollars in debt, according to the CRP, which is better known as Open Secrets.

We thought the net worth was a reasonable approach to determining whether someone is a millionaire. PolitiFact Georgia reviewed the Post's and the center's research to determine the percentage of current members of Congress who are millionaires. The net worth was the same or close for many members. There were a few cases in which the net worth varied greatly. There are some vacant congressional seats, such as the one once held by Jesse Jackson Jr. in Illinois, and a couple of new members whose net worth wasn't on the Open Secrets list.

We considered members of Congress a millionaire if both databases had their net worth as greater than $1 million or if their net worth was found to be close to $1 million by one group and greater than $1 million by the other group. We also included new members of Congress on our list if Open Secrets concluded their net worth is greater than $1 million.

By using that criteria, there are 257 members of Congress we believe belong in the millionaire category, which accounted for 48.5 percent of all members who had financial information available on either the Post or Open Secrets websites.

Woodall, by the way, is not part of the millionaires club. Woodall, who previously worked as chief of staff to now-retired U.S. Rep. John Linder of Georgia, has a net worth of about $300,000, according to both sites.

Seven of Georgia's 14 members of Congress had a net worth greater than $1 million. They are John Barrow, Phil Gingrey, Tom Graves, Johnny Isakson, Jack Kingston, Tom Price and Austin Scott. U.S. Sen. Saxby Chambliss, who announced last month that he will not seek another Senate term in 2014, has a net worth of $337,505, according to the Post and about $400,000, according to Open Secrets.

To sum up, Woodall said 47 percent of the members of Congress are millionaires. The research we found shows there's a very strong case that he's correct.

We rate his claim True.
Browse the Truth-O-Meter
More by Eric Stirgus
Support independent fact-checking.
Become a member!
In a world of wild talk and fake news, help us stand up for the facts.