Get PolitiFact in your inbox.
"Kewpie burgers are delicious. An Ohio institution. And they'll cost less thanks to John Kasich's tax cut."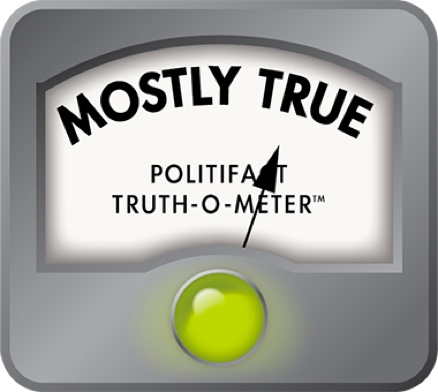 The Ohio Republican Party says Kewpee burgers would be even more of a bargain under Gov. John Kasich's proposed sales tax cut
Sampling the local fare is a staple on the menu of any politician worth his salt.
For that reason alone, John Kasich is fortunate to be governor of Ohio.

Ohio is the brass buckle on the burger belt. It is Ground Beef Zero.

It is Mondo Carne.

Rivals stake competing claims, but Ohio can credit two brothers from Akron, Charles and Frank Menches, for inventing and naming the hamburger in 1885. Menches Brothers Restaurants still feature the original recipe.

The oldest burger chain, White Castle, is headquartered in Columbus, not far from the home of Wendy's in Dublin. The founder of the Carl's Jr. and Hardee' chains came from Upper Sandusky. The Big Boy, "a meal in one on a double-deck bun," was created as the first double-decker in California, but Manners' in Cleveland and Frisch's in Cincinnati gave it white sauce perfection, inspiring the Big Mac.

And so on.

When Kasich took his State of the State address on the road last week to Lima, he made a stop that followed the lead of other visitors and then tweeted about it: "Enjoyed a quick Kewpee burger before the State of the State in Lima tonight."

The Ohio Republican Party tweeted its own comment: "Kewpie burgers are delicious. An Ohio institution. And they'll cost less thanks to John Kasich's tax cut."

Is that true -- or  a whopper? PolitiFact Ohio dug in with relish.

First, we will stipulate that Kewpee burgers are delicious and worthy of the restaurant's slogan: "Hamburger pickle on top! Makes your heart go flippity flop!"

We agree that the diner is an Ohio institution, even though @ohiogop misspelled its name. One of the oldest burger chains in the country, Kewpee was started in Michigan (Wendy's founder Dave Thomas once said that the Kewpee near his home in Michigan inspired him to go into the business) but has its headquarters in Lima. Its downtown location is on the National Register of Historic Places.

Kasich's "tax cut" cited by @ohiogop is the sales tax plan that is part of the governor's proposed two-year budget. To help pay for a 20 percent cut in the state's income tax, the plan would cut the state sales tax rate, from 5.5 percent to 5 percent, while widening its scope to nearly all service purchases.

Restaurant meals -- such as Kasich's pre-speech Kewpee burger -- are covered by the sales tax. Take-out meals are not taxed, and would not be under Kasich's proposal.

In Allen County, where Lima is located, state and county taxes combine for a 6.5 percent sales tax rate, the Ohio Department of Taxation told us. Under Kasich's plan, the rate would drop to 5.8 percent.

That would cut the tax on a plain Kewpee burger -- priced at $1.80 each -- from 12 cents to 10 cents, according to the tax collection schedule posted by the Department of Taxation.

So what's the take-away?

It is accurate to say that a delicious burger eaten at the iconic Kewpee in Lima would cost 2 cents less under Kasich's tax proposal, leaving all other factors unchanged. Someone eating two burgers a week would save enough in 10 months to buy another burger.

The price of take-out burgers would remain the same, however. That's an important clarification that gives the statement a rating of Mostly True.
 
SOURCES:

Ohio Republican Party, @ohiogop, Feb. 19, 2013

Lima News, "State of the State notebook: Kewpee burger, please," Feb. 19, 2013

Ohio Capital Blog, "Kasich at the Kewpee," Feb. 19, 2013

The Plain Dealer, "Buckeyes and Burgers -- A long, fulfilling relationship," July 17, 2007

Restaurant News, "Kewpee Hamburgers - Lima, Ohio," Jan. 25, 2010

Kewpee.com, The Kewpee's History

Wikipedia, "Kewpee," Dec. 11, 2012

The Plain Dealer, "Gov. John Kasich's sales tax proposal would have everyday-life impact," Feb. 7, 2013

Phone call, Kewpee, Feb. 22, 2013

Phone interview, Gary Gudmundson, Ohio Dept. of Taxation, Feb. 22, 2013

Ohio Department of Taxation, Sales Tax Rate Schedules
Browse the Truth-O-Meter
More by Tom Feran
Support independent fact-checking.
Become a member!
In a world of wild talk and fake news, help us stand up for the facts.