Get PolitiFact in your inbox.
"Washington, D.C., had some of the strictest gun laws in the country. And when they passed them, violence skyrocketed."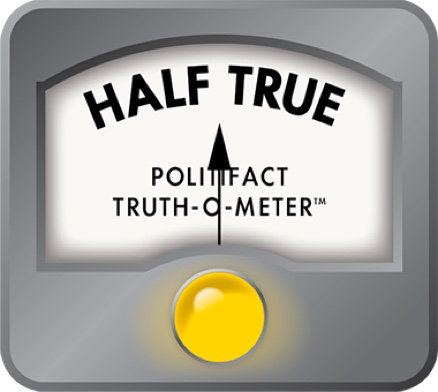 Marco Rubio says after D.C. passed gun laws, 'violence skyrocketed'
Do gun laws work?

As lawmakers consider President Barack Obama's call to take action against gun violence after mass shootings in Connecticut, Colorado, Wisconsin and Arizona, some argue new rules won't help.

Sen. Marco Rubio, a Florida Republican, told Fox News that Obama's plan — which proposes steps such as closing background check loopholes and banning military-style assault weapons and high-capacity magazines — is "not going to solve the problem."

"Washington, D.C. had some of the strictest gun laws in the country," Rubio told host Brian Kilmeade on Jan. 17, 2013. "And when they passed them, violence skyrocketed."

We wanted to know: Did violence leap after the nation's capital cracked down on guns?

Unprotected citizens

In 1976, the District of Columbia required all guns to be registered, banned new handguns and required guns at home to be stored unloaded and disassembled or locked up.

The law's handgun ban was invalidated by federal courts in 2007, a decision reaffirmed by the Supreme Court in 2008. But for three decades, the nation's capital had some of the most restrictive gun laws in the country.

We'll note that the president isn't proposing D.C.'s gun laws — indeed, the Supreme Court took that off the table — so it's a comparison of questionable value. But we were curious whether Rubio was correct to say that Washington's handgun ban was followed by violence.

Why would violence climb after such a ban? Rubio's office declined to explain, but a Jan. 15, 2013, opinion piece in the Wall Street Journal by journalist and attorney Jeffrey Scott Shapiro makes a similar argument:
The gun ban had an unintended effect: It emboldened criminals because they knew that law-abiding District residents were unarmed and powerless to defend themselves. Violent crime increased after the law was enacted, with homicides rising to 369 in 1988, from 188 in 1976 when the ban started. By 1993, annual homicides had reached 454.
Shapiro's homicide numbers match the FBI's Uniform Crime Reporting statistics. But when we looked at related data, it was quickly apparent he chose statistics that told a simple story — pass ban, violent crime soars — that was in reality much more complicated.

We reached out to Shapiro to ask for research to support his conclusion, but didn't hear back.

Violent crime rates in the District of Columbia from 1976 look like a rockin' roller coaster, dipping slightly after the ban's passage, climbing steadily until the early '80s, diving again through the late '80s, then climbing a steep mountain until the early '90s.

Then violent crime, as in the rest of the country, fell steeply, settling into a slower cruise downward since the start of the new century.

(It's still much more violent in the District than the rest of the nation, with 1,330 violent crimes per 100,000 people compared with 363 per 100,000 for the entire country in 2010.)

But Shapiro cited the annual homicide number for 1993 — the height of violent crime in the four decades we're examining — then later says:
Since the gun ban was struck down, murders in the District have steadily gone down, from 186 in 2008 to 88 in 2012, the lowest number since the law was enacted in 1976.
He fails to mention that drop started in 1994.

Weapon-choice theory

But back to Rubio. In his Fox News interview, he didn't claim the gun ban caused the crime rate to rise. But he does say that the gun laws are "not going to solve the problem," citing D.C.'s experience as an example.

We know that violent crime didn't simply "skyrocket" in the District after the handgun ban passed in 1976. It took a rocky path with peaks in 1981 and 1993, and has generally fallen since then.

A similar trend echoed across the United States. That suggests a wide range of factors at work, not merely D.C.'s gun laws.

Some experts who study violence, such as Alfred Blumstein of Carnegie Mellon University, say the early '80s peak and fall can largely be attributed to the baby boomer generation entering their teens and 20s and then growing up. (People tend to be more law abiding as they age.) The later U.S. peak, Blumstein said, came with crack cocaine and President Ronald Reagan's war on drugs.

And the fall in violent crime since then? Theories include the passage of Roe vs. Wade and a reduction in environmental lead. Blumstein argues an important part of the explanation was the decline in the demand for crack as people saw its effects in older friends and relatives, "and aggressive actions by police in taking the guns off the street."

Ah, so, back to gun laws. What, if any, role did they play in violent crime in the District of Columbia?

There's not a lot of fresh research on the subject, since Congress put a chill on government-funded firearms research starting in the late '90s. (Something that the president's recent executive actions seek to reverse.)

But Garen Wintemute, director of the Violence Prevention Research Program at the University of California at Davis School of Medicine, pointed us to a 1991 study in the New England Journal of Medicine.

"Sen. Rubio couldn't be more wrong," he told PolitiFact.

The study, conducted by a research group at the University of Maryland and University at Albany, examined suicides and homicides in the District of Columbia compared with nearby cities from 1968 to 1987. They found that the adoption of the gun-licensing law "coincided with an abrupt decline" in gun-related deaths not found just across the border. Nor were there increases in homicides or suicides that didn't use guns.

"Our data suggest that restrictions on access to guns in the District of Columbia prevented an average of 47 deaths each year after the law was implemented," the authors concluded.

Despite widely circulated Internet criticism to the contrary, researchers did consider the effects of population changes, including age and population size. They got similar results.

How did the laws help? The researchers argued the data supported something called the weapon-choice theory. When people don't have easy access to guns, some will use a less deadly form of force. So even if the number of assaults and suicide attempts stays the same, with fewer guns, deaths drop.

The researchers argued their results showed it was reasonable to assume that even with violent crime rising, restrictions on gun access had "a preventive effect."

In other words, even if "violence skyrocketed," as Rubio said, that's not direct evidence that D.C.'s gun laws failed to help. Of course, they also didn't fully "solve the problem."

Our ruling

Rubio, expressing his disappointment in Obama's recent actions to prevent gun violence, argued they wouldn't solve the problem. "Washington, D.C. had some of the strictest gun laws in the country," he said. "And when they passed them, violence skyrocketed."

Crime statistics don't support Rubio's simple story. Rather than skyrocket, violent crime rose and fell, rose and fell. Other social and demographic factors played a larger role than gun laws. And one peer-reviewed study about gun laws' role in violent crime through 1987 showed they reduced homicides and suicides.

Rubio's statement is partially accurate — in some years, violent crime in the District of Columbia did rise even with a handgun ban in place — but leaves out important details and context. We rate his claim Half True.
Email interview with Brooke Sammon, deputy press secretary for Sen. Marco Rubio, R-Fla., Jan. 25, 2013

Email interview with Garen Wintemute, director, Violence Prevention Research Program, University of California at Davis School of Medicine/U.C. Davis Medical Center, Jan. 24, 2013

Email interview with Alfred Blumstein, professor of urban systems and operations research, Carnegie Mellon University, Jan. 24, 2013

White House, "Now is the Time," Jan. 16, 2013

U.S. Court of Appeals for the District of Columbia Circuit, Parker vs. District of Columbia, March 9, 2007

Cornell University Law School, District of Columbia vs. Heller, Justice Scalia, Opinion of the Court, June 26, 2008

Wall Street Journal,"Jeffrey Scott Shapiro: A Gun Ban That Misfired," Jan. 15, 2013

Uniform Crime Reporting Statistics, Violent Crimes per 100,000 in the District of Columbia, downloaded Jan. 25, 2013

New England Journal of Medicine, "Effects of Restrictive Licensing of Handguns on Homicide and Suicide in the District of Columbia," Dec. 5, 1991

Science Blogs' Deltoid, "Loftin's study on Washington DC handgun ban," June 28, 2008

The Crime Drop in America, Chapter Three, "Guns and Gun Violence," 2000

Freakonomics blog, "Abortion and crime: who should you believe?" May 15, 2005

Forbes, "How Lead Caused America's Violent Crime Epidemic," Jan. 3, 2013

New York Times, "N.R.A. Stymies Firearms Research, Scientists Say," Jan. 25, 2011

New York Times, "What's in Obama's Gun Control Proposal," Jan. 16, 2013

White House, "Presidential Memorandum -- Engaging in Public Health Research on the Causes and Prevention of Gun Violence," Jan. 16, 2013
Browse the Truth-O-Meter
More by Becky Bowers
Support independent fact-checking.
Become a member!
In a world of wild talk and fake news, help us stand up for the facts.