Stand up for the facts!
Our only agenda is to publish the truth so you can be an informed participant in democracy.
We need your help.
I would like to contribute
Women in the United States are paid about 70 percent of what men earn for the same work.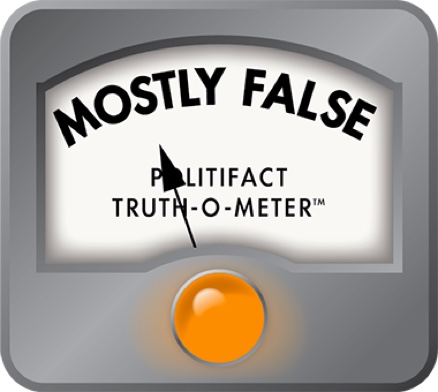 Carter trips over details of gender wage gap
PolitiFact Georgia checked two previous claims former President Jimmy Carter made in a Time magazine interview before his "Mobilizing Faith for Women" conference last month at the Carter Center.
Once the three-day conference began, various media outlets and bloggers reported some of the goings on. The Huffington Post, for example, wrote about one session in which Carter discussed mistreatment of women across the world and laid the blame, at least some of it, at the feet of religious leaders.
One familiar statement about the pay disparity between men and women stuck out to us:
Carter said women in the United States are paid about 70 percent of what men earn for the same work. Can that really be true?
Our national and state affiliate PolitiFact colleagues have completed several fact checks of similar wage-disparity claims made by a variety of politicos including President Barack Obama. We dug a little deeper to determine where Carter's claim ranked on the Truth-O-Meter.
We tracked down the full statement in a 20-minute video of the former president and former Georgia governor's comments on the Carter Center's website. Carter's comments on this subject begin around the 7:30 mark as he reads articles from the Universal Declaration of Human Rights. Article 23, he reads, says everyone, without any discrimination, has a right to equal pay for equal work.
"And the employers of America looking at their religious ordination that women are not equal don't feel constrained to pay women equally for the same work that a man does," Carter continues. "In our country, women get an average of 70 percent as much pay for doing exactly the same work as men."
The Universal Declaration of Human Rights was adopted by the United Nations General Assembly in December 1948 after World War II as a road map to guarantee the rights of every individual everywhere, according to the UDHR's website.
Carter's overall theme of an existing gender wage gap is correct. But his figure and characterization of that amount is a very different matter.
We contacted Carter's camp about his source for the claim. It noted the U.N. 2012 report, "Progress of the World's Women: In Pursuit of Justice." But that report cites an international pay gap of 10 percent to 30 percent for 83 countries polled, and it doesn't provide a percentage for the United States.
The report does say that the wage gaps reflect the fact that women doing the same or comparable jobs are paid less than men for the same work. The report is based on a 2008 International Labour Organization data.
Nationally, the 70 percent figure seems to track back to a 2011 census report that found that in 2010, the female-to-male earnings ratio of full-time, year-round workers over age 15 was 0.77; meaning that women earned 77 cents for every dollar a man earned. That statistic has been used repeatedly as an argument for equal pay and gender non-discrimination legislation.
But the statistic has also been widely misused by speakers oversimplifying the data. The report does not say the 77-cent figure is for the same work. And the full-time definition for different jobs can vary widely.
Also, the pay gap does not take into account other factors that could influence the figure, including occupation, time on the job and education level. The census report showed the widest gap. Other data -- including hourly wages tracked by the Bureau of Labor Statistics, as well as, data comparing the same jobs -- yield smaller gaps.
The 70 percent figure, also taken from census data, is the wage disparity between men and African-American women. Again, the figure was based on full-time, year-round workers in general, and it did not compare similar occupations. The wage gap increased to 64 percent (or 64 cents to every dollar) between black women and white, non-Hispanic men.
So, does Carter's claim earn an honest day's pay?
During a conference on women, Carter said that women in this country earn just 70 percent of what men earn for "doing exactly  the same work as men."
His main source document provides information on an international, not a national wage gap. And for this country, the figure Carter uses is actually the wage gap between all men and black women. It has nothing to do with men and women who do the same work, contrary to what he stated.
Even if we assume Carter misspoke and meant 77 percent -- the most widely used wage gap figure from a recent census report -- his claim would still leave out important details about the census data that would give an entirely different impression had they been included.
The former president and Nobel Prize winner does get some credit for his overall theme that a general pay gap persists between men and women, a fact that has been proved by various sets of national data.
We rated Carter's claim Mostly False.
Huffington Post, "Jimmy Carter: Women's plight perpetuated by world religions," Bill Barrow, June 28, 2013
Film clip, The Carter Center Conference, "Conference mobilizes faith groups to advance women's rights," June 28, 2013
The Universal Declaration of Human Rights, Article 23
PolitiFact, "Barack Obama ad says women are paid '77 cents on the dollar for doing the same work as men,'" Louis Jacobson, June 21, 2012
U.S. Census Bureau, Current population reports, Consumer Income, "Income, poverty and health insurance coverage in the United States: 2010," issued September 2011
The Institute for Women's Policy Research, "The gender wage gap by occupation," April 2013
Email response, Karin Ryan, director, Human Rights Program, The Carter Center, July 8, 2013
United Nations 2011-2012 report, "Progress of the World's Women: In Pursuit of Justice"
Browse the Truth-O-Meter
More by Janel Davis
Support independent fact-checking.
Become a member!
In a world of wild talk and fake news, help us stand up for the facts.