Stand up for the facts!
Our only agenda is to publish the truth so you can be an informed participant in democracy.
We need your help.
I would like to contribute
On support for Common Core education standards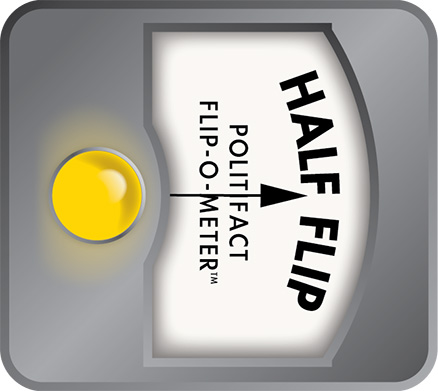 Candidate Barge, Superintendent Barge sometimes differ on Common Core
State School Superintendent John Barge -- along with Dalton Mayor David Pennington -- has joined the race for governor, challenging GOP incumbent Nathan Deal. Barge is campaigning hard on what he knows best: education, which he sees as economic development.
During his two-year tenure as the state's schools chief, Barge has presided over implementation of the controversial Common Core standards in Georgia's schools. As superintendent, Barge has supported the national standards despite opposition from some Republican lawmakers and tea party and advocacy groups.
So when we saw Barge's stance on Common Core posted on his campaign website, we were puzzled. In an item he wrote and posted Sept. 12, Barge says he wished Georgia would have realized that its existing educational standards were at the college and career-ready level, "rather than changing them for the second time in a few short years" and adopting Common Core.
Had Barge moved away from his prior position of supporting the educational standards in hopes of appealing to a certain group of voters? We decided to do some research.
In July 2010 the state Board of Education voted to have Georgia adhere to the Common Core standards. The standards are designed to better prepare students for college and careers, and they ensure that students in all states learn the same academic concepts in the same grades.
Creating the standards was a national state-led effort championed by Republican Sonny Perdue when he was Georgia's governor. And they rolled out in Georgia school districts during the 2012-2013 school year.
With many people calling for Georgia to pull out of the national standards, Barge said in the website statement that a measured review of Common Core is necessary. "I definitely want to avoid the type of rushed, hasty and un-vetted decision that got us into this situation in the first place," he wrote.
Our Atlanta Journal-Constitution colleagues covering the governor's race also reviewed Barge's statement and noted that Republican opposition to the standards has put Deal and Barge on the defensive. And a few days after Barge's column caught the attention of the AJC, state Sen. Fran Millar -- a past chairman of the Senate's Education Committee -- took to Facebook to air his feelings on the issue.
"This reminds me of (Barge's) flip flop on the charter school amendment. Ironic how his professional staff are all in favor of Common Core. Trying to get primary votes? So much for principles," Millar's Facebook post said.
We examined some of Barge's comments about Common Core over the past few years.
In discussing the shortfalls of the state's integrated math curriculum last summer, Barge touted the upcoming Common Core implementation. "As we move to the Common Core Georgia Performance Standards, students will get the high-level skills in algebra and geometry necessary to be successful in college and careers," he said.
In April 2012, Barge highlighted the standards as one initiative to help improve Georgia's graduation rate. "The Common Core will toughen standards for our students and let us compare Georgia student achievements with students across the country," Barge wrote in an AJC op-ed. In September 2011, he highlighted the "consistent framework" Common Core would provide.
We then reviewed Barge's statements about Common Core before becoming state superintendent.
In two posts from his "On the Campaign Trail with John Barge" blog, the-then candidate questioned Common Core's rigor and alleged secrecy in developing the standards and the state's rush to implement them.
"I submit to you that it is not at all really about this phenomenal new curriculum that is the silver bullet fix for educating our children. It is about the current federal administration wanting to control the education of your children, including what goes into the textbooks," Barge wrote in a blog post titled "Common Core Standards - Why the Rush?"
Barge also criticized Common Core's connection to Race to the Top grant funds from the federal government, which included stipulations for implementing a merit pay system for teachers.
In an interview with PolitiFact Georgia, Barge stood behind his Common Core record and comments. And, as he has previously done, noted that the standards were already approved for the state when he took office.
Barge was elected as the state's education chief in November 2010. Before that he was director of secondary curriculum and instruction for the Bartow County School System.
"When Common Core came out we were all in shock. So no, I wasn't for Common Core then, not because I didn't think the standards were good, but I wasn't for rolling them out on top of standards we had just implemented," Barge said. "Once I was elected and Common Core was already adopted and set for implementation, I didn't want to pull back and put in place another set of standards on teachers. I'm not recommending any pullback from Common Core standards."
The Georgia School Boards Association said Barge has remained consistent on his support for Common Core. The group noted that Barge inherited Common Core and has supported rigorous standards for Georgia
We asked Millar, a Dunwoody Republican, whether Barge had flip-flopped on the issue.
"No, I'd call it a lot of waffling," he said. "(Barge) initially said he was in favor. I think he wants to be to the right of Deal on this issue. These standards are not perfect, but it's a way to try to improve things."
So did Barge flip-flop on his Common Core position?
Barge said himself that he was critical of Common Core before becoming superintendent but was more supportive after taking the job because the standards had already been adopted by the previous administration. He gets some credit for being put in a predetermined situation, but he did change his position on support for Common Core.
We rate his position as a Half Flip.
John Barge for Governor website, "My stance on Common Core," Sept. 12, 2013
Atlanta Journal-Constitution, Political Insider blog, "John Barge wants to avoid 'rushed, hasty and un-vetted' decision that led to Common Core," Greg Bluestein and Daniel Malloy, Sept. 13, 2013
Facebook post, state Sen. Fran Millar, Sept. 16, 2013
Phone interview, Millar, Sept. 20, 2013
Phone interview, John Barge, Georgia school superintendent, Sept. 20, 2013
Emails, Justin Pauly, communications director, Georgia School Boards Association, Sept. 23, 2013
Marietta Daily Journal, "Getting to the (Common) Core of the matter," Jon Gillooly, May 5, 2013
Atlanta Journal-Constitution, op-ed, "Real issue not how to tally but to teach," John Barge, April 29, 2012
Atlanta Journal-Constitution, "Students fare better on most end-of-course tests, but not math II," Nancy Badertscher, July 3, 2012
Atlanta Journal-Constitution, "Georgia adopts Common Core standards," Maureen Downey, July 8, 2010
"On the Campaign Trail with John Barge" blog, "Common Core standards - Why the Rush?", John Barge, March 20, 2010
Gainsville Time, "State schools chief race about experience," Dorie Turner, Oct. 20, 2010
Browse the Truth-O-Meter
More by Janel Davis
Support independent fact-checking.
Become a member!
In a world of wild talk and fake news, help us stand up for the facts.