Stand up for the facts!
Our only agenda is to publish the truth so you can be an informed participant in democracy.
We need your help.
I would like to contribute
When SACS came back to the DeKalb County School District to give a midterm review, we got straight A's.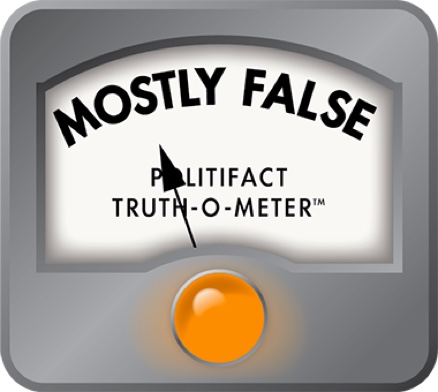 DeKalb superintendent overstates outcome of accreditation review
Things have been tough for the DeKalb County School District.
The state's third-largest school system was in danger of losing its accreditation. It has struggled financially, leaving reserves almost depleted and requiring deep budget cuts, teacher furloughs and larger class sizes. A former superintendent is currently in court on racketeering charges. Gov. Nathan Deal removed two-thirds of the school board for financial mismanagement and micromanaging that put the district at risk. And an interim chief, former state Labor Commissioner Michael Thurmond, was brought in earlier this year to try to right the ship.
Thurmond has been optimistic, repeatedly reminding parents and staff that the district will improve, but that it will take work to turn things around. He has continued to spread his message of hope in district updates, particularly about the school system's accreditation.
"When SACS came back at midterm for review we got straight A's," Thurmond said during a meeting with parents earlier this month.
We were intrigued by the superintendent's statement. Had DeKalb, with its ongoing legal, financial and personnel issues, secured a perfect score with an accrediting agency? We decided to do our homework and find out.
Thurmond made his statement at Towers High School in south DeKalb during a parent council meeting. The then-interim superintendent had been traveling across the county, speaking to various parent and school groups. (Just last week the DeKalb school board voted to extend Thurmond's superintendent contract two more years, through summer 2015.)
To check Thurmond's claim, PolitiFact Georgia had to research DeKalb's accreditation history.
Last year, a team from the Southern Association of Colleges and Schools -- a private agency that accredits public schools in Georgia and elsewhere -- visited DeKalb to investigate numerous allegations of school board mismanagement. Representatives for SACS' parent company, AdvancED, said the board was accused of undue interference in administrative matters, as well as wasting money.
At the time, DeKalb's accreditation -- which greatly affects students' college acceptance chances -- was already in a precarious position, at a less than stellar "on advisement" status. Ultimately, the district's accreditation was placed on probation, with SACS officials warning that a full accreditation loss was imminent without immediate changes.
Earlier this year, after the system was placed on probation, the governor removed and replaced six board members. The Georgia Supreme Court is expected to rule by November on a challenge to the law that allows governors to remove school boards in districts on probation.
In May, a SACS team returned to DeKalb for a three-day review, as Thurmond noted during the parent meeting. The agency issued a report of its findings in July. The report indicated that all 11 required actions from the agency's October 2012 visit were "in progress."
The monitoring team concluded that the district had made "recognizable progress." The report also noted: "The overall progress of the district in addressing the required actions is still evolving and significant work remains to be accomplished."
Another SACS monitoring team is scheduled to return to DeKalb for a two-day visit in December. In the meantime, the district remains on probation.
We asked Thurmond's office about the superintendent's claim and reading of the SACS report.
"In the educational arena, an 'A' grade is generally awarded when a student receives a score of 90-100. It is important to note that an 'A' does not require perfection, but an 'A' does represent significant and noteworthy achievement," a district spokesman said in an email.
The spokesman said Thurmond was speaking metaphorically about the importance of the interim report, which noted significant improvements during the past two months and recognizable progress on addressing the 11 required actions.
PolitiFact Georgia also questioned SACS about Thurmond's claim.
Agency representatives noted that AdvancED and SACS do not give letter grades to school systems. "(Thurmond) was clearly using an analogy that the monitoring visit was positive," said an email from the company spokeswoman and CEO. "The report clearly indicates that the district is moving in the right direction but that the required actions remain In Progress as there is much work to be done in ensuing months and years."
We also checked with the Georgia School Boards Association, which helps boards prepare for SACS visits, for thoughts on Thurmond's statement. A board development specialist with that agency deferred to SACS for an explanation.
So, was DeKalb Schools Superintendent Michael Thurmond correct that the district's midterm review from an accrediting agency back in May resulted in a straight-A report card?
It's subjective.
Thurmond used the letter grade as an interpretation of the positive SACS report. The report does note the district's improvements on 11 requirements over the past few months. But it also notes the significant work that is left to do, and it questions whether the school board and district leadership can successfully complete it. And most important, the district remains on probation until another monitoring visit at the end of the year.
An A means exceeding standards – that's not what the district is doing. It's making progress, which isn't an A in anyone's book.
We rate Thurmond's claim Mostly False.
South DeKalb Parent Council meeting, Michael Thurmond, State of the District address, Oct. 3, 2013
Atlanta Journal-Constitution, "DeKalb school board receives positive accreditation update," Nancy Badertscher and Daarel Burnette II, July 5, 2013
AdvancED, Monitoring Visit Report of May 15-17 visit, July 3, 2013
Atlanta Journal-Constitution, "DeKalb school board members formally removed, as eyes turn to Supreme Court," Greg Bluestein and Ty Tagami, Aug. 2, 2013
Atlanta Journal-Constitution, "Accreditation agency to investigate allegations of DeKalb schools mismanagement," Ty Tagami, Sept. 18, 2012
Atlanta Journal-Constitution, "DeKalb school district 'in conflict and crisis,' put on probation by accreditation agency," Ty Tagami, Dec. 17, 2012
Atlanta Journal-Constitution, "DeKalb school board shows 'significant progress,' but remains on probation," Nancy Badertscher, July 5, 2013
Email response, AdvancED, Oct. 9, 2013
Email response, Quinn Hudson, spokesman, DeKalb County School District, Oct. 10, 2013
Atlanta Journal-Constitution, "DeKalb keeps Thurmond as school chief," Ty Tagami, Oct. 7, 2013
Browse the Truth-O-Meter
More by Janel Davis
Support independent fact-checking.
Become a member!
In a world of wild talk and fake news, help us stand up for the facts.