Stand up for the facts!
Our only agenda is to publish the truth so you can be an informed participant in democracy.
We need your help.
I would like to contribute
"Under President (George W.) Bush, prosecution of gun crimes was 30 percent higher than it is under President Obama."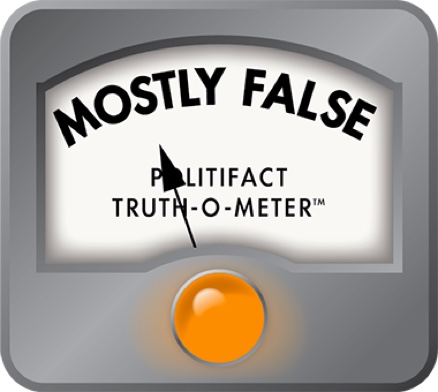 Sen. Ted Cruz says gun prosecutions down under Obama administration
After leading the charge for a government shutdown to defund President Barack Obama's health care law, freshman Sen. Ted Cruz, R-Texas, hasn't shied away from the spotlight.
On Nov. 8, 2013, Cruz was a guest on the Tonight Show with Jay Leno. Long before he got to the obligatory joke about reading Green Eggs & Ham during a lengthy Senate speech, he addressed gun policy.
"Do you target violent criminals, or do you try to take away the constitutional rights of law-abiding citizens?" Cruz said.
After the senator criticized Obama for focusing on the latter at the expense of the former, he praised predecessor George W. Bush's efforts.
"Under President Bush, prosecution of gun crimes was 30 percent higher than it is under President Obama," Cruz said. "They're not targeting bad guys."
We decided to see how the numbers differed under the two presidents.
Ways to read the data
Let's break down the number of federal prosecutions by year. We'll start with fiscal year 2002, since that represents Bush's first full year in office. Fiscal year 2012 is the most recent year we have data for.
There are two different sets of statistics we can look at. Cruz's spokeswoman referred us to the Transitional Records Access Clearinghouse, a Syracuse University data-gathering organization. This data tracks federal gun prosecutions by the lead, or most serious, charge.
On the other hand, the Department of Justice's United States Attorney's Office tracks all charges, a more inclusive category of prosecutions. Their data set includes everyone who was charged with a gun crime. The lead charge category only includes people whose most serious offense was gun-related, a distinction that omits thousands of charges each year.
|   | Lead charges | All charges |
| --- | --- | --- |
| 2002 | 7,948 | 10,634 |
| 2003 | 10,432 | 13,037 |
| 2004 | 11,015 | 12,962 |
| 2005 | 10,219 | 13,062 |
| 2006 | 9,652 | 12,479 |
| 2007 | 8,919 | 12,087 |
| 2008 | 8,484 | 11,974 |
| 2009 | 8,188 | 11,722 |
| 2010 | 7,614 | 11,421 |
| 2011 | 7,465 | 11,811 |
| 2012 | 7,774 | 11,728 |
Cruz's spokeswoman also told us that Cruz's claim didn't take into account numbers for Bush's entire term: He used 2004, the high-water mark for lead gun prosecutions during the time period, as his starting point.
We're left with four ways to calculate the percent change:
• Lead charges from 2002 to 2012, which gives us a 2.2 percent decrease
• Lead charges from 2004 to 2012, which gives us a 29.4 percent decrease
• All charges from 2002 to 2012, which gives us a 10.3 percent increase
• All charges from 2005 (the high-water mark of this data set) to 2012, which gives us a 10.2 percent decrease
This makes clear how Cruz got his 30 percent decrease. However, that's not the only, or necessarily the best, approach.
None other than TRAC's co-director, Susan Long, told PolitiFact that her organization's use of lead charges isn't as comprehensive as using all charges. She also called Cruz's 2004 start date misleading, since it amounts to cherry-picking.
The most reliable number may be the 10.3 percent increase in gun prosecutions between fiscal years 2002 and 2012. This rate actually indicates the trend moving in the opposite direction from what Cruz asserted.
Who's responsible?
In addition to highlighting a numerical difference in federal gun crime prosecutions, Cruz specifically suggested that Obama's policies are responsible for the decrease. But how much influence does the president really have on the issue?
Experts say: not much.
"The Bush administration was all over the map," Long said. "Those trends really are being driven by something other than presidential policy," since the peaks and valleys don't coincide with presidential terms, she said.
As we've noted in a previous fact check, the president, as the head of the executive branch, can order changes to prosecutorial priorities. For instance, following the Newtown, Conn. school shooting in December 2012, Obama did call for the need to "maximize enforcement efforts to prevent gun violence and prosecute gun crime."
We don't yet have data that reflects prosecutions in the aftermath of Newtown. But it's important to note that Obama's priorities are not the only factors at play in these decisions. Any presidential shift in policy must filter down to the attorney general, the Bureau of Alcohol, Tobacco, Firearms and Explosives field offices, and front-line attorneys, said Ronald Frandsen, grants administrator for the Regional Justice Information Service.
U.S. attorneys can decline to prosecute gun cases for a variety of reasons, as outlined by TRAC.
So Obama is responsible for setting the broad policy approach to gun prosecutions, but he isn't micromanaging individual cases. Much of the decision-making occurs at a lower level.
Our ruling
Cruz said prosecution of gun crimes under the Bush administration was 30 percent higher than it is under Obama.
It's possible to get a decline that big by cherry-picking the data, but the most inclusive method actually produces an increase. Cruz also overstates the role of the president in determining prosecution rates. We rate Cruz's claim Mostly False.
Mediaite, "Ted Cruz talks Obamacare, shutdown, and gun control in lively interview with Leno," Nov. 9, 2013
Email interview with Allison Price, Department of Justice spokeswoman
Phone interview with Ronald Frandsen, Regional Justice Information Service grants administrator, Nov. 14, 2013
Phone interview with Roseanna Ander, University of Chicago Crime Lab executive director, Nov. 11, 2013
Phone interview with Susan Long, Transitional Records Access Clearinghouse director, Nov. 11, 2013
PolitiFact, "GOP Sen. Jeff Sessions says gun prosecutions have declined under Barack Obama," April 16, 2013
Syracuse University Transitional Records Access Clearinghouse, "Federal weapons enforcement: a moving target," Feb. 13, 2013
U.S. Department of Justice, "Criminal cases in which a firearms offense was charged under 18 U.S.C. 922 or 924," Sept. 30, 2012
White House, "Now is the time: The president's plan to protect our children and our communities by reducing gun violence," Jan. 16, 2013
Browse the Truth-O-Meter
More by Julie Kliegman
Support independent fact-checking.
Become a member!
In a world of wild talk and fake news, help us stand up for the facts.