Stand up for the facts!
Our only agenda is to publish the truth so you can be an informed participant in democracy.
We need your help.
I would like to contribute
Says David Dewhurst "went out for drinks" during Senate debate on abortion bill.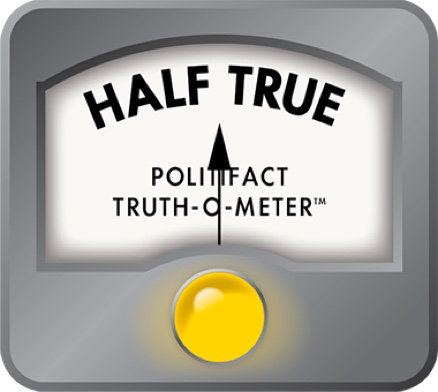 Dewhurst visited restaurant during debate; unclear if he had drinks
Republican challengers to Lt. Gov. David Dewhurst have been making a meal out of an incident during Texas Senate debate on tightening abortion clinic regulations.
One example: In an interview Aug. 29, 2013, on Lubbock's KFYO-AM, Agriculture Commissioner Todd Staples said, "The current incumbent lieutenant governor went out for drinks during the legislative session when that bill was originally on the Senate floor."
Staples made clear in the interview that that he wasn't referring to the night Sen. Wendy Davis filibustered abortion restrictions, June 25-26, 2013, but to earlier debate over the same measure, Senate Bill 5, in the first summer special session called by Gov. Rick Perry. Under Democratic fire, the proposal perished in that session, but it passed into law in a second session called by Perry.
Not all versions of the claim about Dewhurst's whereabouts have been so clear.
On a website launched Aug. 16, 2013, by Sen. Dan Patrick, like Staples a Republican challenging Dewhurst for the lieutenant governorship, comic cat videos illustrate "the night that will live in Texas political infamy" -- Davis' filibuster -- with captions claiming Dewhurst "was out having a glass of wine with a political consultant friend" on "the night of the important pro-life bill debate."
Another Republican challenger, Land Commissioner Jerry Patterson, alluded to failed leadership and "vanities like expensive steak dinners with overpriced consultants," according to a July 12, 2013, news blog entry by the Dallas Morning News.
Staples raised the issue again at a Sept. 16, 2013, debate, according to a Houston Chronicle news story posted that day, which quoted him as saying, "You don't go out to eat and drink with lobbyists when there are issues on the floor of the Senate that you are supposed to be dealing with."
It's not uncommon for legislators to step out and grab dinner when work runs late, nor for the lieutenant governor to hand off the duty of presiding over the proceedings to a senator.
So, what exactly happened?
As the Senate debated amendments late on June 18, 2013, before voting to send the abortion proposal to the House, Dewhurst chaired most of the evening session and also watched over the final vote. In between, he stepped out for a time -- newspapers reported that tweets placed him at a steakhouse eight blocks from the Capitol -- and he confirmed to reporters when he returned that he'd been at Austin Land and Cattle. "No steak," though, he said, and did not answer a question about whether he'd had any wine.
Reporters and lege-watchers registered surprise that Dewhurst would depart during debate on an issue he had urged Perry to add to the agenda.
Staples campaign spokesman Kent Sholars emailed us the Morning News blog post and a June 24, 2013, San Antonio Express News/Houston Chronicle news story. We looked at those and other news accounts, tweets, Senate journals (which document floor proceedings) and video of the relevant debate.
We asked Dewhurst's campaign staff for comment, but did not hear back.
What we did find confirmed Staples' statement except for the claim that Dewhurst had "drinks"; reports were mixed on that score. Sholars noted that the Morning News blog post said Dewhurst had decided "to slip out for a glass of wine." The blog entry didn't cite a source for that statement.
One of the reports said that at the restaurant, Dewhurst met up with political consultant Rob Johnson.
We tried to contact Johnson but did not hear back. He was Dewhurst's chief of staff from 2006 to mid-2009, when he became manager of Perry's re-election campaign, then managed presidential campaigns for Newt Gingrich and Perry before starting a political action committee to boost Dewhurst's U.S. Senate bid in 2012.
The Morning News also reported, "Dewhurst didn't eat. As his spokesman Travis Considine noted two days later, he presided over most of the debate and was confident colleagues could soldier on during his brief absence."
Senate journals for June 18, 2013, show Dewhurst had earlier presided over the floor proceedings from 12:20 p.m. to 1:39 p.m., then gaveled the Senate back in at 5:39 p.m. to take up the abortion-restriction measure. Dewhurst called for a break at 8:54 p.m., according to the journal, and Sen. Kevin Eltife, R-Tyler, took over the duties of presiding from Dewhurst as debate resumed at 9:15 p.m. The Senate adjourned at 10:15 p.m. and was called to order again by Dewhurst at 11:09 p.m. After voting to approve the measure, the Senate called it a night at 11:45 p.m.
Among tweets collected in a Statesman politics blog post June 19, 2013, Associated Press Capitol reporter Jim Vertuno wrote, "Since everyone (is) wondering, Dewhurst is back in the chamber. He was here for 3 hours of debate, let Eltife chair most amendments." Also during the debate, Express-News reporter Peggy Fikac tweeted, "Re Land & Cattle, @DavidHDewhurst confirms he was there to say hi to a consultant but 'no steak.' "
Our ruling
Staples said, "The current incumbent lieutenant governor went out for drinks during the legislative session when that bill was originally on the Senate floor."
Dewhurst has said that he stepped out to a restaurant during part of a lengthy Senate debate on abortion legislation June 18. But Staples did not prove he had drinks, and we found no such confirmation either.
Given that going "out for drinks" has connotations that just aren't supported by the available evidence, we rate Staples' statement as Half True.
---
HALF TRUE – The statement is partially accurate but leaves out important details or takes things out of context.
Click here for more on the six PolitiFact ratings and how we select facts to check.
---
CLARIFICATION: Oct. 11, 2013, 4:39 p.m. This story was amended to clarify the ruling, which did not change.
Todd Staples interview, KFYO-AM, Lubbock, Aug. 29, 2013
Email interview, excerpted, with Kent Sholars, communications director for Todd Staples campaign, Sept. 27, 2013
Dallas Morning News news blog entry, "On abortion, Dewhurst's glass of wine — not his pause — could hurt him with GOP base," July 12, 2013
San Antonio Express News/Houston Chronicle news story, "Dewhurst's absence at debate gives fuel to critics," June 24, 2013
Texas Tribune news analysis by Ross Ramsey, "For Dewhurst, a Critical Failure With a Large Audience," June 26, 2013
Quorum Report online post, "Some Conservatives Blast Dewhurst For Leaving Senate During Abortion Debate," June 18, 2013
Browse the Truth-O-Meter
More by Sue Owen
Support independent fact-checking.
Become a member!
In a world of wild talk and fake news, help us stand up for the facts.