Stand up for the facts!
Our only agenda is to publish the truth so you can be an informed participant in democracy.
We need your help.
I would like to contribute
David Alameel "is giving thousands of dollars to support the Republican Party candidates" including John Cornyn and Greg Abbott.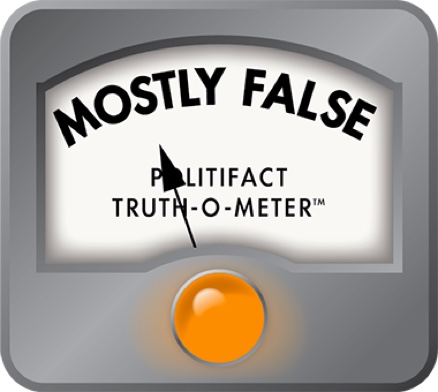 David Alameel has been $5 million bipartisan donor, but last gave to Republicans in 2008
Kesha Rogers of Houston described her foe in a May 27, 2014, runoff for the state's Democratic U.S. Senate nomination as a current donor to Republicans including that party's nominee, second-term Sen. John Cornyn.
Rogers, a LaRouche Democrat making her first bid for statewide office, made her comment about Dallas investor David Alameel in our March 27 interview with her during our check of a claim that she's not a Democrat. Rogers is a Democrat, we concluded, though she espouses views out of step with mainstream Democrats such as a desire to impeach President Barack Obama.
In that interview, we asked if Rogers had more to share on her Democratic bonafides.
"We should look at the fact that my opponent… Mr. Alameel... is giving thousands of dollars to support the... Republican Party candidates such as... John Cornyn and John Abbott himself," Rogers replied, shortly agreeing that she meant Greg Abbott, the state attorney general and 2014 Republican gubernatorial nominee.
Alameel's donations to numerous candidates over the years have been noted. But has he backed Republicans of late?
News coverage
In a news story posted online Dec. 2, 2013, the Dallas Morning News said Alameel and his wife donated $8,000 to Cornyn's campaign and $7,500 to Cornyn's political action committee in 2004 and 2005. The story also said Alameel gave Abbott $165,000 from 2002 to 2008 while Alameel gave $30,000 in 2012 to state Sen. Wendy Davis, the Fort Worth Democrat then on her way to becoming the Democrats' 2014 choice for governor.
Broadly, the story said, Alameel had pitched in for candidates from both major parties. "He's given $700,000 in the last six years to Democrats at the federal level," the newspaper said, while donating $250,000 to Republican Lt. Gov. David Dewhurst from 2002 to 2008 and earlier giving $75,000 to Rick Perry's campaign in 1998, when Perry, now governor, was bidding for lieutenant governor. "I'm not your typical Democrat," Alameel was quoted as saying. "I'm conservative in many ways and have worked with both parties."
About a month later, the weekly Austin Chronicle said in a news story that another Democratic Senate candidate, Maxey Scherr of El Paso, had described Alameel as a DINO--Democrat In Name Only. According to the Chronicle, Scherr singled out past Alameel donations to Dewhurst as well as $4,200 given to Senate Minority Leader Mitch McConnell, R-Ky., and $8,400 donated to Sen. Orrin Hatch, R-Utah. The story further noted the donations to Cornyn and said Alameel gave $50,000 in 2005-06 to the National Republican Senatorial Committee.
Then again, the story said, Alameel stopped giving to Republicans after the 2008 elections. "Since then, Alameel's donations have been strictly Demo­cratic and progressive," the story said. "His campaign notes that he is the nation's 15th biggest Democratic donor. That includes $100,000 to the progressive Lone Star Pro­ject PAC, and almost $2 million to his North Texas Leader­ship PAC."
Federal Election Commission breakdown
We asked the Federal Election Commission to itemize Alameel's donations to candidates and political committees. By email, spokesman Christian Hilland sent charts showing Alameel and his wife ponied up about $1 million to nearly 60 recipients from 1989 into May 2013, counting his largest contribution of $500,000, in 2012, to Majority PAC, a super PAC created by a former aide to Senate Majority Leader Harry Reid with a focus on protecting the Democrats' Senate majority. That year, Alameel sought a Dallas-Fort Worth U.S. House seat, losing the Democratic primary to a Fort Worth state representative, Marc Veasey.
Cornyn fielded $8,000 from Alameel in November 2004, according to the chart. In a Jan. 30, 2014, news blog post, the Morning News noted that Alameel had recently said he wanted that money back with Cornyn shooting back that a refund wasn't going to happen.
Outside of the six-figure donation to Majority PAC, Alameel's federal donations went more to Republicans than Democrats: He and his wife donated nearly $270,000 to about 17 Republican candidates or committees and about $180,000 to about 15 Democratic beneficiaries. See the main chart provided by Hilland here and one covering other Alameel donations here.
Alameel's latest donation to a Republican seeking federal office amounted to $28,500 supportive of Sen. John McCain, dated April 23, 2008, according to the FEC information, while after that, Alameel donated nearly $660,000 to Democratic candidates and committees.
Texas Ethics Commission records
To get a fix on how much Alameel has given to candidates for state office, we searched state campaign finance reports stockpiled on the Texas Ethics Commission website. From February 2000 into January 2014, this search indicated, Alameel donated about $4 million to such candidates and committees including Democrats, Republicans and Carole Keeton, then Carole Keeton Strayhorn, who declared herself an Independent before running for governor in 2006. Alameel's biggest state beneficiary was his since-disbanded PAC, which drew in some $2.8 million, according to the search.
Per Rogers' claim: Alameel made five donations to Abbott, adding up to $165,000, from December 2002 through June 2007, the search shows, though Alameel earlier in 2002 gave $30,000 to Democrat Kirk Watson when Watson faced Abbott for attorney general.
Alameel's latest donation to a Republican aspirant for state office was $10,000, given March 3, 2008, to Texans for Cole, the committee for Jonathan Cole, a Collin County candidate, our search showed.
More recently, Alameel and Alameel Family Partners, Ltd., gave $307,500 from January 2013 through January 2014 to Democratic interests. This included $250,000 that went to the state kitty of the Lone Star Project, a pro-Democratic group managed by Matt Angle out of the Washington, D.C. area, and $50,000 given to the Democratic caucus in the Texas House, according to the search.
A Rogers' campaign adviser, Harley Schlanger, said by email that Rogers obviously meant Alameel had donated funds to Republicans in the past. "If she said in her discussion with you he 'is giving,' she misspoke," Schlanger said. He said earlier: "Her point is that the people attacking her for her opposition to Obama are embracing a candidate who has a clear and defined past relationship with the Republican Party."
We were unable to reach Alameel or anyone with Alameel's campaign.
Our ruling
Rogers said Alameel "is giving thousands of dollars to support the Republican Party candidates" such as Cornyn and Abbott.
Alameel donated some $5 million to political committees including individual Republicans and Democratic candidates from 1989 on, and his donations included aid to campaigns for Cornyn and Abbott. However, records do not show any donations to Republicans after 2008.
Whether Rogers misspoke or not, what she said is incorrect, though we see an element of truth due to Alameel's historically bipartisan giving, making this interview claim Mostly False.
News blog posts, Trailblazers blog, Dallas Morning News, "David Alameel, wealthy Dallas dentist, enters Senate fray vs. John Cornyn," Dec. 2, 2013; "Cornyn rejects Alameel's refund plea, thanks Dem Senate hopeful for advancing conservative agenda," Jan. 30, 2014
News story, "Dallas dentist David Alameel brings big fortune to U.S. Senate race," Dallas Morning News, Dec. 2, 2013 (accessed March 31, 2014)
News story, "The DINO Word Enters U.S. Senate Race," the Austin Chronicle, Jan. 24, 2014 (accessed March 31, 2014)
Chart showing David Alameel donations to federal candidates and committees, 1998 into May 2013 (received by email from Christian Hilland, public affairs specialist, Federal Election Commission, April 2, 2014)
Chart showing David Alameel donations to federal candidates and committees, September 1989 to March 1993 (received by email from Christian Hilland, public affairs specialist, Federal Election Commission, April 2, 2014)
Chart showing David Alameel donations to state candidates and committees, Feb. 12, 2000 through Jan. 29, 2014 (downloaded using Texas Ethics Commission web page, March 31, 2014)
Browse the Truth-O-Meter
More by W. Gardner Selby
Support independent fact-checking.
Become a member!
In a world of wild talk and fake news, help us stand up for the facts.