Stand up for facts and support PolitiFact.
Now is your chance to go on the record as supporting trusted, factual information by joining PolitiFact's Truth Squad. Contributions or gifts to PolitiFact, which is part of the 501(c)(3) nonprofit Poynter Institute, are tax deductible.
I would like to contribute
"David Dewhurst currently owes more than $1 million to vendors for services provided to his 2012 U.S. Senate campaign."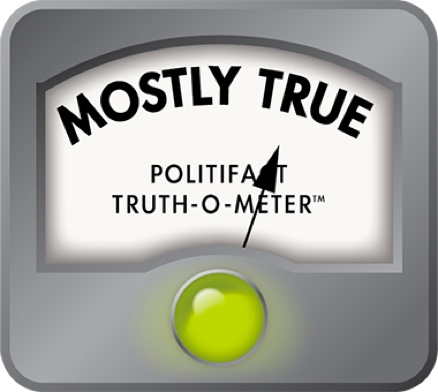 David Dewhurst's U.S. Senate campaign of 2012 owed more than $1 million to vendors at end of 2013
Reacting to a TV ad poking at his personal bankruptcy in the 1980s, state Sen. Dan Patrick said Lt. Gov. David Dewhurst owes more than $1 million to creditors from his losing 2012 run for the U.S. Senate.
Dewhurst and Patrick, both of Houston, are in a May 27, 2014, runoff for the Republican lieutenant governor nomination after Patrick led the four-way March primary.
In a document posted online after Dewhurst's ad debuted April 16, 2014, Patrick's campaign mentioned a one-time Dewhurst business debt. "In addition to these debts," Patrick said, Dewhurst "currently owes more than $1 million to vendors for services provided to his 2012 U.S. Senate campaign."
Patrick's camp provided web links to news stories as the basis of the claim.
On Aug. 13, 2013, the Texas Tribune reported that through June 2013, Dewhurst's campaign finance reports indicated that it still owed $909,875.90 to consultants and vendors involved in his Senate bid. In July 2012, Dewhurst lost a primary runoff to attorney Ted Cruz, who won the seat that November.
"The unpaid bills range from several six-figure debts to media experts to a few hundred dollars owed to a company that provided email services," the Tribune story said. "Many of the vendors are upset about getting stiffed for thousands of dollars from the campaign of a multi-millionaire candidate like Dewhurst, who hasn't hesitated to pour some of his vast wealth into his political endeavors."
Then-Dewhurst spokesman Travis Considine pointed out that Dewhurst was still legally entangled in pursuing the recovery of up to $2 million allegedly stolen from his state and federal campaign kitties by a former campaign manager, Kenneth "Buddy" Barfield, the story said. Considine said lawsuits filed by Dewhurst's campaign committees included an effort to recover funds "that should have been used to pay any outstanding federal campaign obligations."
Debts from Dewhurst's 2012 campaign subsequently increased, according to a news story in the Dallas Morning News posted online Feb. 7, 2013.
Dewhurst, the story said, "still owes businesses $1.4 million from his failed 2012 U.S. Senate campaign, a federal report filed this week shows. The 20 private creditors have been waiting 18 months for payment. The debt ranges from $170,628 to a Maryland-based media consultant to $464 for email services."
The story quoted Considine, on Dewhurst's behalf, as blaming the Barfield morass.
We turned to the Federal Election Commission website and perused the Dewhurst finance report that was cited in the News story. The report, filed by Dewhurst's Senate committee in February 2014, indicates outstanding debts of $1,406,808 as of the end of 2013, not counting loans.
We asked Dewhurst's lieutenant governor campaign about Patrick's claim. By email, spokeswoman Eliza Vielma pointed out the outstanding debts belong to Dewhurst's campaign, not to Dewhurst personally. Also, she said, efforts continue to sell Barfield's former home to raise money that would make up for the funds "stolen by Barfield from" Dewhurst's state and federal campaign "committees," she said.
According to a Jan. 3, 2014, Houston Chronicle news story, Dewhurst in November 2013 reached a settlement agreement with Barfield agreeing to sign over his West Austin home to repay a portion of the campaign funds that Dewhurst has said Barfield stole. On April 18, 2014, a Zillow.com web page showed the home in the Old Enfield part of Austin for sale for $2.75 million.
According to a Chronicle news story posted online Jan. 11, 2014, a Dewhurst Senate campaign attorney, Adam Schramek, said after Dewhurst's settlement with Barfield came public: "This matter is being handled by the Travis County District Attorney's office, but my clients are pursuing every avenue to achieve full restitution for Mr. Barfield's crimes."
Our ruling
Patrick said Dewhurst "currently owes more than $1 million to vendors for services provided to his 2012 U.S. Senate campaign."
To be precise, it's Dewhurst's Senate campaign that had outstanding debts exceeding $1.4 million through 2013. Also, Dewhurst appears to be trying to recoup campaign dollars he has described as stolen; it's not as if he's simply a deadbeat.
We rate this claim, which lacked this additional information, as Mostly True.
---
MOSTLY TRUE – The statement is accurate but needs clarification or additional information.
Click here for more on the six PolitiFact ratings and how we select facts to check.
Document, "Dewhurst 'Mother of All Debt' Fact Check," Dan Patrick campaign, April 16, 2014
News story, "Dewhurst Campaign Owes Vendors Nearly $1 Million," the Texas Tribune, Aug. 13, 2013 (accessed April 17, 2014)
News story, "David Dewhurst's 2012 campaign still owes vendors more than $1 million," Dallas Morning News, posted online Feb. 7, 2014 (accessed April 17, 2014)
Report, "Dewhurst for Texas, Report of Receipts and Disbursements," Jan. 31, 2014, Year-End Report, received by Secretary of U.S. Senate, Feb. 5, 2014 (accessed April 17, 2014)
Email, Eliza Vielma, director, Social & Digital Strategy, David Dewhurst campaign, April 17, 2014
News stories, the Houston Chronicle, "Dewhurst gets home of consultant accused of theft," Jan. 3, 2014; "Dewhurst-linked scandal takes a Houston twist," posted online Jan. 11, 2014 (accessed April 18, 2014)
Browse the Truth-O-Meter
More by W. Gardner Selby
Support independent fact-checking.
Become a member!
In a world of wild talk and fake news, help us stand up for the facts.