Stand up for the facts!
Our only agenda is to publish the truth so you can be an informed participant in democracy.
We need your help.
I would like to contribute
"The president's come out with rules that say, 'No new coal-fired power plants.' "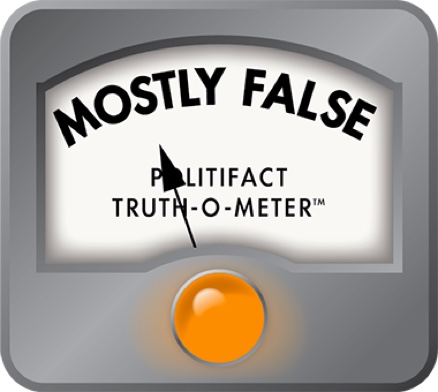 West Virginia Senate candidate says Barack Obama is banning new coal power plants
Voters across Appalachia are hearing one message from Republican candidates in a handful of Senate races: President Barack Obama is killing coal.
In West Virginia, U.S. Rep. Shelley Moore Capito became the latest to deploy the tactic; Capito is running against Democrat Natalie Tennant for U.S. Senate.
Capito comes out swinging against new federal regulations aimed at curbing carbon emissions from fossil-fuel burning power plants in an ad released July 29.
"The president's come out with rules that say 'no new coal-fired power plants,' " Capito says. "But what he's going to come out with in the next several months is you're not even going to be able to burn coal very limitedly in the existing plants."
We tackled the latter statement regarding existing facilities in a seperate fact-check and said it was False. Has the Obama administration banned new coal-fired plants, as Capito claims?
EPA's new regulations
In September 2013, the Environmental Protection Agency, at the direction of Obama, released proposed rules for future power plants. Nowhere do they say, "No new coal-fired power plants" or anything similar. So taken literally, Capito's comment is inaccurate.
But let's not stop there. What do the rules actually say?
Under the proposed guidelines, coal-burning power plants would have to limit carbon emissions to 1,100 pounds per megawatt hour over a 12-operating month period. Natural gas plants, meanwhile, would have to stay below 1,000 pounds of carbon per megawatt hour.
Modern natural gas plants already meet that standard, but so far even the most efficient coal plants in operation are well above the EPA's proposed threshold.
So while the rules don't explicitly ban new coal plants, do the tough new guidelines effectively ban the fossil fuel?
Capito's campaign says it does.
Obama's "proposed rule for new coal plants sets a standard that cannot be met without the use of carbon capture and storage technology," Capito spokeswoman Amy Graham said. This technology, she added, "has not been demonstrated at a commercial coal-fired power plant anywhere in the United States."
That's all actually true. The EPA even says the "standards will minimize carbon pollution by guaranteeing reliance on advanced technologies like ... efficient coal units implementing partial carbon capture and storage."
Carbon capture and storage is exactly what it sounds like. Instead of releasing carbon into the atmosphere, power plants must capture and store it. The technology has been around for a while, but on a much smaller scale and not for entire power plants.
It is a costly technology. According to Dallas Burtraw, associate director of the Resources for the Future Center for Climate and Electricity Policy, an energy think tank funded by government, nonprofits and energy companies, carbon capture is estimated to cost electric companies 15 to 20 percent more in the near future.
The end of new coal plants?
There are some promising developments with carbon capture technology. Southern Company, an energy provider, is already in the process of building a plant with carbon capture technology in Mississippi. The plant enjoys some special perks — including federal tax credits and proximity to an oil field that will pay Southern for its captured carbon to extract more oil — that make it somewhat unique. And there have been holdups. According to a Washington Post story, Southern Company pushed back the plant's opening date by a year and the project has experienced significant cost overruns. But so far construction is proceeding as planned.
Burtraw said the high costs to get the plant up and running are not uncommon for trailblazers trying new technologies. Usually, costs decrease as competition increases and the building and manufacturing becomes more efficient and standardized. The EPA pointed us to three proposed projects in North America, including two in the United States, that will include carbon capture and storage.
In truth, coal plants face a much greater threat than regulation: Natural gas. Natural gas is much cheaper and a more efficient fuel source than coal, luring energy companies away from coal at a fast pace.
"Coal is getting really beat up badly in the market by cheap gas," said Michael Webber, deputy director of the Energy Institute at The University of Texas at Austin. "Over the last few years, new power plants have been dominated by natural gas, wind and solar."
Burtraw added: "There were not going to be any new coal plants built anyway. That is the real ringer here."
Amy Jaffe, executive director of Energy and Sustainability at the University of California, Davis, added that energy demands across the country have stabilized, meaning there are few emerging markets where new plants of any kind are needed. That also dampens prospects for new coal plants.
Obama's regulations create another disadvantage for coal that, at least in the interim, makes it more expensive than natural gas. In that sense, Burtraw said, the new restrictions, in practice, "sort of lock in the current trend," but they don't create it.
Nor does that spell the end for coal entirely.
The price of carbon capture technology should fall in the future as it becomes more commonplace. When it does, Burtraw said it will be a "gamechanger."
Coal may have other long-term economic benefits over other resources as well.
"Wind and solar have benefits, but they're intermittent. Natural gas is subject to all sorts of price volatility, at least historically, and it's subject to hurricanes that can cause disruption," Webber said. "So people will see coal is domestic, it has value, it's not as volatile, it's stable, but you just can't burn it the way you did before."
Our ruling
Capito said, "The president's come out with rules that say, 'No new coal-fired power plants.' " The rules do not explicitly ban future coal plants, so already this is an exaggeration of what the EPA has proposed.
While the future of coal is uncertain, it has much more to do with energy markets and the rise of natural gas — a cheaper and more efficient energy source — than Obama's regulations. The stricter carbon standards from the EPA may create additional barriers to building new facilities. But already there is one attempt to build a facility that would meet these thresholds and experts expect it won't be the last.
The test facing coal is real, but Capito goes way too far in her indictment. We rate the statement Mostly False.
Shelley Moore Capito campaign ad, "Fighting for the home team," July 29, 2014
Email interview with Amy Graham, spokeswoman for Capito, Aug. 4, 2014
Email interview with Liz Purchia, spokeswoman for the EPA, Aug. 4, 2014
Federal Register, "Standards of Performance for Greenhouse Gas Emissions From New Stationary Sources: Electric Utility Generating Units; Proposed Rule," Jan. 8, 2014
Environmental Protection Agency, "EPA Fact Sheet: Clean Power Plan Flexibility," accessed Aug. 4, 2014
Washington Post, "Intended showcase of clean-coal future hits snags," May 17, 2014
PolitiFact, "Boehner: Obama's climate change policies will kill 224,000 jobs and surge electric bills by billions," June 2, 2014
Phone interview with Dallas Burtraw, director of the Center for Climate and Electricity Policy, Aug. 5, 2014
Phone interview with Amy Jaffe, executive director of Energy and Sustainability at the University of California, Davis, Aug. 5, 2014
Phone interview with Michael Webber, deputy director of the Energy Institute at The University of Texas at Austin, Aug. 6, 2014
Browse the Truth-O-Meter
More by Steve Contorno
Support independent fact-checking.
Become a member!
In a world of wild talk and fake news, help us stand up for the facts.