Stand up for the facts!
Our only agenda is to publish the truth so you can be an informed participant in democracy.
We need your help.
I would like to contribute
Jason Carter backed three of Nathan Deal's budgets but accuses the governor of "underfunding education."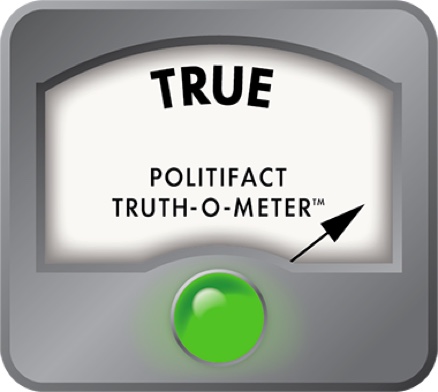 GOP chair correct; Carter voted for 3 of 4 Deal budgets
Education. It's the single biggest expense in the state budget (This year alone, the cost of k-12 education is $7.9 billion, or 43.4 percent of the state's $18.3 billion budget). And it's one of the biggest issues in this year's closely watched governor's race.
On Aug. 12, Republicans issued a statement attacking Jason Carter, the Democratic state senator who is hoping to wrestle the job of governor from Republican Nathan Deal.
Sonny Perdue, Deal's predecessor, in 2003 became Georgia's first Republican governor since Reconstruction. The GOP now controls the Georgia House, Senate and all major statewide offices. Democrats see Carter, a two-term state senator from the Decatur area and former President Jimmy Carter's grandson, as their best chance for regaining a foothold.
"How can Carter criticize Gov. Deal for 'underfunding' education when he backed three of (Deal's) budgets?" John Padgett, chairman of the Georgia Republican Party, said in the press release.
The release goes on to accuse Carter, 39, of playing politics -- voting for Deal's first three state budgets, but against Deal's last budget after announcing as a candidate for governor. All four budgets included major, so-called austerity cuts to education.
"He (Carter) thinks that with enough rhetoric he can hide the fact that he cares more about advancing his own career than improving the education system in Georgia," Padgett said in the statement.
The party chair is parroting a claim that Deal's campaign has been making. PolitiFact decided it was time to fact-check Carter's voting record on the state budgets.
Carter has voiced concerns about the state's commitment to public education during most of his short Senate career. His criticism, specifically of Deal on education, has sharpened in recent months, with his campaign manager at one point calling Deal Georgia's worst education governor. (See PolitiFact's Pants On Fire ruling of that claim.)
For our current fact check, we started at the General Assembly website, where the votes of lawmakers on all bills -- including state budgets -- are public.
We confirmed that Carter voted "Yes" with the majority in the Senate for Deal's fiscal 2012, 2013 and 2014 budgets. Austerity cuts to education in each of those budgets exceeded $1 billion.
In this year's General Assembly session, only four out of 56 state senators voted against the 2015 budget. Gubernatorial candidate Carter cast one of those "No" votes.
Austerity cuts were part of the 2015 budget. But at $747 million, they were the smallest since 2009 and, as such, viewed as largely positive by leaders in education.
---------------------------------------------------
Austerity Cuts to K-12 education 2011-2015
2011           $1,089,521,696
2012           $1,147,859,436
2013           $1,143,762,797
2014            $1,061,127,407
2015            $746,769,852
Total 2003-2015 $8,436,724,814
Source: Allotment sheets, Georgia Department of Education
Since 2003, governors and lawmakers haven't fully funded schools based on the state's education funding formula. These austerity cuts have totaled $8.4 billion, according to reports filed with the Georgia Department of Education. In combination with plummeting property tax collections -- fallout from the national housing market collapse -- the austerity cuts have thrown many of the state's 180 school systems into a tailspin. As a result, there have been staff reductions, unpaid furlough days, larger class sizes and, in many cases, shorter school years.
Carter has explained his decision to vote this year against Deal's budget.
At one of his back-to-back school tours last week, the Democrat said the 2015 funding boost was election-year politicking to mask the governor's "dismantling" of public education.
"The governor on average has underfunded our schools by $1 billion each year, and the claim that they have done enough is just not true," Carter said. "The $750 million shortfall into the education fund this year is not something I support."
He would not comment about his three prior votes for Deal's budget when contacted by PolitiFact.
In an email, Bryan Thomas, Carter's spokesman, reiterated many of the candidate's past criticisms of Deal's handling of k-12 education, as well as the popular HOPE scholarship program.
"Governor Deal has shortchanged our schools by an average of $1 billion a year since taking office," Thomas said. "He likes to brag about his election-year budget, but he still missed the mark by more than $750 million."
In November, Thomas said, voters can choose "between a governor who only seems to care about schools in an election year, or Jason, whose commitment to our schools has never wavered."
(State education funding has increased during Deal's tenure, in part due to enrollment growth. Budget reports show K-12 spending has increased from $7.067 billion when he took office to $7.94 billion this year.)
Carter, who was member of a special Senate task force on education in 2012, has said, if elected governor, he would push to create a separate education budget that would be tantamount to an untouchable trust fund for schools.
In summary, John Padgett, GOP state chairman, was correct. Jason Carter voted in favor of three of Gov. Nathan Deal's state budgets that each included $1 billion-plus in austerity cuts to education. Carter voted this year against a fourth, annual state budget proposed by Deal that included about $747 million in austerity cuts to K-12 education, the smallest cut since 2009.
We rate Padgett's statement True.
"Carter cares more about his political career than improving Georgia's Education System," Georgia Republican Party press release, Aug. 12, 2014
Phone calls and emails with Bryan Thomas, spokesman for Carter campaign
Email with Jason Carter, Democratic nominee for governor
2015 Appropriations Bill -- HB 744
2014 Amended Appropriation Bill
2014 Appropriations Bill -- HB 106
2013 Amended Appropriations Budget -- HB 105
2013 Appropriations Bill -- HB 742
2012 Amended Appropriations Bill -- HB 741
2012 Appropriations Bill -- HB 78
"Public Education in Georgia: Conversation with Sen. Jason Carter,"
Maureen Downey's "Get Schooled" blog, The Atlanta Journal-Constitution, Feb. 28, 2013: "Sen. Jason Carter: We have not tackled any real education issues this legislative session"
"State Democrats hold town hall meeting on education," The Albany Herald, March 4, 2013,
"Gov. Deal signs state budget, Jason Carter complains," by Jon Richards, Peach Pundit, April 28, 2014
Austerity cuts, Georgia Department of Education, allotment sheets.
Browse the Truth-O-Meter
More by Nancy Badertscher
Support independent fact-checking.
Become a member!
In a world of wild talk and fake news, help us stand up for the facts.